From the glittering Eiffel Tower to its world-renowned art museums, Michelin-starred restaurants to its history-laden streets, Paris is iconic. But the reality is that France's capital doesn't represent the entire country. Only several hours away by train, southern France boasts endless sunshine, stunning beaches and bustling nightlife. The areas of Paris and Provence vary immensely, but visiting both on your trip to France shows you some of the best patrimoine, or cultural heritage, the country has to offer. The journey from Paris to Provence is fairly simple. At French Side Travel, we're sharing our perfect week itinerary from Paris to Provence.
---
Paris to Provence: The Perfect Week Itinerary
How far is Provence from Paris?
Not only is Paris worthy of endless exploration, but it's also quite convenient. With three airports in the region of Paris and direct flights to multiple continents, Paris is easily accessible. In 2022, the Charles de Gaulle Airport welcomed nearly 60 million passengers, according to its data. When visiting France, Paris is the perfect place to begin given its renown and accessibility.
Luckily, you can also easily travel to the rest of France from Paris. Provence is a 3-hour train ride from Paris. From Paris' Gare de Lyon to Marseille's station, you can arrive in about 3.5 hours by TGV, or high-speed train. You can also hop off at Avignon or Aix-en-Provence, which would make the trip closer to three hours. The simplicity of multiple direct trains as well as the mere three hours make Provence and Paris the perfect destinations for your trip to France.
Paris itinerary
For the first leg of your Paris to Provence trip, you can bask in the rich Parisian culture. Whether you prefer taking a guided tour of its historical neighborhoods or simply sitting at one of its café terrasses, the city is yours. French Side Travel would be happy to organize your luxury itinerary at your pace. Here are some of our favorite activities in Paris.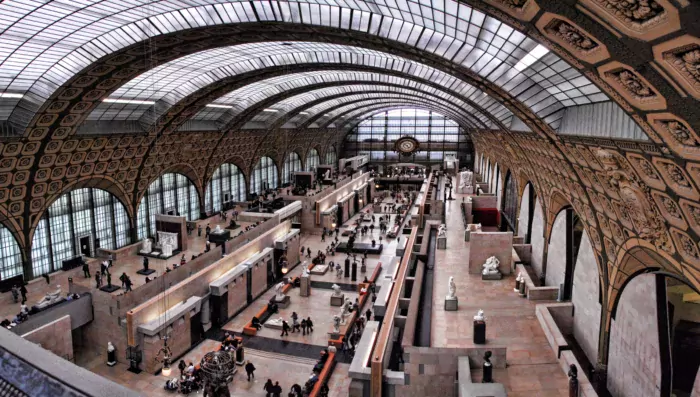 Stroll through one of Paris' famed art museums
With more than 100 museums in Paris, the city is especially known for its art scene. You simply cannot miss seeing the Louvre's glass pyramid as well as its masterpieces such as da Vinci's The Mona Lisa and Delacroix's Liberty Leading the People. If you've already visited the Louvre or simply want to delve deeper, then the Musée d'Orsay is calling your name. Be sure to admire Monet's impressionist masterpieces and Degas' ballet dancer statue.
Take a private painting class in Montmartre
On the outskirts of Paris lies the famed neighborhood of Montmartre, home to the Moulin Rouge and a vibrant arts community. After admiring Paris' art museums, we'll hand you the brush. We'll organize a private painting class in this historic area with a French artist.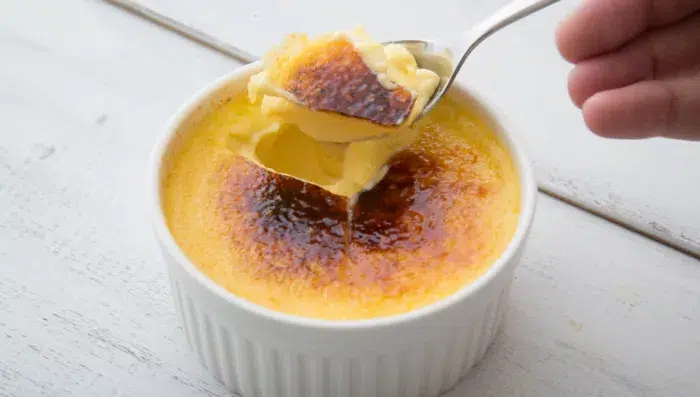 Try your hand at French pâtisserie
Millefeuille, éclair, chouquette, brioche, Paris-Brest… You might as well need a dictionary for all the different French pastries and bakery items that exist. During your trip to Paris, we'll organize a baking class led by a French chef. During your private desserts workshop, you'll learn how to make chocolate soufflé, crème brûlée and crêpes Suzette. We won't judge if you're tempted to lick the bowl!
Where to Stay During Your Paris to Provence Trip: Paris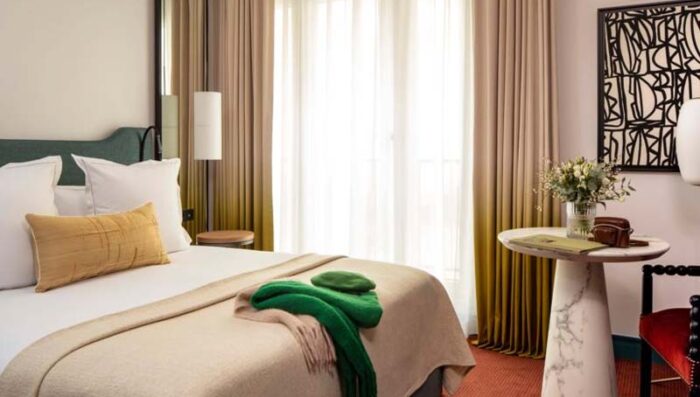 Bel Ami

Located in the cush neighborhood of Saint-Germain-de-Près, Bel Ami boasts five stars and a short walk to the Louvre. Decorated by Pascal Allaman, the luxurious rooms will have you drooling. The walls are decorated with art by Florence Bamberger, Manuel Merida, and Ced Vernay. The apartment with terrace suites, with its kitchenette and relaxing ambiance, is an oasis for weary travelers. Frequented by names such as Brigitte Bardot and Yves Saint Laurent, Café de Flore also is just a stone's throw away from Bel Ami.
Provence Itinerary
After spending several days in Paris, you might find it difficult to part ways. But we promise that, albeit different from France's capital, the region of Provence will charm you. The cool Mediterranean waves and fragrant lavender fields are certain to enchant, and our team can provide a tailor-made itinerary for your Paris to Provence trip.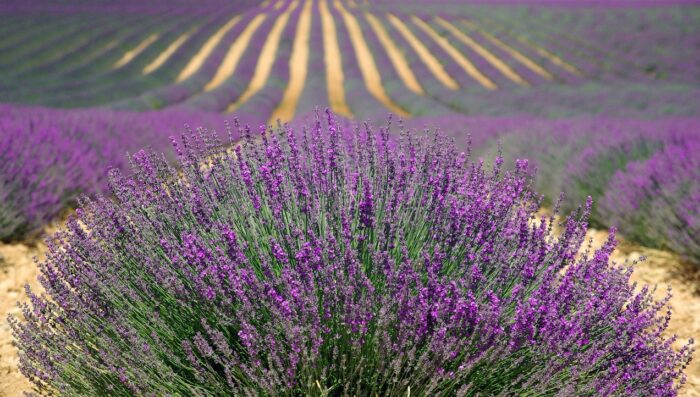 Wander the lavender fields
Postcards just don't do the lavender fields justice; see them up close and personal with French Side Travel. We'll organize a private tour of a lavender distillery in southern France followed by a gourmet picnic. You'll learn about lavender harvest and can taste lavender sorbet and a lavender beverage.
Bask in the sun on a private boat ride
Unlike rainy Paris, Provence is known and celebrated for its sunshine. One of the best ways to enjoy this golden light is from the sea. We'll organize a private boat tour so that you and your loved ones can explore la Côte Bleue and Frioul islands. You'll head northwest of Marseille to see Château d'If, which inspired Dumas' The Count of Monte Cristo, and Estaque, a neighborhood loved by artists including Cézanne.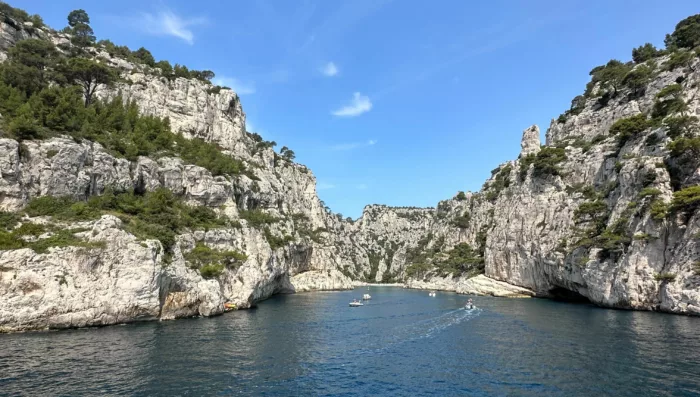 Hike through the calanques
Provence is also known for its calanques, or rocky inlets. These massive rock formations juxtapose the deep blue sea and make for the perfect hike. The Calanques National Park spills into several towns, but we recommend hiking through the Calanque de Port-Miou in Cassis. About an hour outside of Marseille, the village of Cassis promises a darling downtown and access to the stunning calanques.
Where to Stay During Your Paris to Provence Trip: Provence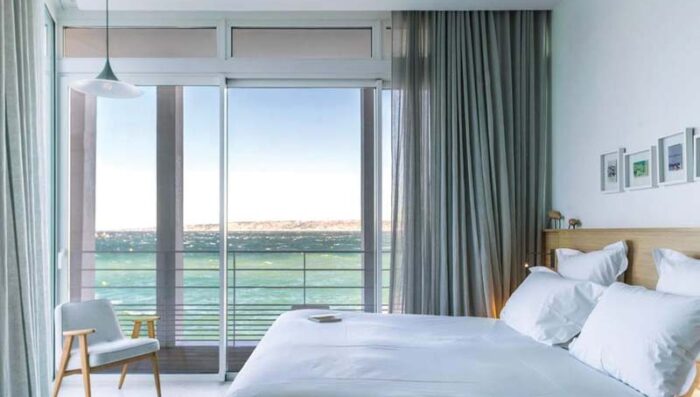 Les Bords de Mer

Located at the feet of the Mediterranean Sea and on Marseille's corniche, or its boulevard lining the sea, Les Bords de Mer promises a luxurious escape. Once a waterside villa in the 1930s, this retreat has been reimagined as a contemporary 4-Star boutique hotel. All of its 19 rooms boast sea views, and light pours in through its massive windows.
---
If you can't decide between the effervescence of Paris or the idyllic charm of Provence, we're here to tell you there's no need. With the high-speed train from Paris to Provence, you can enjoy the bustling metropolis as well as the sun-filled douceur of the south. Be inspired by some of our top tours: A Weekend in Wonderful Provence, Exclusive Private Culinary Tour of Paris and An unforgettable Fashion and Art Trip to the City of Light. We're ready to help you plan the trip of a lifetime.
Need some help planning your trip?