Champagne Adventure: Houses, River Cruise, and Balloon Ride
Luxury | From $4,999 pp
During this tour you'll experience the best that Champagne has to offer. You'll visit world-renowned Champagne houses of varying sizes, including the largest producer and incredible family-owned estates. You'll also take a unique cruise along the Marne River while sipping Champagne. End the trip on a high note with stunning views from above in a hot air balloon!
Day by Day
Day 1: Reims
Luxury Transfer from Reims to your hotel

A chauffeur will pick you up in the railway station of Reims for a transfer to your accommodation, in a luxury vehicle
Restaurant Booking – Le Foch – Lunch or Dinner
Situated along the famous tree-shaded promenades, the restaurant Le Foch is known for its foie gras, tartare & Misir. A 1-star Michelin restaurant, with attentive staff, and fast service, prides itself on its robust wine list along with inventive French cuisine.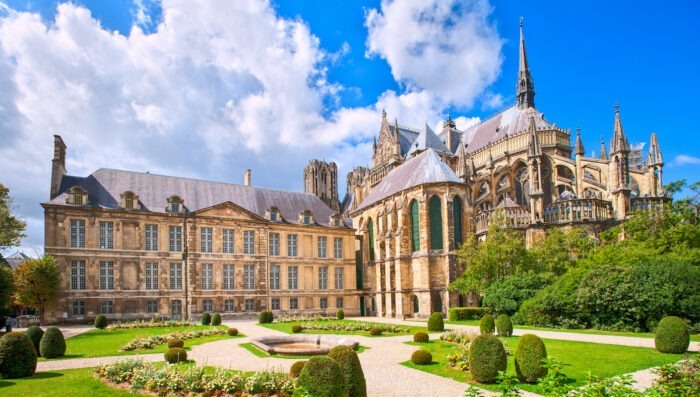 Day 2: Reims - Hautvillers
Full-Day Private Driving Tour of the Champagne Region
Your private driver-guide will pick you up in a luxury vehicle from your accommodation for an immersion in the world of Champagne. You will enjoy a commented drive along the Champagne scenic roads and discover the villages that are part of the Champagne appellation area. Stop at the charming UNESCO-listed small town of Hautvillers, where you can visit the church where the famous monk Dom Pierre Pérignon is buried.
After many postcard-worthy views, you will visit a family-run boutique winery ("Premier Cru area"). You will learn about how well-known beverage is made. Enjoy tastings of champagnes conducted in the cellar (independent producer). You will also drive through the picturesque Avenue De Champagne in Epernay, where several prestigious Champagne Houses have their headquarters.
Next, you will get to uncover the secrets behind the signature taste of the largest producer of Champagne: Moët & Chandon. Moët & Chandon is one of the sought-after champagne brands in the world and is known for its rich flavor and velvety texture. You will taste some of its finest Champagnes in the refined setting of a private salon of the House!
Finally, you will visit the oldest producer of Champagne: Ruinart, known for its exclusive production of chardonnay-based champagne. Learn the fascinating history of this Champagne House, founded in 1729. A tasting session of its unique Champagne is in store for you!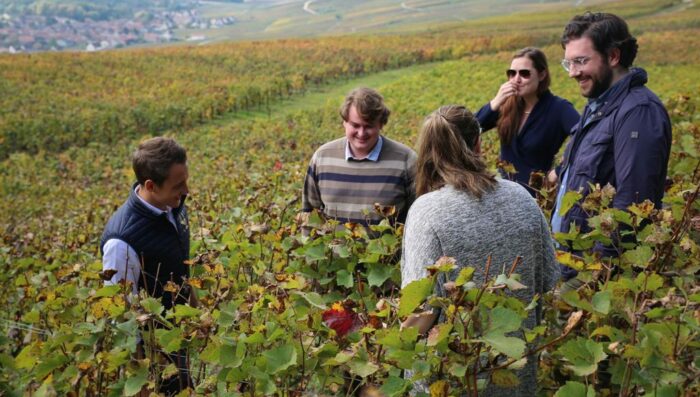 Day 3: Reims - Prosnes
Driver at disposal for the day

A private driver will pick you up at your accommodation to drive you safely to your various appointment of the day. At the end of your activities, he will drive you back to your hotel.
Private Hot Air Balloon Ride Over Champagne
Want a new perspective on Champagne? See the patchwork of vine-strewn hills from above during a one-hour hot air balloon ride. Watch the sky come to life in an explosion of colors as you drift lazily in the ethereal light of dusk.
Passengers are allowed to get involved with different parts of the journey, whether preparing the canvas and basket or firing up the balloon while you are airborne. Experience that elusive moment of stillness as you hang silently in the air, with the open skies and panoramic views stretching out for miles ahead of you.
Enjoy a glass of Champagne onboard or on the ground. After the experience, the pilot will provide you with a personalized flight certificate.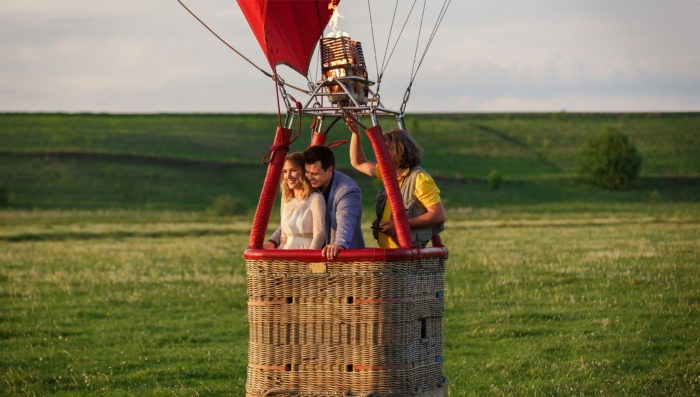 Suggestion: Explore Reims
Capital of the Champagne region, Reims is a listed Town of Art and History. It offers the culture of a big city with the charm of a smaller town. Stroll along its handsome boulevards lined with striking Art-Déco facades and prepare to be bowled over by its architectural features. There are nine champagne houses to visit in Reims (some of whose cellars have Gallo-Roman origins) plus five Michelin-starred restaurants.
See the monumental Notre Dame cathedral, recognized internationally as a model of Gothic architecture. It played a central role in France's history for 800 years as the venue for the coronations of 25 sovereigns.
Smell champagne cellars. The sweet, musty aroma of wood and stone deep underground combined with the sour tang of barrel-aged alcohol…it's one of the Champagne region's most unmistakable and trademark smells. All the city's champagne houses offer guided tours; the oldest is Ruinart, founded in 1729. Taste pink biscuits. Les biscuits roses de Reims are light, crunchy, vanilla-flavored biscuits dating from the 17th century, typically dipped into a glass of champagne.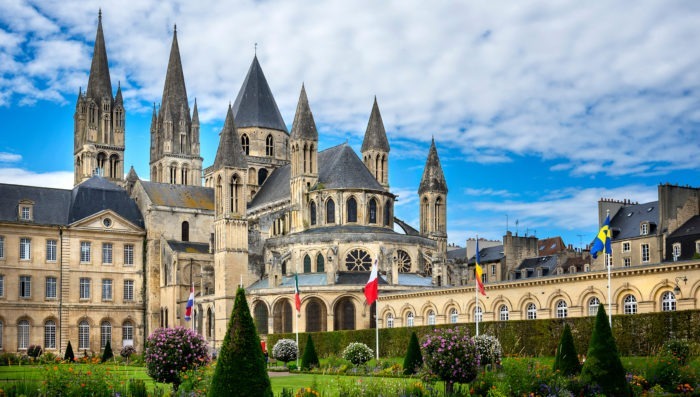 Day 4: Reims - Epernay
Driver at Disposal for the Day

A private driver will pick you up at your accommodation to drive you safely to your various appointment of the day. At the end of your activities, he will drive you back to your hotel.
Private Cruise on the Marne River
Sipping champagne and cruising in a lovely wooden boat from the '20s is the best way to visit champagne. Enjoy a private boat trip in a 1927 Dutch cruiser – a vintage vessel that is agile, comfortable, and fast. The front deck is raised to host a small living room, a kitchen and a restroom.
Your local, knowledgeable skipper will take you where one of the great French rivers meets France's most celebrated wine. You'll travel from one village to another according to your wishes. A serene and peaceful way to see the vineyards from a different angle. You will discover the listed UNESCO World Heritage sites from an unexpected point of view.
While cruising, you will be offered a bottle of champagne from a small winemaker of the valley. End your cruise with a picnic and try some regional specialties (charcuterie, cheeses, crudites).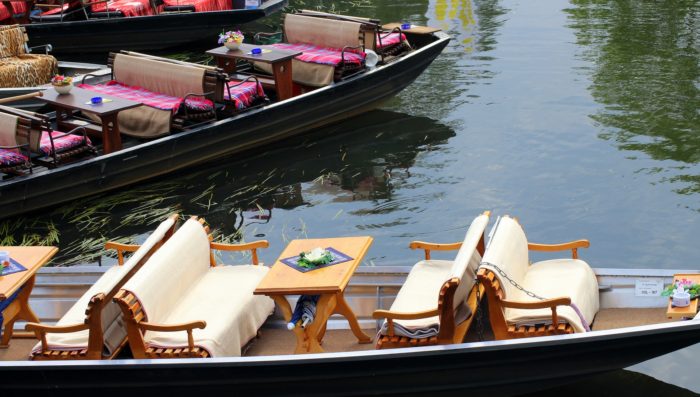 Suggestion: Explore Epernay
Epernay is well known as the capital of the Champagne-producing region of France: it is a wealthy-looking town because of the expensive 19th-century townhouses and other mansions constructed with the wealth derived from the champagne trade. The town sits below the vine-covered hills typical of the region. It is the perfect location to discover various well-known champagne producers.
Start your tour of the grand champagne houses on Avenue de Champagne. Some of these have the most remarkable and extensive caves below the buildings. Along this avenue stand many of the most impressive Champagne houses and chateaux in Epernay. Moët-et-Chandon and Mercier are the most renowned champagne houses. They will introduce you to the champagne experience (called a dégustation in French). But there are also many smaller producers open to visits in the town. The garden at the Chateau Moët-et-Chandon will be the highlight of your day.
Epernay is best known as a mecca for those with an interest in champagne. But the town and the surrounding region also contain places of interest. Because of its geographical location near the French border, Epernay has been attacked and almost destroyed numerous times during its long history. As a result, there is little remaining here from the medieval period: most architecture in the town dates from the 19th and 20th centuries. The Portail Saint Martin is the oldest monument in Epernay. It is an impressive stone doorway and all that remains of the 16th century Church of Notre Dame.
Private Guided Tour of a Historical Champagne Winery
In 1927 Charlotte's ancestors bought the Domain of Boursault, formerly owned by Madame (Veuve) Clicquot. In 1843, 10 kilometers west of Epernay, she built a magnificent neo-renaissance-style castle. The mansion quickly became one of the most popular places in the region. Memorable dinners took place at the court of the "Queen of Reims." Champagne flowed lavishly among the members of the local high society.
Many generations have passed. Charlotte still runs a part of the domain: seven plots in the exclusive familial clos, overlooking the Marne Valley. Press, cellars, and the winery are located in the clos too, only a few hundred meters away. It guarantees superior fruit freshness when it comes to being pressed and transformed.
During this tour, you will discover the Champagne production process, from the vine to the flute. Visit the modern press, the vat room, and the aging cellars underneath the 16th-century family manor. Stroll in the heart of the vineyard and learn more about traditional growing, harvesting, and wine-making methods. After the tour, you will be able to taste three Champagnes on the Terrasse des Abbayes, offering a panoramic view of the Marne Valley and the Château de Boursault. Enjoy wine and food pairing with local cheeses.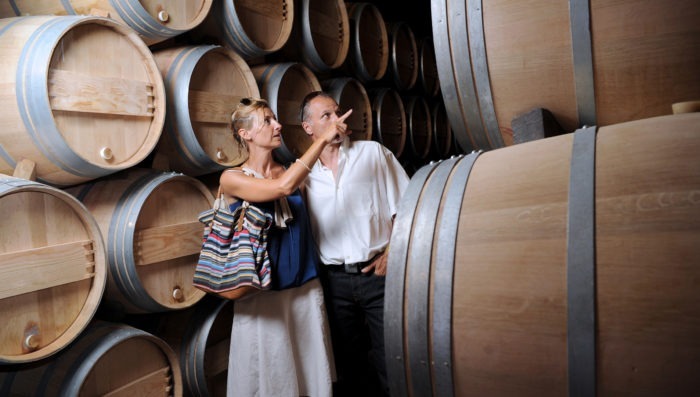 Day 5: Reims
Private Transfer in a Luxury Vehicle: Reims to Reims Train Station
A chauffeur will meet you for a private transfer between Reims and Reims Train Station.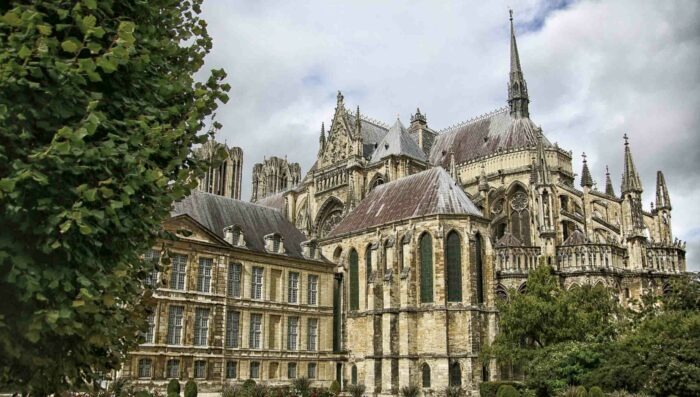 About This Trip:
Enjoy 24/7 English-spoken telephone assistance while traveling
This itinerary includes transport, activities, guides, accommodations with breakfasts, and other listed services
Price is in USD per person, assuming double occupancy. Note that prices and availability are subject to change.
Customize this itinerary:
Every French Side Travel trip is custom-built for your unique needs and interests. Above is an example of what's possible. If this isn't exactly what you're looking for, contact us today. Put together your dream trip with our travel experts. Handpick the accommodations, guides, activities, and meals that are right for you.
When you book with French Side Travel, you're getting a trip that's as unique as you are. 

Our Favorite Hotels in Champagne
Hostellerie la Briqueterie
Our Product Lines
Excellence
VIP Unique Experiences | Concierge Services | Private Tours (driver + licensed guide) | Chauffeur Services (luxury vehicles) | Top Licensed Guides | VIP Meet & Greet | Jet, Helicopter & Yachting | Fine Dining | Luxury 5* Accommodation (palace hotels, exclusive villa rentals) | 24/7 On-Site Assistance.
Luxury
Unique Experiences | Private Transportation (luxury vehicles) | Private Tours | Top Licensed Guides | Meet & Greet | Fine Dining | Luxury 5* Accommodation (hotels, villa rentals) | 24/7 On-Site Assistance.
Premium
Unique Experiences | Private Transportation | Private Tours | Self-drive | Top Licensed Guides | Authentic & Boutique 4* Accommodation (hotels, apartment rentals) | 24/7 On-Site Assistance.