French Side Travel clients traveled to all corners of France in an exciting 2022. Visitors experienced the best of various styles and types of travel including history and culture, romance, adventure, and gastronomy to name a few. Read on to discover French Side Travel's client favorite destinations in 2022.
---
French Side Travel's Client Favorite Destinations in 2022
Paris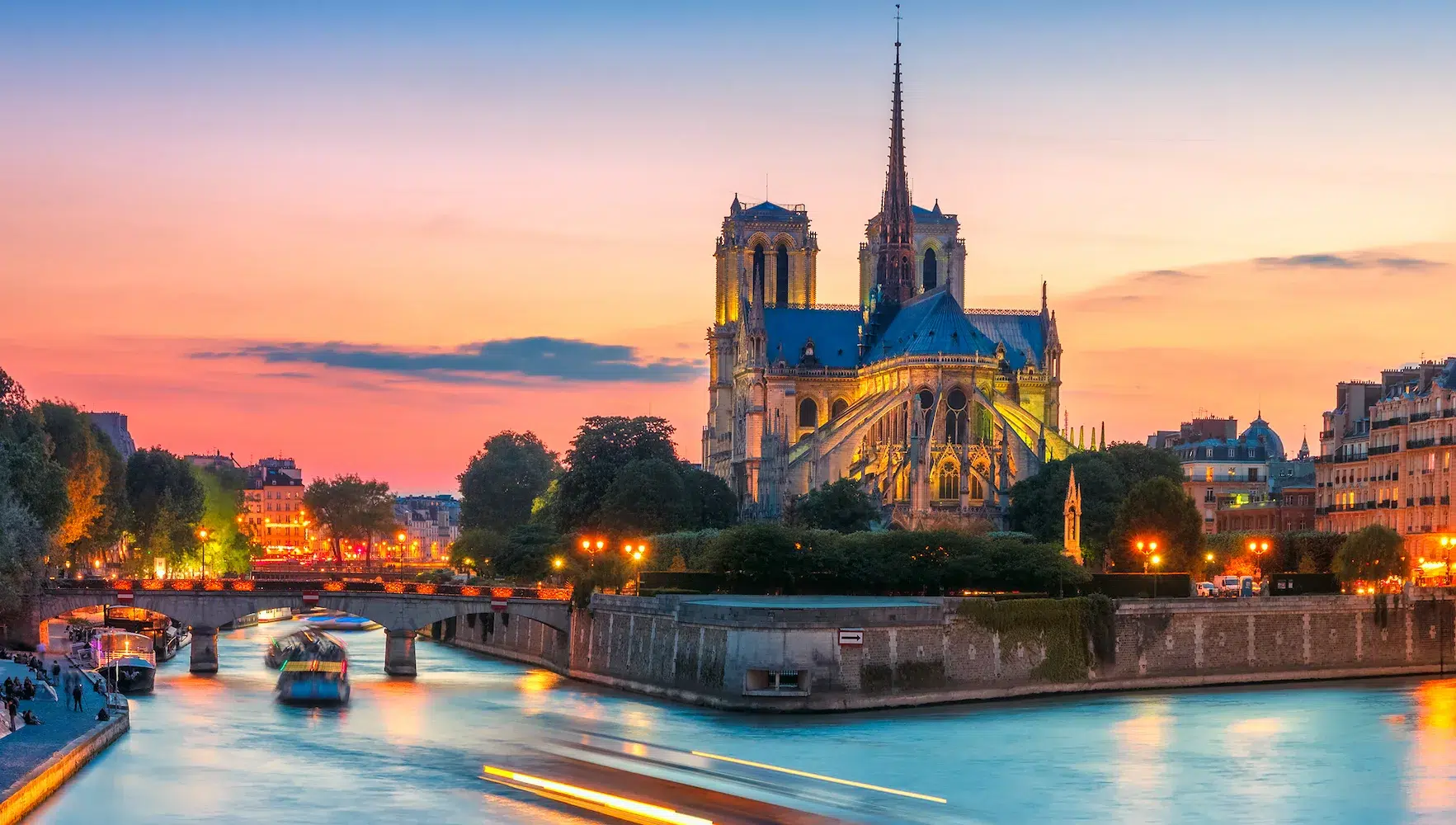 Paris, the French capital, is renowned for its historical sights and monumental beauty. Year after year, Paris tops French Side Travel's client favorite destinations list. The superb Haussmann style townhouses, grand avenues and boulevards, legendary museums, churches, and parks offer endless opportunities for excursions and visits.
In 2022, clients enjoyed exhilarating summits to the Eiffel Tower to take in the legendary views as well as Seine River cruises for a unique vantage point of the city. The Musée du Louvre and Château de Versailles topped lists for extraordinary historical sights.
Montmartre was a favorite area to explore. In addition to offering a great view over the entire city, it also is home to hidden small vineyards, narrow cobblestone streets and numerous romantic places. Wandering about the lively side streets and picturesque narrow alleys, you'll discover the authentic Parisian ambiance and art de vivre.
Normandy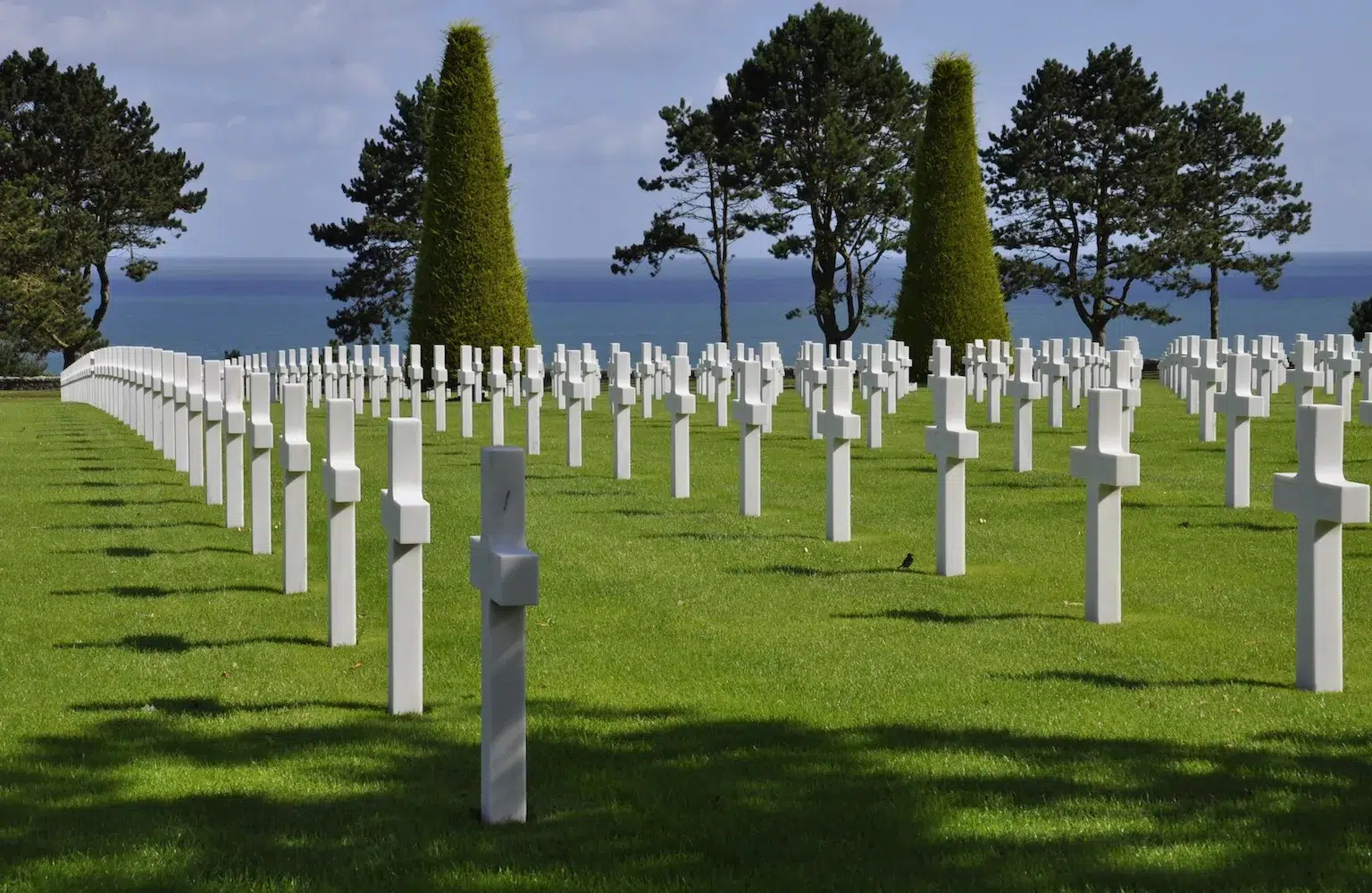 Normandy is a perennial favorite destination thanks to its proximity to Paris along with its fascinating history, fabulous foods, and two major attractions: Mont Saint-Michel and the World War II D-Day landing beaches and memorials.
The island and abbey of Mont Saint-Michel are some of the most visited, most photographed, and most easily recognized landmarks in France. Mont Saint-Michel is on the border of Normandy and Brittany, and is one of the leading tourist destinations in France and an important pilgrimage destination, with more than two million visitors each year. The abbey, known as La Merveille (The Marvel), was built between the 10th and the 16th centuries. Both Romanesque and Gothic style elements of architecture are on display, as well as far-reaching views across the bay.
North of Bayeux rest the iconic World War II D-Day landing beaches and memorials, where thousands of brave allied troops gave their lives to liberate France, and eventually Europe. Clients particularly enjoyed private guided tours to explore the moving sites that hosted the pivotal battles. Two especially powerful places of remembrance include the moving and solemn American cemetery in Colleville-sur-Mer and the Pointe du Hoc, with largely untouched rugged cliffs and bomb craters, bunkers, and casements still visible.
Provence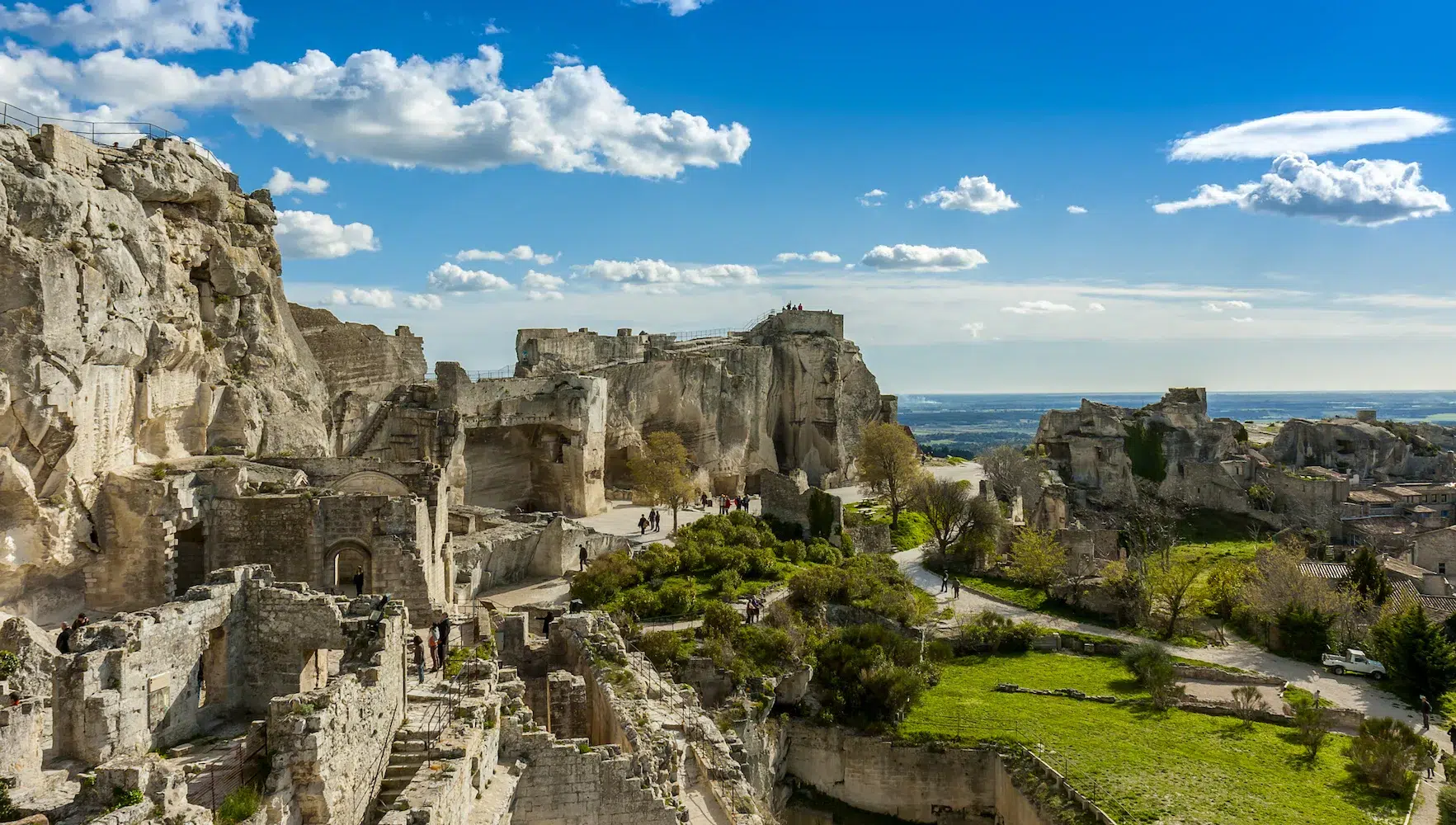 During the warmer months, the sun-drenched Provence tops many travelers' lists of places to visit in France. This striking region located between sea and mountains continues to captivate with its striking history, connection to art, beauty, as well as unique regional foods and wines.
Clients especially enjoyed private guided tours of the Luberon Regional National Park. This UNESCO-listed 120,000-hectare nature reserve encompasses limestone mountains, rolling hills, serene valleys, orchards and farms. The picturesque villages of the Luberon are some of Provence's most charming, unspoiled tourist destinations.
Nestled in the Alpilles mountains, Les Baux-de-Provence, one of the "most beautiful villages in France," is a typical Provençal fortified hilltop village and offers great views of the plains, the Mediterranean Sea and the stunning rocky landscape of the Alpilles. Narrow cobbled streets wind car-free past ancient houses, up to splendid castle ruins sitting on top of a rocky outcrop above the village.
For wine lovers, Châteauneuf-du-Pape is a must. The ruins of the Pope's formal summer residence dominate a typical medieval village. A sea of blonde pebbles cover the vineyards. The 13 varieties of grapes combined with the various soils create a large palette of complex red wines and elegant white wines.
Where to Stay in Provence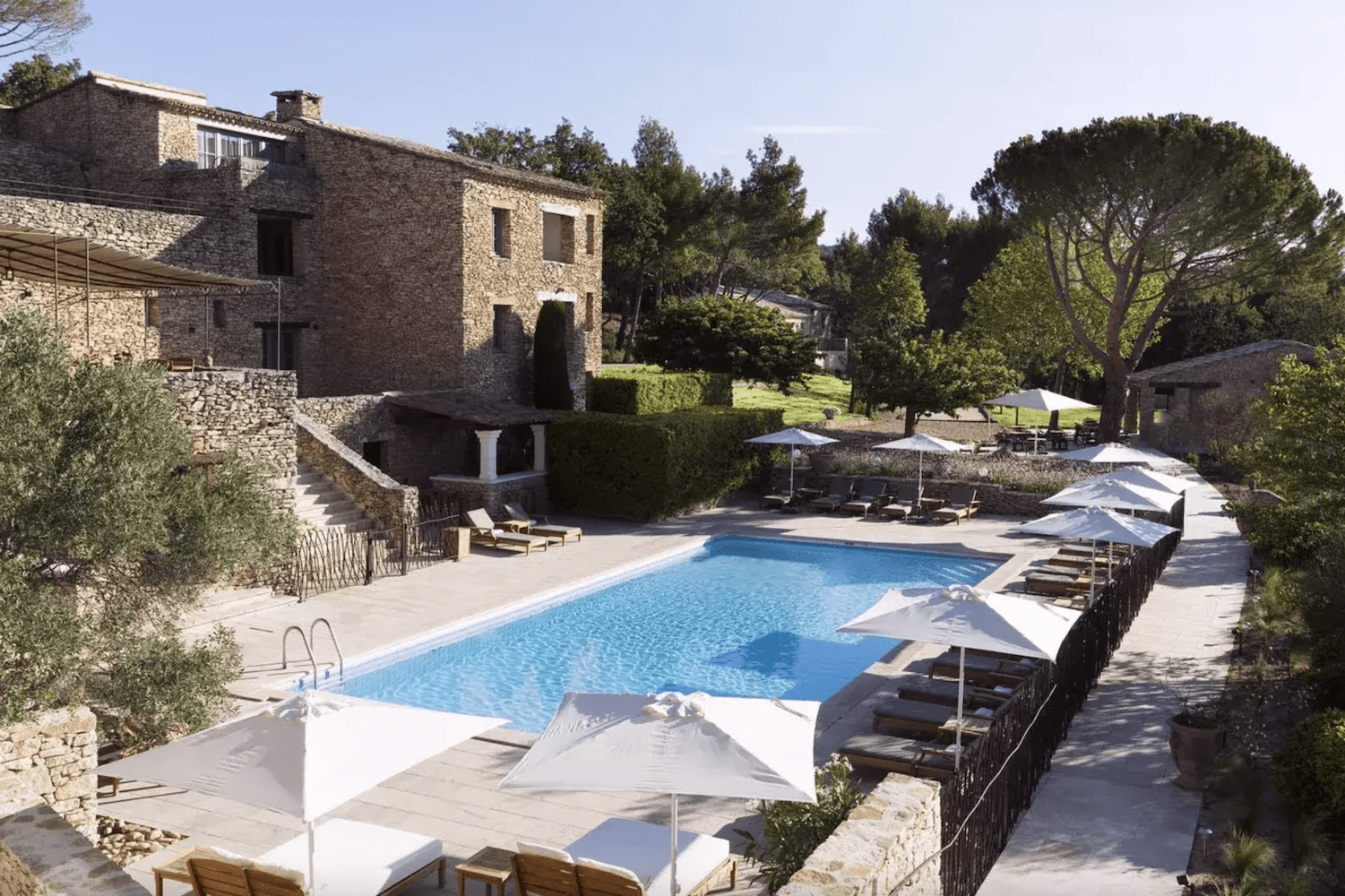 Le Mas des Herbes Blanches

This five-star property is a jewel set in the exceptional Luberon landscapes. It's a refined base from which to explore the villages of Gordes, Roussillon, Bonnieux, Lacost, Goult and Ménerbes.

Provençal charm and old stone meets modern amenities. The 47 luxurious rooms and suites with terraces offering splendid views. Treat yourself in the two onsite restaurants and the bar. The Sothys spa boasts a heated indoor pool, Jacuzzi, fitness room, sauna, and more.
Côte d'Azur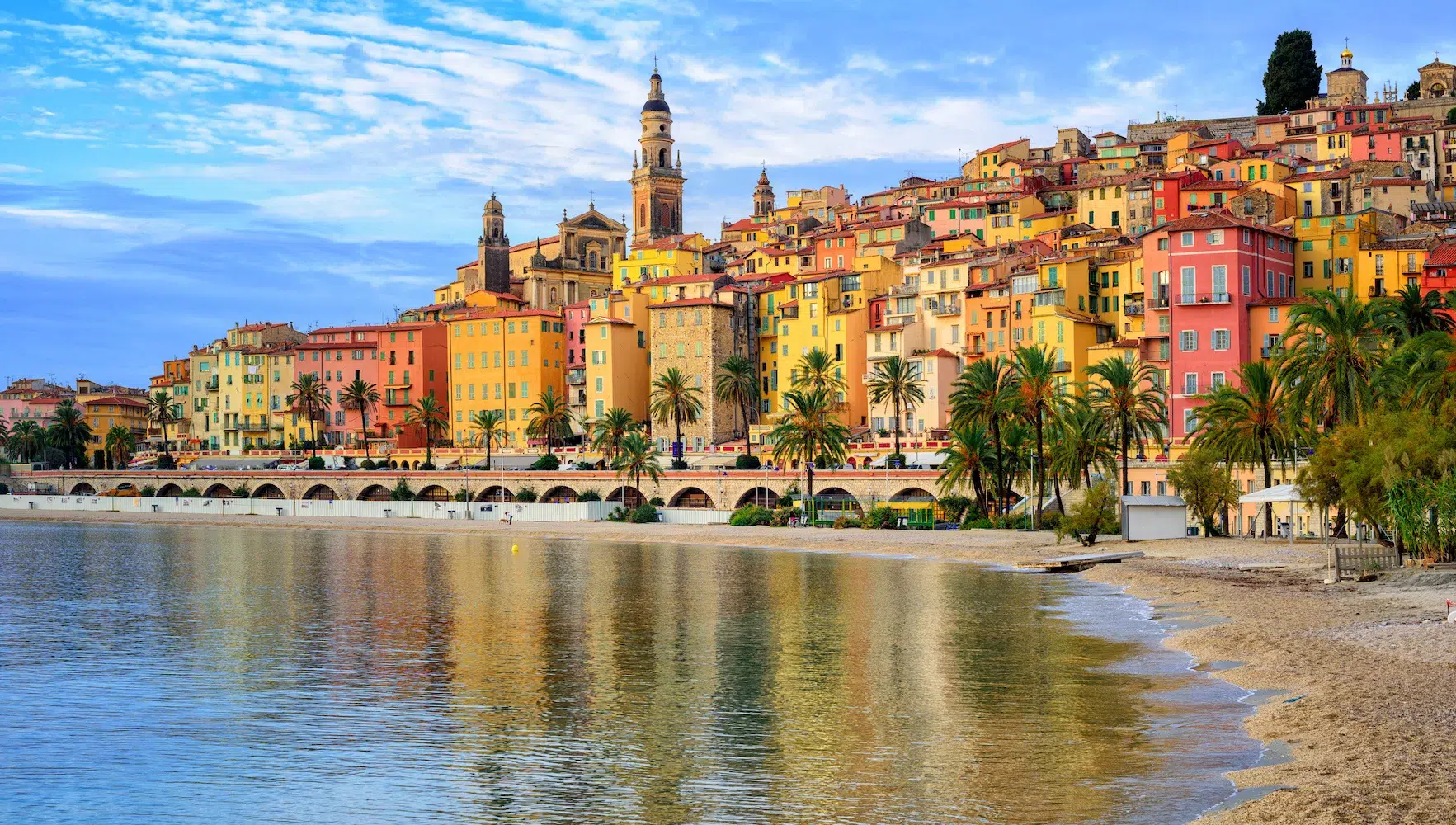 The glittering French Riviera, or Côte d'Azur, is a Mediterranean paradise. The Côte d'Azur blends glamour with a certain old-world charm only found in this area. Bask in the bright sun and soak in the superb turquoise waters along the sparkling coastline.
One of the most popular places to visit is the Medieval village of Èze, located on a rock 450 meters above sea level and surrounds the ruins of a 12th-century castle. This quaint little village has stunning views of the Mediterranean Sea. Explore the labyrinth of cobble-stoned streets, lined with bougainvillea-wrapped houses, and with views down the steep hillside to the Mediterranean. Narrow, sloping streets and archways open out into hidden squares, fountains and quiet courtyards make this town idyllic.
Another gorgeous tour includes the Loup Valley perched villages. Villages are attached like balconies to the sides of the mountain, combining all the elements you would expect to find on a visit to the south of France: timeless beauty, local authenticity, French flavor, breathtaking panoramas, and the opportunity to forget about the modern world.
It would be impossible to mention the Côte d'Azur without mentioning Monaco. The Casino of Monte Carlo, the gardens, and the nearby Hotel de Paris are worth a visit where people flock to this mythical place. Explore its impressive architecture and grandiose rooms. Consider a pause at the Café de Paris' terrace to watch the world pass by and indulge in a cold drink or an ice cream. Walk through the old city, by the cathedral and the palace. The changing of the guard at 11:55 am is a visitor favorite. Port Hercule gives off a James Bond feel with its resplendent yachts, the Grand Prix circuit, and the towering Oceanographic Museum.
Loire Valley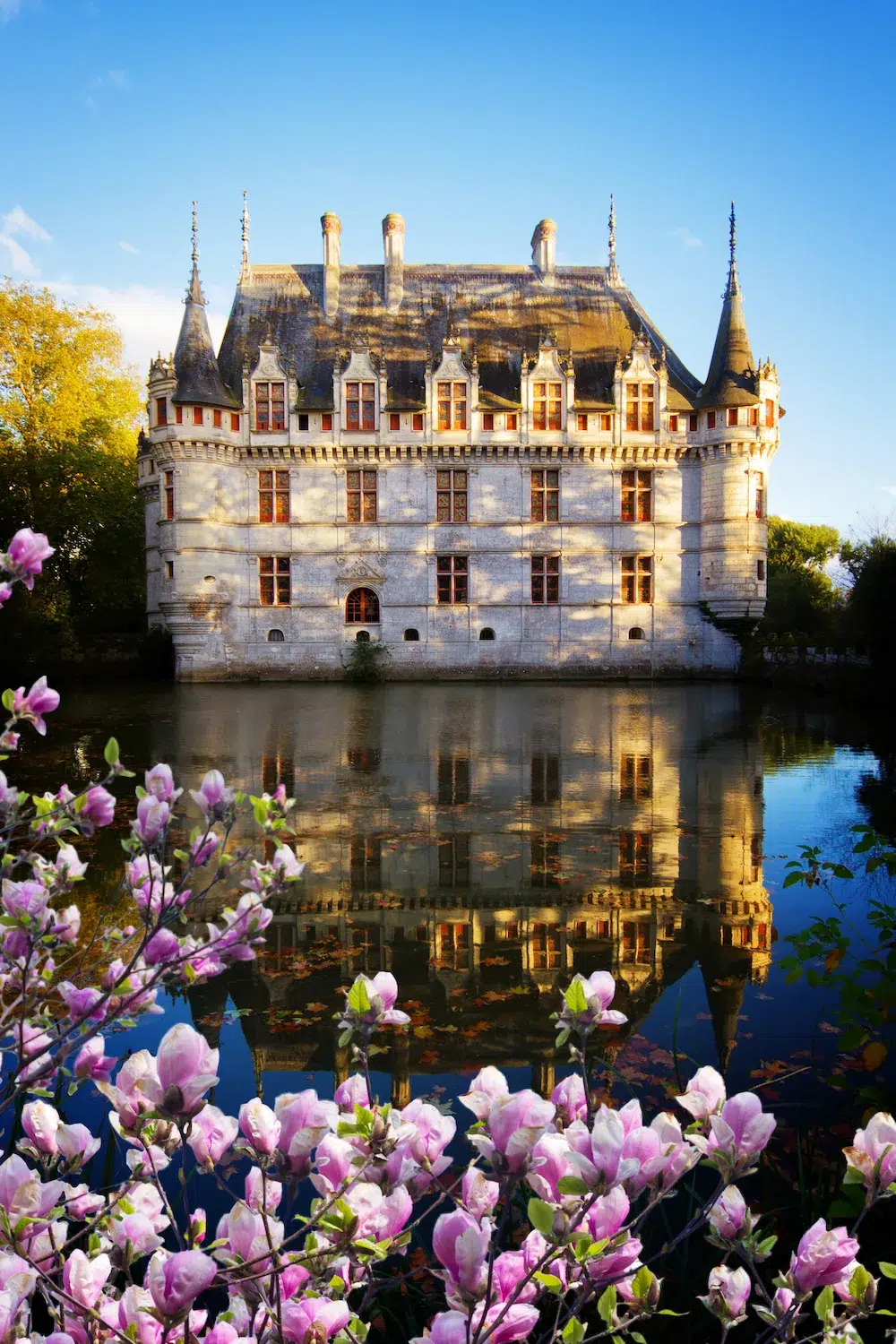 Known as the Garden of France, the Loire Valley is home to many of France's most extraordinary châteaux and gardens. The region's proximity to Paris makes it one of French Side Travel's client favorite destinations in 2022. Visiting the Loire Valley can be done in a day trip from Paris. To fully enjoy all of the offerings it is recommended to spend a night or two in the region.
Along with seeing fabulous châteaux (you can find a list of French Side Travel favorites here), be sure to leave time for wine tasting and unique experiences like a hot air balloon ride over the châteaux, a cruise in a traditional boat down the Loire River and more.
Champagne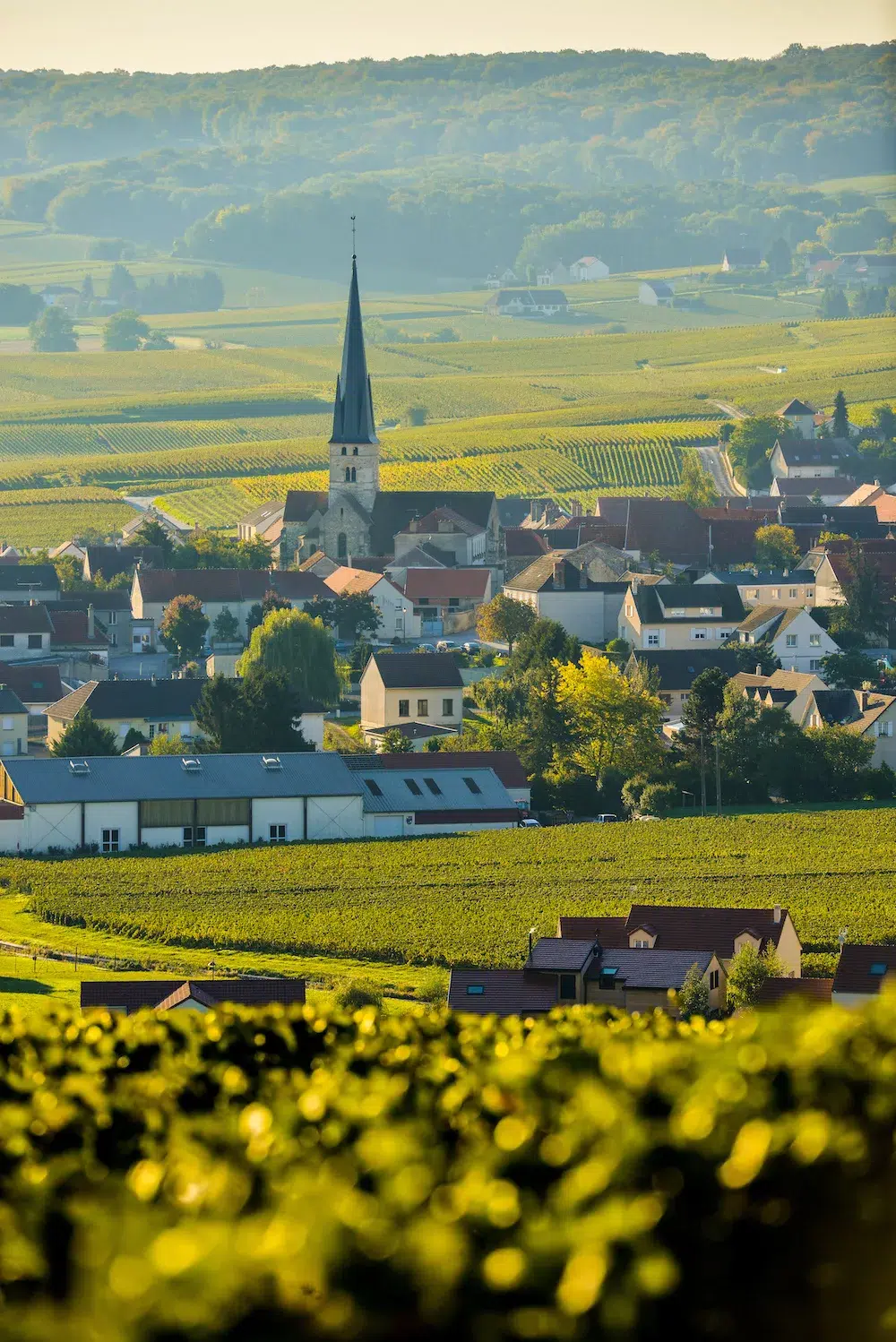 Just 45 minutes by train from Paris is the Champagne region, so it is of no surprise that it's a French Side Travel client favorite destination in 2022. There are hundreds of Champagne producers in the region ranging from small family growers to prestigious houses like Dom Pérignon. Champagne is a perfect romantic escape for food and wine lovers looking to explore using all five senses. The charming villages, assortment of Champagne houses, as well as the fabulous ultra-luxurious accommodations in the region dazzle clients.
Where to Stay in Champagne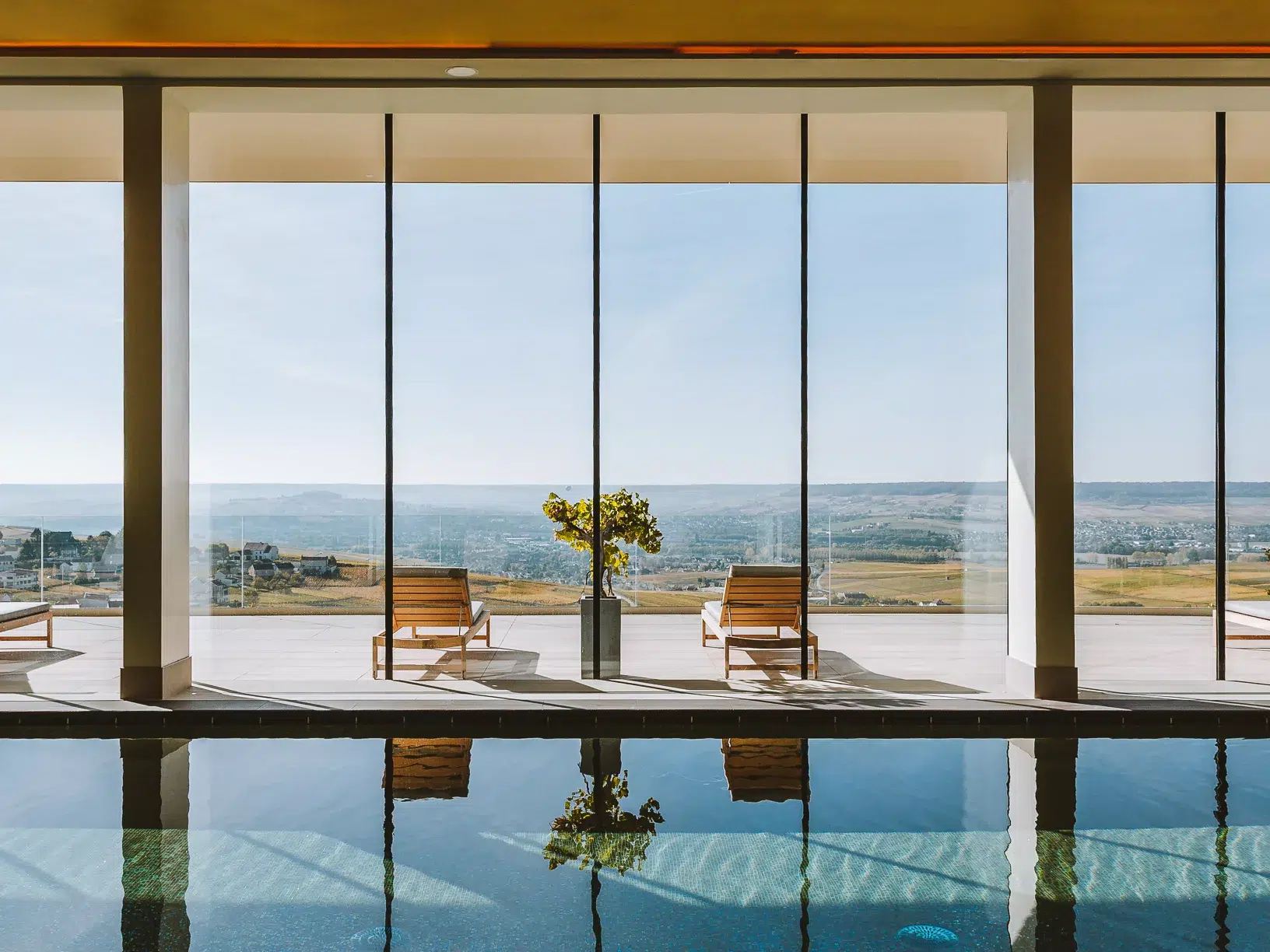 Royal Champagne Hôtel & Spa

In the heart of a vineyard, this former, recently refurbished coach house – one of Napoleon's favorite stopovers – is the perfect base from which to explore the glorious Champagne wineries. All you need to do is visiting the wine cellar, which boasts no fewer than 220 exceptional brut and rosé vintages and crus. The best place to taste them is on the terrace overlooking the vines, which extend as far as the eye can see.

All the 47 luxurious rooms have magical Champagne views. The interiors take inspiration from the natural and cultural heritage of the region. Traditional materials are favorite to create a sleek and graphic mise-en-scene.

Vegetables are grown by the staff. Meat is delivered daily by farmers. All of this makes fine dining in the Michelin starred restaurant contemporary and exciting. Multi-course tasting menus or a la carte meals are paired with wines carefully selected by an expert sommelier.
Burgundy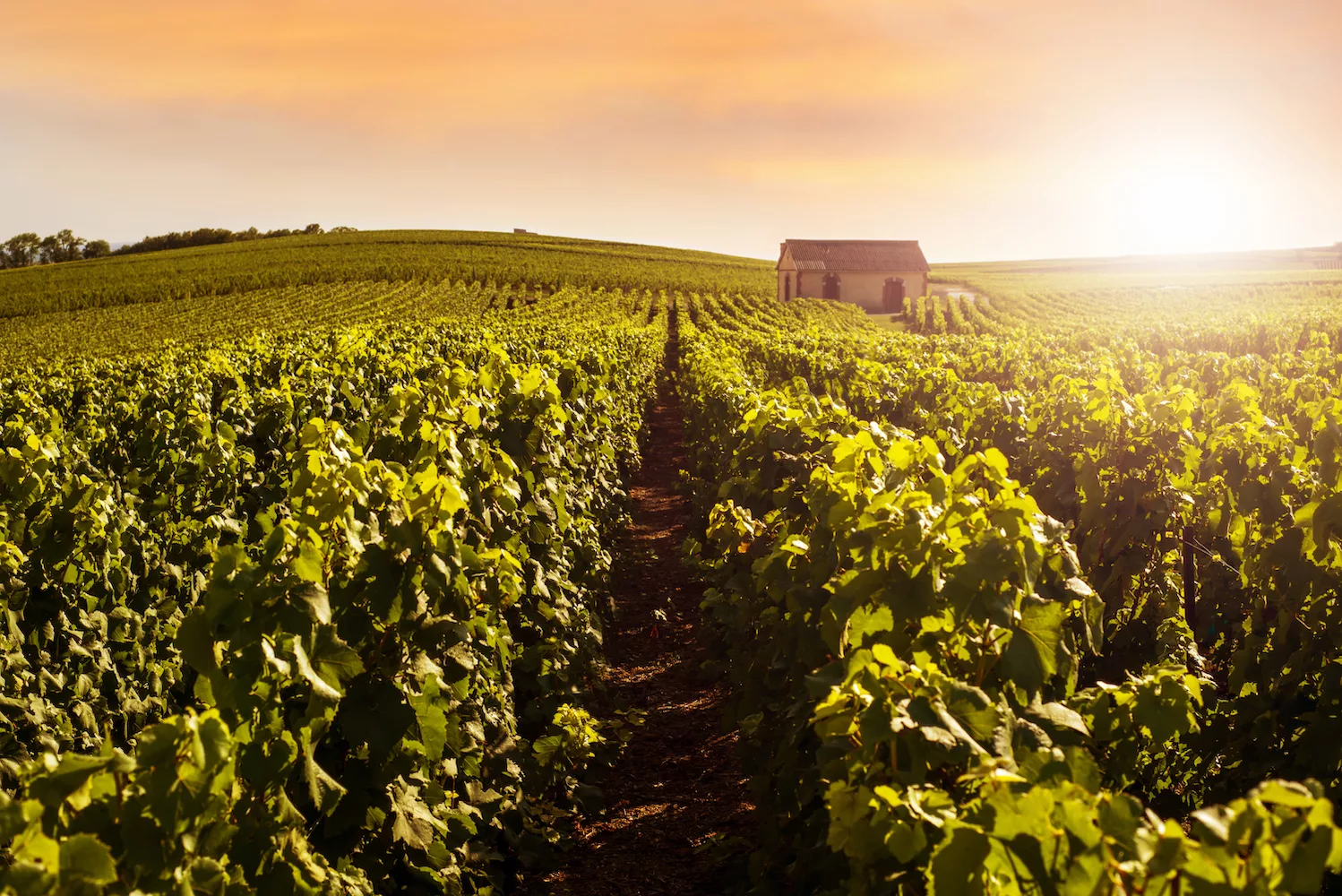 Eastern France's Burgundy is a prime wine-growing country. This area was once covered by a large sea, leaving today's vineyards with unusual mineral-rich limestone and unique terroir. Combined with the vineyards' privileged location and a favorable climate, the area produces some of the world's great wines. For true wine aficionados, there is nothing more exciting than a trip to Burgundy. Get up close and personal with Chablis, Côte de Nuits, Beaune, Mâcon, and Nuits-Saint-Georges AOCs to name a few.
But Burgundy is more than just wine. The region is also incredibly well-known for its food. Don't miss Beaune, the capital of Burgundy, with its fabulous Wednesday and Saturday markets. The Hospices de Beaune with its stunning tiled roof is located just alongside the market. A cooking class in Burgundy is an incredible option for discovering some of the regional specialty foods.
---
We hope this list of French Side Travel's client favorite destinations in 2022 help inspire a future trip. Our travel designers are standing by to create a tailor-made itinerary just for you. Some of our favorite destinations include Paris, Bordeaux, Normandy, and Southern France.