In early summer, Provence's countryside is made magical by its blooming lavender fields. They're an iconic site that are well-worth timing your trip around. The vibrant violet color signals the changing of the seasons, the arrival of Provence's buzzing cicadas, and long, hot summer days. The perfectly lined lavender rows are a feast for the eyes and are wonderfully fragrant. If you're really lucky you might even catch one next to a sunflower field! Every year, French Side Travel gets requests from travelers to visit France's lavender fields. If you're dreaming of them too, our travel experts are here to help. These tips will help to get you started.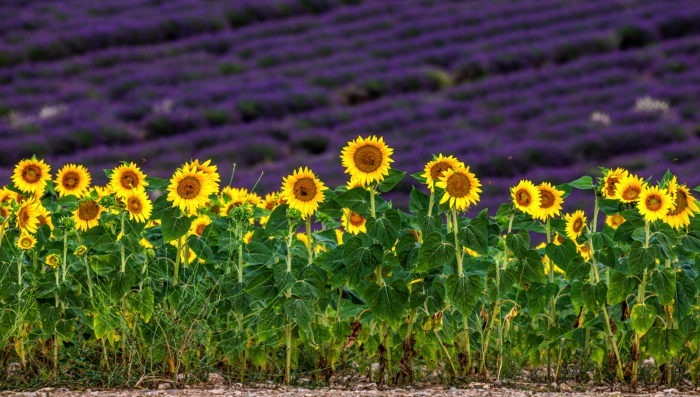 What you need to know
Timing:
It's important to keep in mind that lavender is a seasonal phenomenon. The timing can depend on the year's weather, but generally, there's a four to six-week window that's ideal. Plan to come between the mid June and late July. Which fields are at their best will depend on when you're here and the fields' elevation. Fields in southern and lower-lying areas are harvested by mid July. After early August, you'll need to wait until the following year.
Getting around:
The fields are spread out and located far from the city centers. A car is required. Depending on your preference, we recommend either a rental car or a tour with a local chauffeur guide. Talk with our destination experts to book the right one for you.
Whether on your own or with a guide, exploring by car allows you to see the fields when they're at their most beautiful. Early morning or late evening make for better photographs with long shadows, golden light, and colorful skies. You're more likely to avoid overcrowding too, which is perfect if you want the fields all to yourself!
Where to go:
For visitors to Provence, there are three main areas to consider for seeking out lavender: Valensole, Luberon, and the Plateau d'Albion.
Valensole:
The Valensole Plateau is France's biggest and most famous lavender region. Over an area of more than 300 square miles, photograph lavender fields, visit farms, and tour distilleries. The medieval village of Valensole makes for a perfect stop for lunch or souvenir shopping.
Valensole is just over an hour from Aix-en-Provence and Marseille. From Cannes, Saint-Tropez, or Nice it's a two to three-hour drive.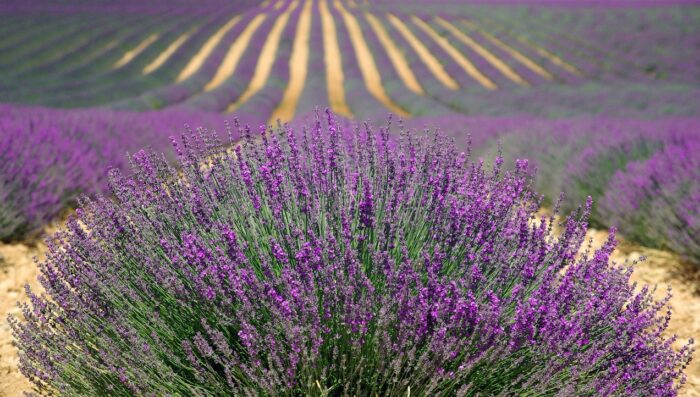 A tip for nature lovers: Valensole is on the border of the Verdon Natural Regional Park. The park is home to the Gorges du Verdon, one of Europe's deepest canyons. Known as the Grand Canyon of Europe, it's easy to see why. At its highest point, the limestone walls soar almost 2,300 feet above the turquoise Durance River. It's a paradise for hikers. The village of Moustiers-Sainte-Marie is undoubtably one of Provence's loveliest. Nestled between two cliffs, a stream and waterfall run through its center. Moustiers is also known for its fine faïence ceramics. They make for fantastic souvenirs.
The Luberon:
We've previously written about the amazing Luberon Valley. If you come during the summer, the colorful lavender fields make it all the more special. The most memorable lavender field surrounds the Cistercian Abbaye-de-Senaque. Lavender adds to the region's rainbow of colors – red and orange ochres, yellow sunflowers, and omnipresent greens. There may be fewer fields here, they have the advantage of being in bloom earlier than Valensole and Sault.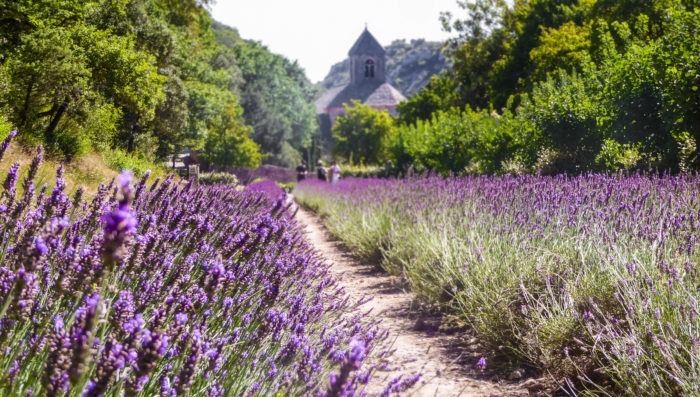 Looking for a lesser-known spot in the Luberon? We love the Plateau des Claparèdes near the village of Bonnieux. Besides its lovely fields, you can visit traditional stone bories (cabins) while there. They are constructed without cement and have been used here for centuries by farmers and herders.
These lavender fields are also the closest to Avignon and Aix-en-Provence. You can reach them in forty five minutes from either base.
Sault and the Plateau d'Albion:
Worried that you'll miss the lavender season? The area around the village of Sault is a wonderful place to visit. Due to its higher elevation, the lavender here is harvested later than its southern counterparts. You can catch blooming lavender fields as late as early August. The village of Sault holds its Fête de la Lavande every August 15th to celebrate the end of the harvest.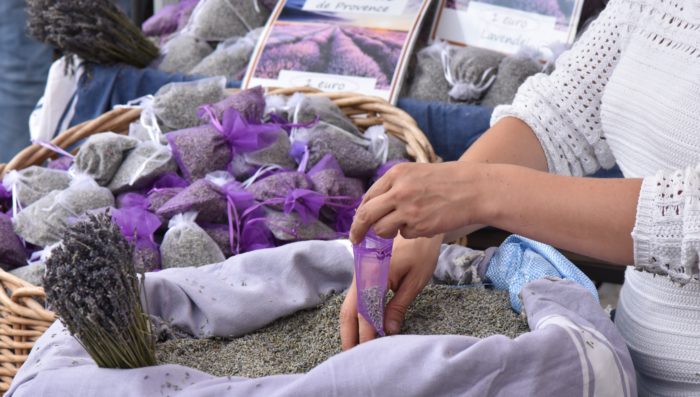 You'll need about one hour and fifteen minutes from Avignon or one hour and forty five minutes from Aix-en-Provence to reach here.
Where to stay:
Visitors can certainly see lavender fields as a day trip from Provence's larger cities: Avignon, Aix-en-Provence, and Marseille. Côte-d'Azur hotspots like Nice, Cannes, and Saint-Tropez are further, but still doable for a determined day-tripper.
If you can, though, we suggest lingering a bit longer. Maximize your stay in the Provençal countryside. Consider spending a couple of nights in the Luberon. The towns of Forcalquier or Manosque on the eastern side of the park are great for lavender. This will give you more time in the fields.
Outside of the Provence-Alpes-Côte d'Azur région, you can also see wonderful lavender fields in the neighboring Drôme and Ardèche. These are further off-the-beaten path, but can be wonderful for those looking for a more authentic, or secluded experience.
Need a place to stay?
Here are two of our favorites. You'll be away from the crowds and perfectly positioned to see lavender.
We suggest Airelles' Gordes la Bastide and its connected La Maison de Constance villa.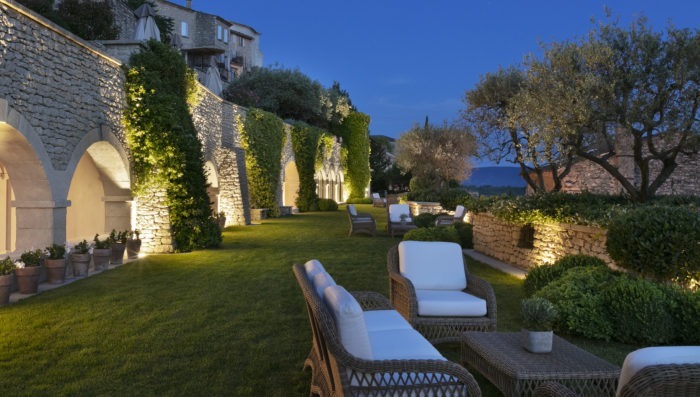 This 5-star luxury hotel and spa is in lovely Gordes. The perched village is one of Provence's most beautiful, complete with 12th-century ramparts, a castle, and expansive views over the valley below. The hotel itself was a former mansion and it retains every ounce of its former charm: stonework, molding, exposed wood, and vaulted ceilings all surrounded by century-old olive trees and soaring cypresses. And, yes, the Abbaye-de-Senaque's postcard Lavender field is just a hop away.
The refined rooms are fully equipped, and most offer a view of the valley and the mountains. The chic Sisley spa has an indoor swimming pool, a hammam, and a fitness facility. The establishment boasts multiple onsite dining options and a bar.
If you're looking for something more secluded Homanie's Drôme Provençale is a wonderful option.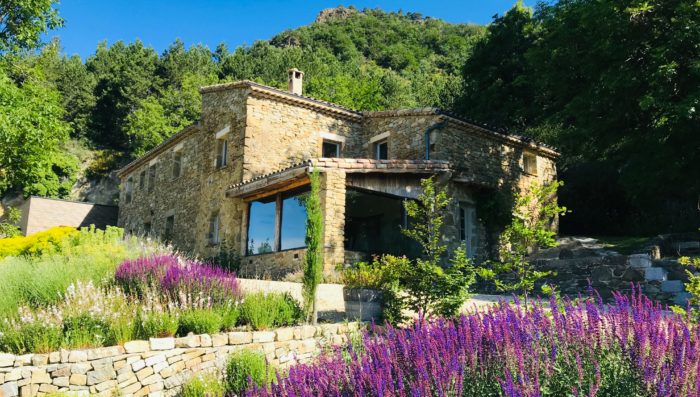 For a true luxury experience away from the crowds, treat yourself to a stay at their hamlet. The property consists of five restored houses of former lavender farmers. Today, it's a pampered experience on a 200-hectare private property surrounded by the rolling Natural Park of the Baronnies Provençal.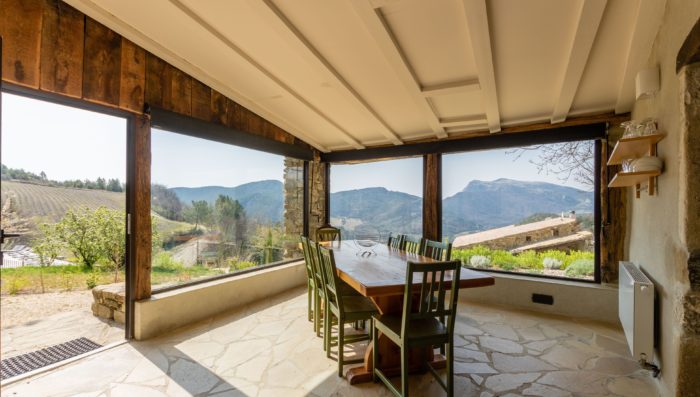 Booking your trip
Are you reading to book? Maybe you still need some help? French Side Travel's local experts are excited to plan your lavender getaway with you.