No matter the season, visiting the region of Alsace means stepping into a fairytale. The wood-paneled homes, lush vineyards and quaint cobblestone streets make you feel as if you're living in another era. But visiting Alsace during the wintertime takes it a step even further as you experience their famed Christmas markets. If you love all things Christmas, a trip to Alsace during the winter is a must. You'll be able to discover these historic markets and explore this region's heritage, too. At French Side Travel, we're sharing our Alsace Christmas markets guide.
---
Your Alsace Christmas Markets Guide
How to Get to Alsace
Alsace is a region in northeastern France, near Germany. You can reach Alsace by flying into Strasbourg or flying into Paris and taking the high-speed train to Strasbourg or Colmar. Our team would be happy to handle airport pickups so that you can focus on exploring the Christmas markets.
Christmas Market Tradition
Christmas markets might seem like a 21st century invention, but these Alsatian markets are synonymous with rich, regional tradition. In 1570, the Christkindelsmärik tradition began in Strasbourg. During November and December, Christmas markets can be found all over France and even Europe. But there's something special about visiting the markets in Alsace, especially the towns of Strasbourg and Colmar. And we're not the only ones who think so; these Strasbourg markets attract nearly 2 million visitors annually, according to its tourism office.
Strasbourg Christmas Markets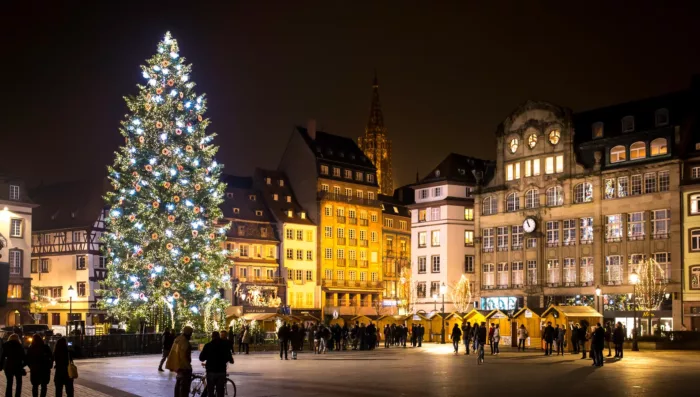 At the Strasbourg Christmas markets, you'll be able to explore the different stands as you sip on some mulled wine or chocolat chaud. Be sure to pass by Place Broglie, where these Christmas markets first began in the 16th century. You'll also want to snap a selfie with the 30-meter Christmas tree (nearly 100 feet) on Place Kléber Square. Admire the bright lights contrasting the night sky and take your time searching for the perfect treasures to put under the tree.
Colmar Christmas Markets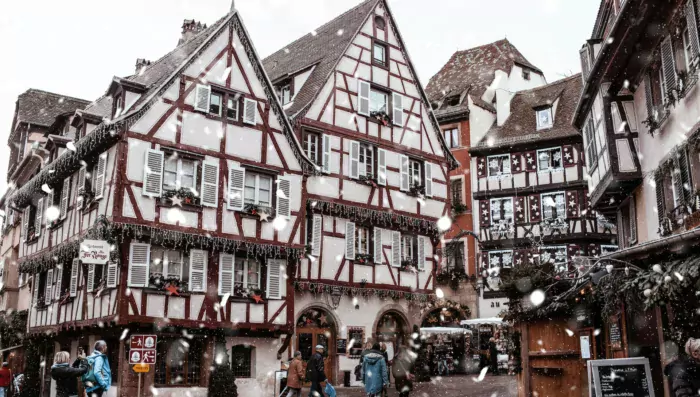 About an hour's drive from Strasbourg, the village of Colmar is smaller but enchanting all the same. Get lost in this town's various Christmas markets. Foodies best stop by Colmar's Gourmet Market and nosh on Alsatian favorites. If you're looking for a unique addition to your tree, be sure to visit the Christmas balls of Meisenthal market. You can also swing by the market at Place Jeanne d'Arc to buy gingerbread, foie gras and other goodies.
More Activities in Alsace
We're certain you could spend days enjoying the Strasbourg and Colmar Christmas markets, but while you're in Alsace, there's plenty more to explore. Here are some of our favorite activities to enjoy during your trip to Alsace.
Alsace Food and Wine Tasting Tour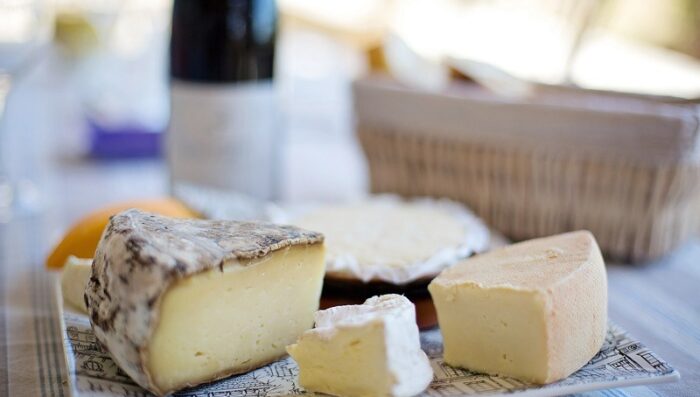 The region of Alsace has much to be seen and tasted. What's better than a private food and wine tour to truly get to know the region? We'll organize a tour of Colmar where you can wander through its Petite Venise neighborhood. You'll enjoy an intimate boat ride as you sip on a glass of Alsace Crémant. You'll taste some of the region's best wines all while enjoying beautiful views of the region, including the Haut-Koenigsbourg castle.
Cathédrale Notre-Dame de Strasbourg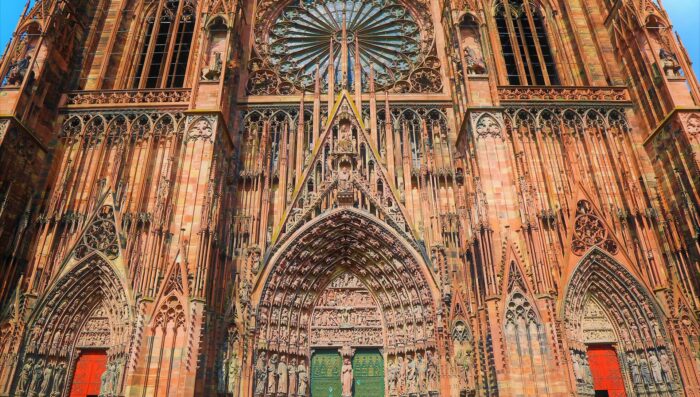 Strasbourg's Christmas markets have been around for a while in Alsace, but the town's cathedral goes back even further. This cathedral dates back to the 1000s. Be amazed by its majestic Gothic architecture and its intricate stained glass windows.
Le Marché Couvert de Colmar
When visiting France, eating well is a given. And during your visit to Colmar, you must take a stroll through its covered food markets. Here you can sample local cheese, cider, wine, honey and gingerbread. Be sure to try one of the region's famed bretzels, or hot pretzels, whether plain or covered in melted cheese.
Where to Stay in Alsace
Hotel Regent Petite France

Nestled on the banks of the river in the historic 'Little France' district of Strasbourg is this beautiful 5-star hotel. With the building dating back to the 1600s, this luxury hotel is the epitome of elegance, charm and sophistication. When you're not relaxing in one of Hotel Regent's 75 rooms and suites, the rest of the hotel has much to offer. Head over to Bar Champagne to sip on a glass of the best bubbles from Bollinger to Veuve Clicquot. If you're looking for a twist, order one of its champagne cocktails. You can also feast on an Alsatian hot dog topped with ketchup, mustard and fried onions. Stop by the spa and book a Chocolate Wrapping session, a de-stressing treatment that resembles chocolate mousse.
La Maison des Têtes
This five-star hotel in Colmar has 21 luxurious rooms where you can rest after a full day of exploration. We're sure you'll fall in love with one of their Character rooms, looking onto the courtyard and boasting wooden beam-laced ceilings. Start your day with the hotel's breakfast where you can nibble on bread from nearby Kaysersberg and Gugelhupf, a regional cake. Make dinner reservations at the hotel's restaurant, Le Girardin. This Michelin-starred establishment prides itself in minimalism from the decor to the size; there are only 14 tables. Bon appétit !
---
Wishing that Christmas could be here in the blink of an eye so that you can explore Colmar and Strasbourg Christmas markets? Us too! Be inspired by some of our top winter tours: Winter Trip to Courchevel with Half Board and 5-star Ski Vacation to Chamonix and the Mont-Blanc Valley. We're ready to help you plan the most magical trip.
Need some help planning your trip?