From its fragrant lavender fields to its rolling vineyards, the region of Provence promises blissful moments. This area in southern France makes the ideal destination for its ample sunshine, idyllic villages, and landscape diversity. Provence also boasts stunning hotels and accommodations. At French Side Travel, we'd be happy to organize a stay at these hotels and throw in some special perks and benefits. We've rounded up some of our favorite luxury hotels in Provence for their convenience, amenities, and jaw-dropping views.
---
Best Luxury Hotels in Provence
How to Get to Provence
The best way to get to the heart of Provence is by flying to the Marseille airport. From there, our driver can pick you up and take you to the Provençal village of your dreams. The TGV, or high-speed train, also has direct lines from Paris to Avignon, Aix-en-Provence, and Marseille. These towns are all great launch points as you discover this rich region.
Hotel Villa La Coste in Le Puy-Sainte-Réparade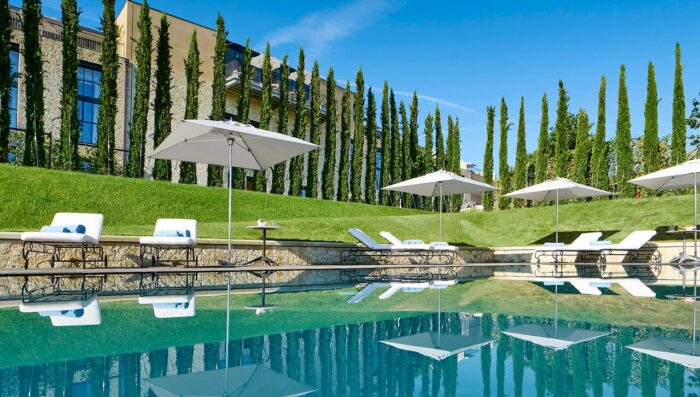 Calling all wine lovers and art aficionados. Hotel Villa La Coste is a luxury hotel in Provence boasting five stars and 28 villa suites. You could spend hours wandering this luxury hotel grounds with its spa, library, vineyard, bar and restaurants. The hotel is situated in the Château La Coste domain, which also boasts various art exhibitions. We're sure you'll be tempted by its Pool Villa Suite, complete with a private patio and pool.
As glamorous as the hotel rooms are, you'll still be itching to explore the rest of this property. This luxury hotel also offers an art and architecture tour and wine tasting during your stay. Indulge in some TLC at the property's spa with a rose, poppy seed and lavender body scrub or a pink mud wrap. We'll book a table for you at the property's restaurant led by Michelin-starred chef Hélène Darroze. Her menu will have you feasting on local produce and products such as goat cheese, Camargue rice, and stuffed zucchini. 
Private meal in the middle of a vineyard

France may offer some of the most exquisite restaurants in the world, but sometimes it's the simple moments we remember most. We'll organize a private lunch or dinner in the heart of Provençal vineyard. We'll take care of the table, menu, and chef; simply show up and bask in the moment.
Hotel La Mirande in Avignon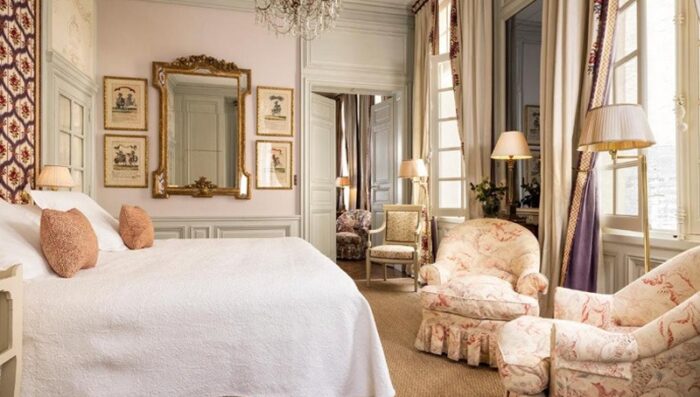 Step into another era at Hotel La Mirande, a 5-star hotel fit for a queen and king. Its 26 rooms are tastefully decorated with cotton prints and each has their own name. From La Rivière Enchantée (enchanted river) to Les Oeillets (carnations), you will be enamored with both the names and the loveliness of these rooms.
Explore the hotel's intimate garden, which is home to a wide array of plants and herbs picked by its chefs. The hotel also has its own cooking school where guests can book sessions to learn alongside decorated chefs. Try your hand at the pavlova pastry or perhaps sauteed, oriental-spiced squid. 
If you'd rather leave the cooking to the professionals, Hotel La Mirande will not disappoint. We'd be happy to book you a table at La Mirande's Michelin-starred restaurant. Nosh on Chef Florent Pietravalle's latest creations from black pear to meat paired with a rye-bread crust. Not only is this hotel rich with its cuisine but also its history. In the 1300s, the popes came to dine in the oldest room of this hotel.
Baumanière in Les Baux-de-Provence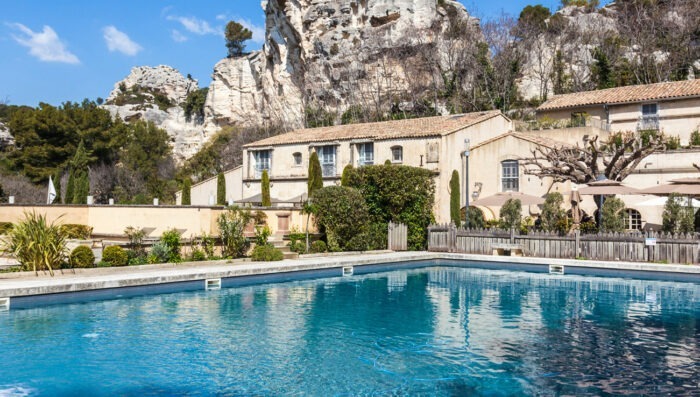 Venture into the idyllic Provençal countryside with a stay at Baumanière. This five-star hotel is nestled in Les Baux de Provence, a village named one of the most beautiful in France. Its 53 rooms have been tastefully and uniquely decorated and feature pieces from nearby villages such as Isle-sur-la-Sorgue.
A stay at the Baumanière would be incomplete without a reservation at L'Oustau de Baumanière. With a decorated history since 1945, this restaurant boasts three Michelin stars and is led by Chef Glenn Viel. You'll also have your choice in their wine selection, with some wines aged 150 years. If you're interested in the science and culture of wine, you can even take an oenology class complete with a cellar visit and wine tastings, bien sûr. 
Wind down at the property's spa with their Escape to Provence massage with its notes of lavender and olive or perhaps their Hawaiian-inspired Lomi-Lomi massage.
Villa Gallici in Aix-en-Provence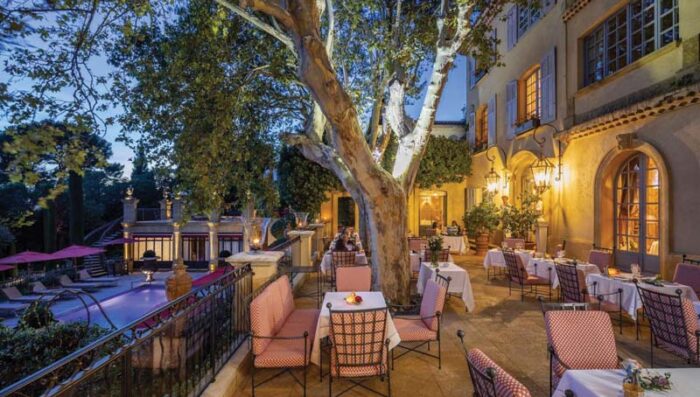 Opt for a luxurious, intimate escape with a stay at Villa Gallici, located in the heart of Provence. No matter your needs or wishes, a stay in one of this boutique hotel's 23 rooms will be a dream come true. From balconies with garden views to its Baroque-style beds, these rooms are fit for royalty. Lie out on one of its cushy lounge chairs poolside.
During your visit, be sure to visit the villa's exquisite wine cellar with hundreds of choices. Indulge in a unique dining experience with both French and Italian flavors. You can also relax with a gastronomic lunch and spa package for two with your choice of a body or facial treatment along with time in the sauna, jacuzzi, and cryo cabin. Or perhaps you're in dire need of a recharge but solo; Villa Gallici also offers lunch and spa packages for one.
Private art gallery tour

Whether you fancy before the gallery's opening or after its closing, we'll organize a private tour of an art center in Aix-en-Provence. Your guide will explain the past of this former mansion and exhibitions. Finish your VIP experience with a meal or hors d'oeuvres in one of the center's salons.
From its renowned vineyards to its history-laden villages, the region of Provence will charm you. With these best luxury hotels in Provence, you're sure to enjoy your visit to the region in comfort and style.
---
Itching to book a stay in one of these luxury hotels in Provence? We don't blame you. And we're more than happy to organize your stay as well as your visits during your trip to Provence. Be enchanted by A Perfect Cultural and Culinary Stay in the Beautiful Provence, Delights of Provence and our Family Trip to Provence.