Bordeaux's wine labels only tell part of the story. This region of France does indeed boast rich vineyards and terroir, but there's even more to taste in Nouvelle Aquitaine beyond the table. Located in western France and not far from the Atlantic Ocean, Bordeaux is a vibrant city with charming architecture and fascinating history. During your trip to Bordeaux, we'll organize exquisite wine tours and tastings, and we'll invite you to explore the depths of this part of France. We're rounding up some of the best hotels in Bordeaux so that your trip is a dream from the first bite to the last sip.
---
Best Hotels in Bordeaux
How to Get to Bordeaux
The city of Bordeaux is directly accessible through its Bordeaux-Mérignac Airport, where one of our drivers can pick you up. You can also arrive by high-speed train at the Bordeaux Saint Jean train station from Paris in a little over two hours.
Hotel des Quinconces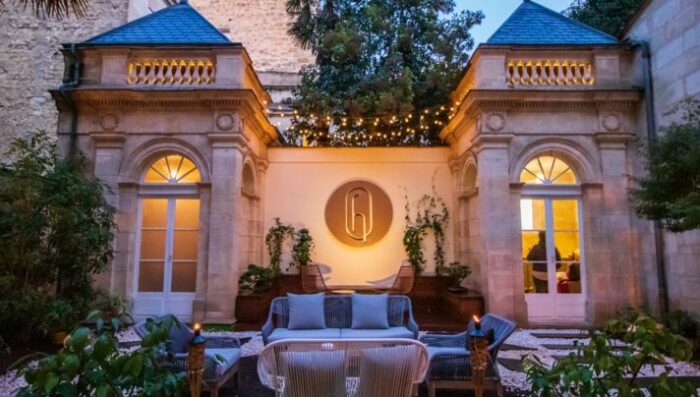 This five-star hotel promises both prestige and intimacy. Having served as the consulates of England and the United States, the hotel boasts an intricate history. You might even discover one of its secret hatches! With only nine rooms, each has its own flavor and name, such as Laurel or Kinmokusei. We're certain that you'll feel cozy in the Jatoba room's king-sized bed surrounded by chimneys; you'll be tempted by its luxurious bathtub, too. Decades ago, this very room served as the reception room for the Consulate to the United States during the Cold War.
Enjoy the hotel's quaint gardens and order a drink at its Xanadu lounge. A patron of the arts, the hotel also showcases local artists' exhibitions and invites guests to admire. Hotel des Quinconces is the perfect spot for a cozy, romantic getaway as you explore the region of Bordeaux.
Hotel de Pavie
A bit outside of Bordeaux, Hotel de Pavie is worth the trek. This five-star hotel is located in Saint-Emilion and best be on every wine aficionado's bucket list. Hotel de Pavie has worn many hats over the years: convent, dance hall and hotel restaurant. No matter your style, this hotel has a variety of rooms and suites located in their Bell Tower, Village and Suite houses.
Enjoy a meal at Chef Yannick Alléno's La Table de Pavie. This Michelin-awarded chef will tempt you with his caviar paired with a smoky eel sauce or roasted pigeon paired with a walnut purée. But the likelihood is that you came to Bordeaux for the wine. This hotel restaurant's sommelier is here to help you; you can opt for a food and wine pairing with a variety of different wines.
Private wine workshop on Bordeaux Grand Crus

Every glass of wine has a story. From the type of grape to climate, the winemaking process is incredibly intricate. Perhaps you'd like to understand more about what goes into making world-renowned wines. We can organize a private workshop with an oenological specialist who can explain the techniques behind appellations such as Saint Emilion and Pomerol. And don't worry: you'll get to sip on several Grand Crus, too!
InterContinental Bordeaux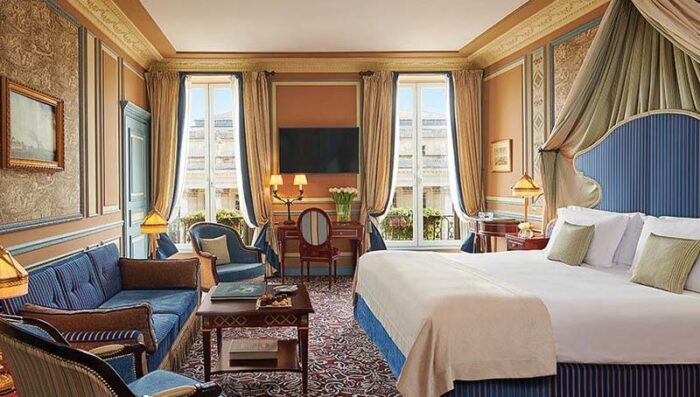 If you're in search of a regal experience while in Bordeaux, look no further than a stay at the InterContinental. Their 130 rooms and suites could've jumped right out of a movie scene; its Opera views, crown moldings and thoughtful decoration are sure to delight. For true wine lovers, we must recommend booking a stay in the Wine Bar Suite. Yes, you read that right: a room with its own private wine bar with Grands Crus by the glass service.
Celebrity chef Gordon Ramsay's restaurant also has taken residence in the InterContinental. Book a romantic, chic dinner for two at Le Pressoir d'Argent Gordon Ramsay, where you can feast on a Michelin-decorated menu. You might want to start studying the menu as there are over 500 wines to choose from.
Private Full-Day Boat Tour in Arcachon Bay + Oyster Tasting

Only an hour's drive away from Bordeaux, the town of Arcachon offers an entirely different landscape. Arcachon is home to Europe's largest sand dune. From this town, we'll pick you up for a boat tour on your very own pinasse, or fishing smack. You'll be able to experience the Cap Ferret peninsula. If you fancy some fresh oysters, we'll organize a meal with a local farmer. Bon appétit !
La Maison Bord'eaux Hotel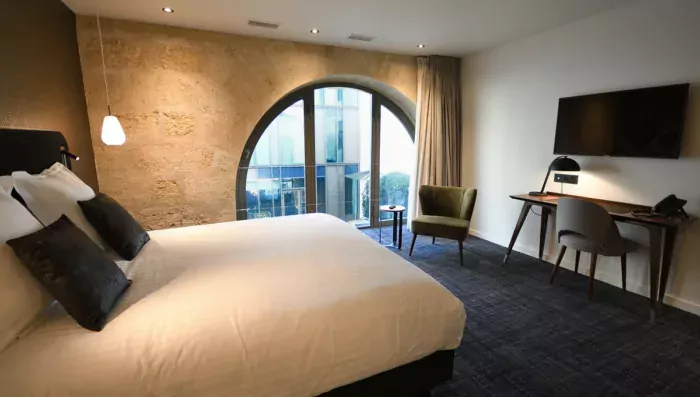 Don't let the modern decoration at La Maison Bord'eaux Hotel fool you; this four-star boutique hotel has roots dating back to the 1700s. At that time, it served as un relais de poste, or a place to change horses. This hotel offers a much cozier experience with its 21 rooms. We have a feeling you'll be tempted by the Deluxe Whirlpool & Terrace Room. At the hotel, you can also enjoy your glass of wine and learn more about what you're drinking on the hotel's iPads.
The region of Bordeaux beckons with its impressive wine culture. But beyond your glass of wine, this part of France has much exploring to be done. And with a stay at one of the best hotels in Bordeaux, you're sure to have both a tasteful and comfortable experience.
---
Already packing your bags for a stay at one of these best hotels in Bordeaux? We totally get it. And we're more than happy to organize your stay as well as your visits during your trip to Bordeaux. Be enchanted by Food and Wine Lovers Tour of Paris and Bordeaux, A Luxury Escape to Bordeaux and our The Essence of Bordeaux and it's Region.