Note: This article was updated on November 10th, 2021. Regulations related to Covid-19 are subject to change.
For official up-to-date information in English from the French Government see here.
Learn how we are protecting you and read our flexible rebooking terms here.
---
It's finally time to make those travel plans and pack your bags. France has reopened to visitors after extended closure due to Covid-19. Below is everything that you need to know about entering France. As this article only covers entry, please check with your airline and country of departure to see if other regulations may apply to you.
Countries risk classification by color 
The French government ranks countries by risk and classifies them based on a color system.
To travel to France for pleasure you must come from a category green country or be vaccinated.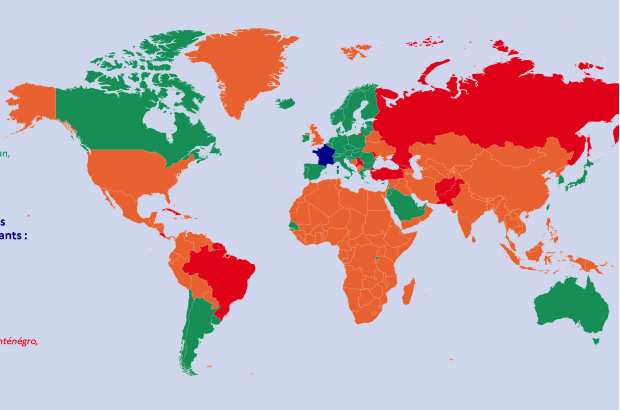 Green Countries
European Union and Schengen Area countries
Australia
Bahrain
Brunei
Canada
Chile
Comores
Hong Kong
Japan
Jordan
Lebanon
New Zealand
Saudi Arabia
Singapore
South Korea
Taiwan
Ukraine
Uruguay
Vanuatu
Orange Countries
All non-green and non-red countries are orange. This is the majority of the world. This includes the United States and the United Kingdom.
Red Countries
Afghanistan
Algeria
Brazil
Costa Rica
Cuba
Georgia
Iran
Maldives
Pakistan
Russia
Seychelles
Suriname
Tunisia
Turkey
Entry Regulations:
Vaccinated* travelers from green, orange, and red countries may enter France if they are vaccinated.
Non-vaccinated travelers from green countries may enter France with a negative Covid-19 test (PCR or Antigen test dated fewer than 72 hours prior to departure)
Unvaccinated travelers from orange and red countries require an essential travel motive to enter France. Tourism is not considered an essential motive.
*The French Government requires that visitors entering under the proof of vaccination statute have completed their course. It considers full vaccination is seven days past a second Pfizer, Moderna, or AstraZeneca injection -or- four weeks past a single Johnson & Johnson injection.
Minor children:
A valid Health Pass is compulsory for minors 12 and older.
Minors under 12 years old and traveling with their parents or legal guardians are not required to be vaccinated.
Current rules in France
In France, a health pass is required for everyone aged 12 and over to enter the following spaces:
Cafes, restaurants, bars – including access to terraces, and night clubs,
Museums, monuments, theatres, concerts, cinemas, events, etc.
Long-distance transport within France (including domestic flights and long-distance trains),
Health establishments, except in case of emergency
Some shopping centers larger than 20,000m2 if mandated by local prefects.
Instructions for People Vaccinated outside of EU to receive a French Health Pass
As of October 31, the French government has changed the method in which U.S. citizens and other people vaccinated outside the European Union may obtain a French Health Pass. Under the new system, the health pass will be obtained from designated pharmacies for a fee of up to 36 Euros.
Where can I get a vaccine equivalency health pass?
The procedure to get a vaccine equivalency health pass can be done directly in pharmacies. The pharmacies already offering this service are listed on the link below: https://www.sante.fr/how-to-obtain-a-french-health-pass
How can I get a vaccine equivalency health pass?
To get a vaccine equivalency health pass, the non-European Union nationals (except students who can apply for a health pass here) need to present the following documents:
A passport
The original vaccination certificate in paper format
These mandatory documents must include, in a legible way, the last name, first name, date of birth as well as the date of vaccination, the used vaccine, if possible, the batch number, the number of doses injected, and the country of vaccination.
For travelers who are unable to convert their health pass, a temporary (72 hours) health pass can be obtained with a negative COVID test performed in France. Rapid antigen tests are available on a walk-in basis at many local pharmacies, with results in under 30 minutes. These results include a QR code that serves as the temporary pass. Once the pass expires, a new test can be taken to obtain a new 72-hour pass.
Be aware that in order to convert the non-EU vaccination into a French Health Pass, travelers over the age of 18 must have been fully vaccinated with the Pfizer, Moderna, Johnson&Johnson, or AstraZeneca vaccines outside of the European Union, Andorra, Iceland, Liechtenstein, Monaco, Norway, Switzerland, England, or Wales.
A similar procedure is in place for French (including dual French/American) citizens and their dependents (ayant-droit)​ vaccinated outside of the EU.
In the meantime, if you are in France or coming to France imminently and need a health pass, please be advised that rapid antigen tests conducted in France (available on a walk-in basis at local pharmacies) serve as a health pass valid for 72 hours.
For further information, please check our COVID-19 regulations related page on our website: Here
On this link, you will find all the information you need regarding Travel to France :
Coronavirus – Advice for Foreign Nationals in France
Travel documents to enter france (if you are vaccinated) :
Proof of vaccination. It will only be valid if it proves that you are fully vaccinated, i.e.:

Seven days after the second shot for two-shot vaccines (Pfizer, Moderna, AstraZeneca (Vaxevria and Covishield));
Four weeks after the shot for one-shot vaccines (Johnson & Johnson);
Seven days after the shot for vaccines administered to people who have already had COVID-19 (only one dose is necessary).
Only vaccines authorized by the European Medicines Agency (EMA) (Pfizer (Comirnaty), Moderna, AstraZeneca (Vaxzevria), Johnson & Johnson (Janssen)), or AstraZeneca (Covishield) will be accepted.
Seven days after a booster ARNm dose (Moderna or Pfizer) after two shots of a vaccine on the WHO's health emergencies list (Sinovac/Coronavac or Sinopharm/BBIB-PVeroCells)

A sworn declaration, which you can download from the Interior Ministry's website stating that

you have no symptoms of COVID-19 infection;
to your knowledge, you have not been in contact with a confirmed case of COVID-19 in the 14 days prior to your journey.

A French health pass
In the attached files, you will find the Sworn Declaration document to fill out.
And finally, a document named "Information on COVID-19 tests before your flight back to the US " that will help you out about where and how to get tested before flying back.
Have a question? Ask our experts
These rules are in place to help you take advantage of your trip to France. If there is something that you are unsure of contact our experts today. We look forward to welcoming you to France!