When visiting France during the holidays, taking in Christmas markets is a not to be missed highlight. Throughout France, markets bring together the best of holiday traditions, local artisans, festive illuminations, gourmet specialties and entertainment for the whole family, yet each is unique. Read on to discover French Side Travel's guide to the best Christmas markets in France.
---
The Best Christmas Markets in France
Colmar: Private Guided Tour to Experience Christmas Market Magic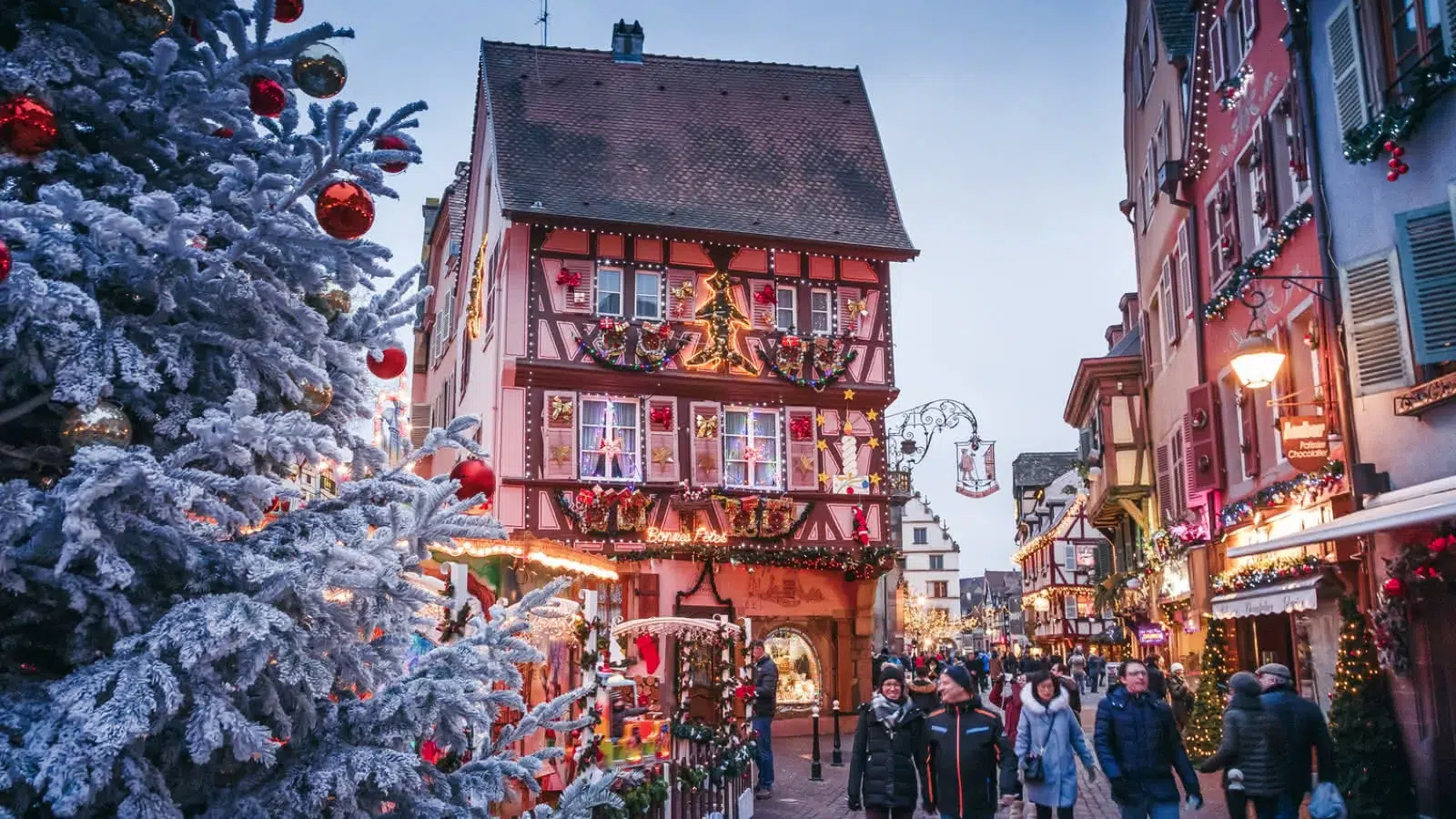 The small town of Colmar is one of the most exquisite in France with its historic center filled with medieval half-timbered houses and small winding canals. During Christmas, the streets of Colmar are impeccably decorated. It's impossible not to be amazed and get swept up into the magic of the season.
Colmar's six Christmas markets each exude the magic of Christmas. Your private guide will show you everything including the Maison des Têtes, an outstanding German Renaissance building and the Petite Venise neighborhood where gorgeous traditional half-timbered houses are lined along the Lauch River. Projected lights on buildings display advent calendars, twinkling stars, and winter scenes.
From November 23rd through December 29th.
Dijon: Gastronomic and Traditional Christmas Market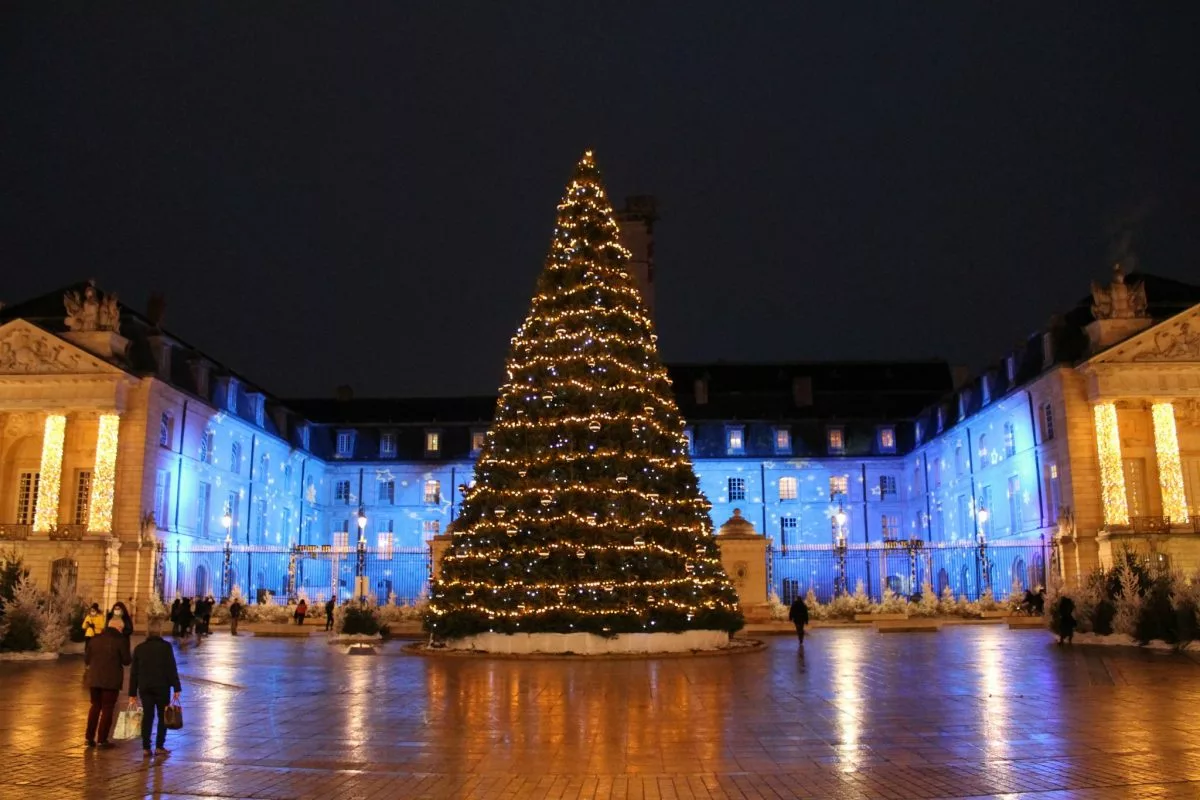 Your private guide will lead you through the heart of the UNESCO World-Heritage classified city center of Dijon. To celebrate the festive season, experience the city's gourmet and traditional Christmas markets. During the Christmas season in Dijon, you'll find the city beautifully decorated with twinkling lights and festive wreaths. Place de la Libération is home to a 59-foot tall Christmas tree and historic carousel. Place de la Republique features a ferris wheel and ice-skating rink.
No Dijon Christmas market experience would be complete without tasting the specialties from the Burgundy region: think gingerbread, mustards, cheeses, and Bœuf bourguignon to name a few.
At night, experience a walk lit completely by lanterns. During this beautiful evening, your private guide will share anecdotes about Christmas traditions related to Dijon's culture.
From December 1st through December 31st.
Strasbourg: Private Guided Christmas Walk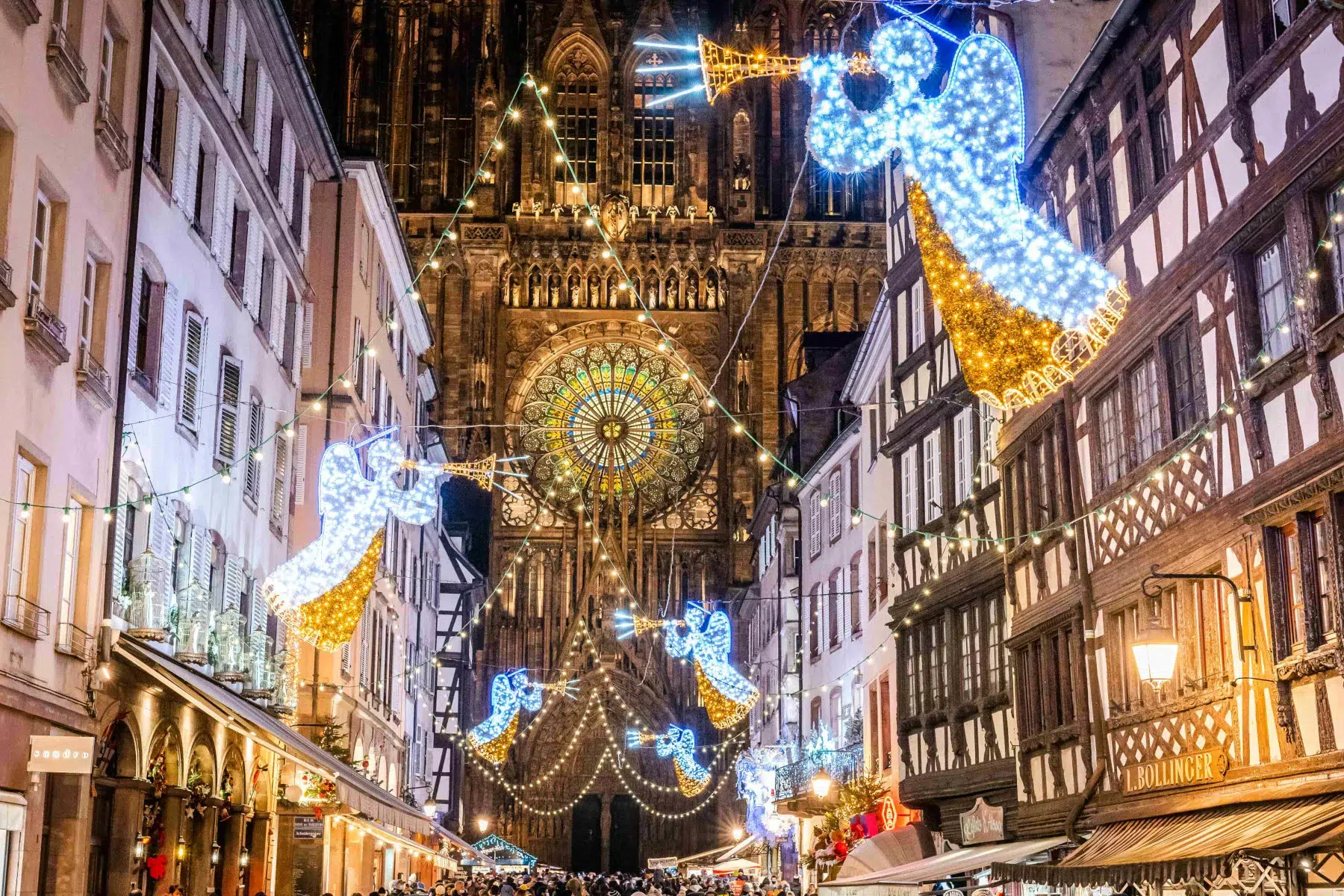 In December, Strasbourg is all decked out and oozes a fairy tale ambiance with the lights and Christmas decorations. Strasbourg offers no less than 10 Christmas markets. Take a private guided Christmas walk to discover the best of the city and its markets. Strasbourg is filled with a festive atmosphere from the magnificent Cathedral to its most beautiful squares.
There is nothing quite like the Strasbourg Christmas markets with more than 300 market stalls, miles of garlands of light, the majestic Big Tree, and dazzling shows and concerts.
From November 24th until December 24th at 6:00 pm. The After-Christmas Village at Louise Weiss Square will be open until January 1st 2024.
Bordeaux: Traditional Festive Christmas Market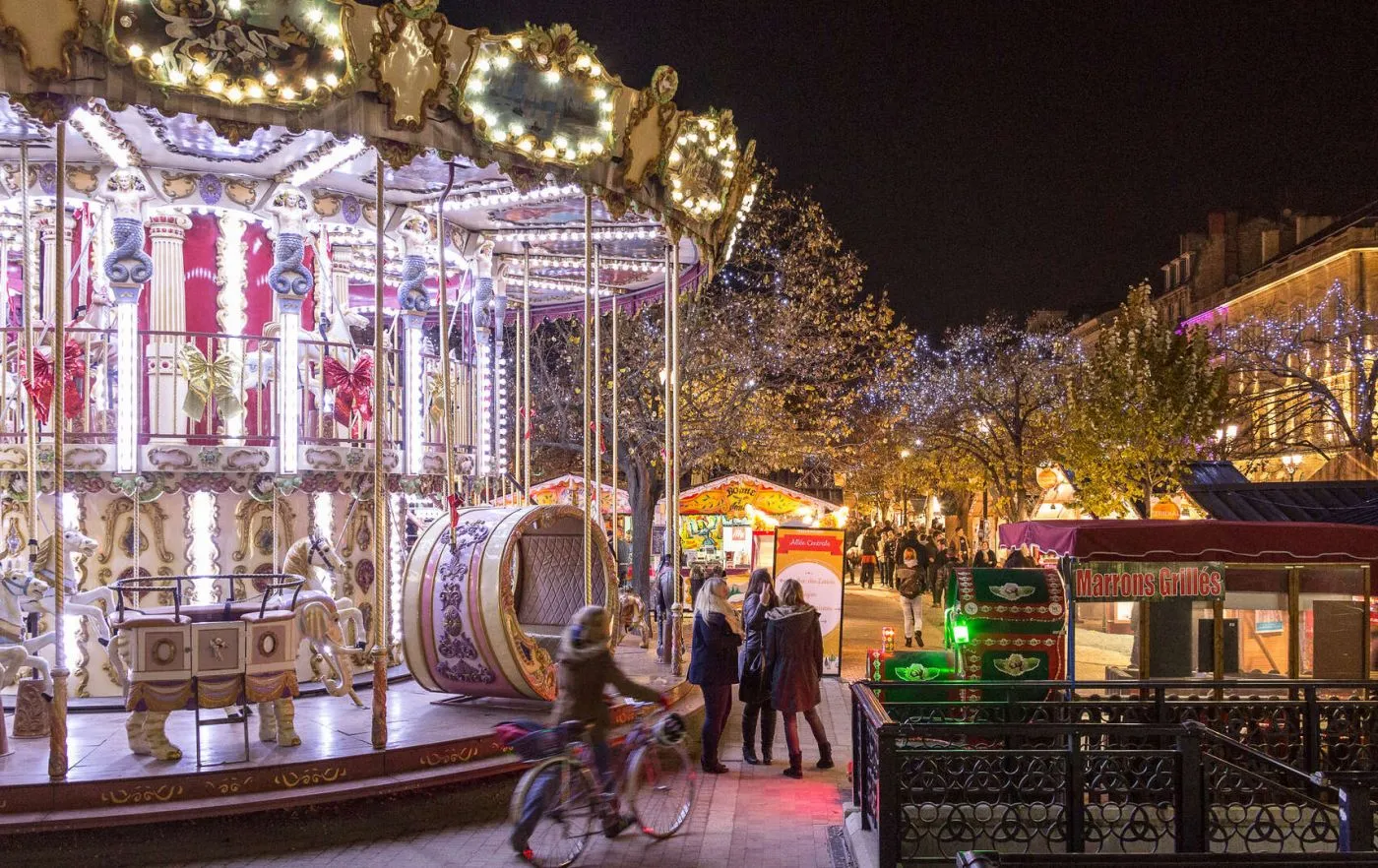 If you are visiting Bordeaux during Christmas time, then a visit to the region's traditional festive market on Allées de Tourny is a must.
Discover the 150 stands that are precisely laid out, divided by a center alley, and encircled by a periphery path. You'll find artisans on one side and plenty of special drinks, foods, and regional products on the other side of the market. If you've come to knock out some Christmas shopping you are in the right place. There are plenty of local objects, crafts, perfumes, jewelry, kitchen utensils, toys, candles, soaps, and more. During your stroll at the Christmas market, do not miss Rue Saint Catherine, the largest pedestrian shopping street in Bordeaux.
The Bordeaux Christmas market hosts a variety of events all throughout December. There is of course the unmissable star: Santa Claus, who is waiting for you for a photo. Near the pine forest, there is also a very beautiful nativity scene. A large covered area for children is installed near the catering area.
From November 24th through December 27th.
Where to Stay in Bordeaux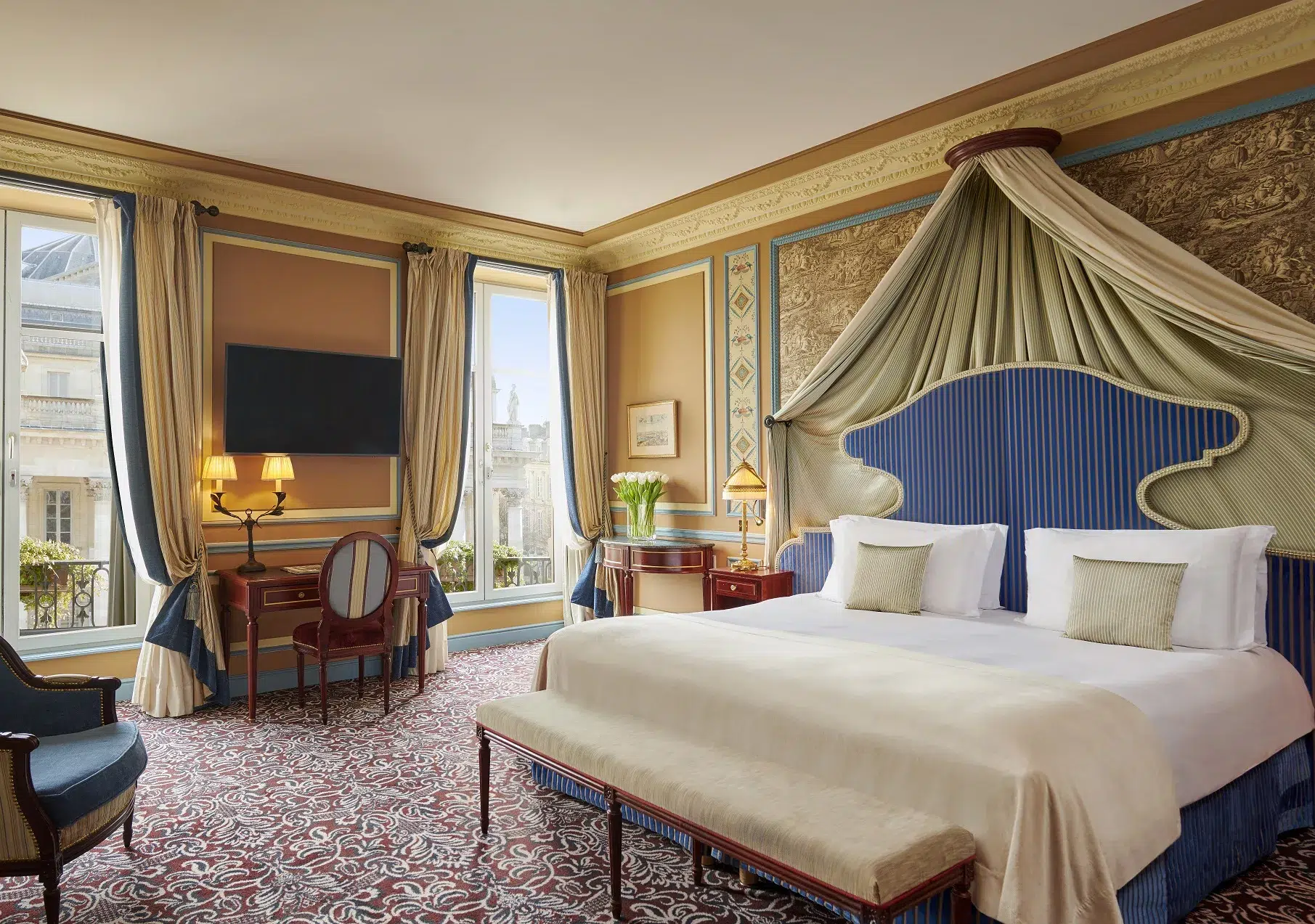 Intercontinental Bordeaux

This upscale 5-star hotel is in an 18th-century neoclassical-inspired building facing the Grand Théâtre de Bordeaux. It is in the city's historic center with the Place de Quinconces and the Saint André Cathedral just a short stroll away

Chic rooms feature ornate furnishings and rich palettes, plus free Wi-Fi, flat-screen TVs, and coffee machines. Suites add sitting areas, some with wine bars. Family suites have pull-out sofas and two bathrooms.

Amenities include two upscale restaurants, a stylish cocktail bar, and an indoor courtyard serving afternoon tea. Relax at the indoor pool, the fitness center, the spa, or the outdoor hot tub.

When booking this hotel with French Side Travel, enjoy the following privileges: 85€ value-added amenity (hotel credit), upgrade to next room category, early check in and late check out (subject to availability on arrival), complimentary Wi-Fi (unlimited devices).

Lyon: An Enchanting Traditional Christmas Village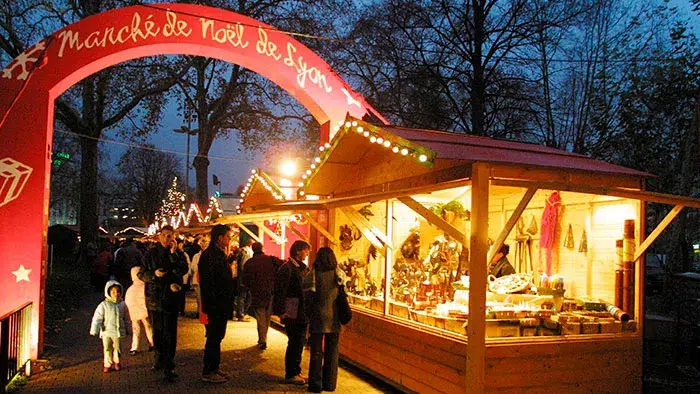 During the holiday season, the oldest square in Lyon, Place Carnot, transforms into a true Christmas village. The square and the market are illuminated with decorative lights giving it a joyful atmosphere. The Christmas Market showcases the skills and talents of local producers, artisans, and businesses.
Visitors can indulge in delicious local products like fruit jams, chestnuts, ice creams, gingerbread, wine, foie gras and more. You also can shop for unique Christmas decorations such as stars, baubles, garlands, and enchanting santons. Local craftsmen fill their stalls with beautiful retro jewelry, textiles, and accessories.
The Lyon Christmas market is a dream for children. There are numerous activities set up including puzzles and toys to play with. The children's make believe workshops and story readings are a highlight. Children can also whisper their wishes in Santa's ear. As a nice gesture of Christmas charity, the proceeds from the photos with Santa Claus are donated to L'Association l'Orchidée, whose aim is to help seriously ill children.
From November 26th through December 24th.
Reims: Christmas Market with Enchanting Chalets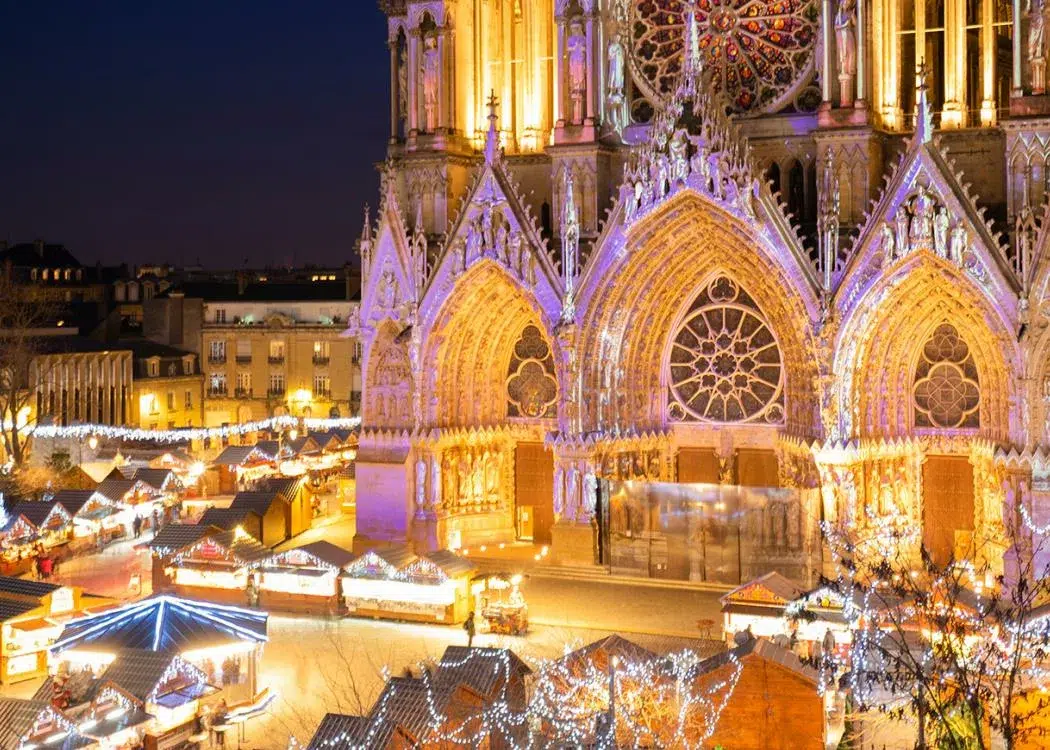 The stunning and historical city of Reims is lovely during Christmas time. The first French Christmas celebrations took place in 496 in Reims. The Reims Christmas market is highly anticipated each year. The event has become one of the most popular Christmas markets in France attracting nearly 1.5 million visitors from all over the world. Visitors can discover approximately 150 chalets lit with twinkling lights and filled with seasonal gifts.
A highlight is the incredible sound and light show Regalia, which takes viewers through the emotion and beauty of a coronation day. The Children's Kingdom features activities like an animation show, Santa's chalet, train rides, and Christmas ropes courses. This festive market also has a Ferris wheel and an ice-skating rink.
Visitors can take in musical concerts, watch nativity scenes, savor authentic gourmet cuisine, or just stroll around the streets with loved ones. This season is an excellent moment to discover the city of Reims and its Cathedral.
From November 24th through December 24th.
Paris: Varied Christmas Markets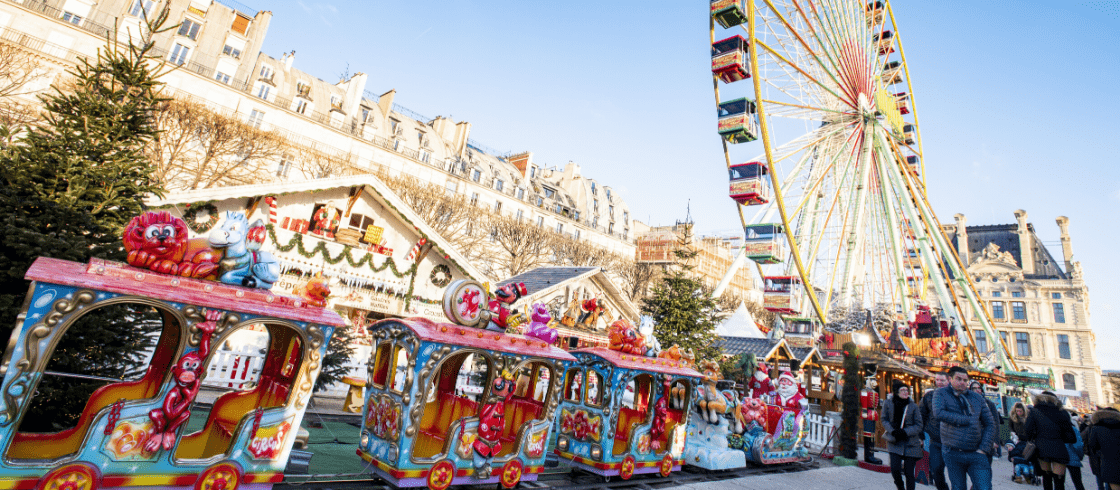 A must-see when visiting Paris in the winter is one or more of the fabulous Christmas markets in Paris. You will find the markets sprinkled throughout the city. Each is different and provides a festive mix of ways to take in the holiday spirit. We recommend getting a cup of hot chocolate and wandering the various stalls. You will find holiday decorations, regional and seasonal food specialties, music, sometimes rides and attractions and general merriment!
Some of the most popular Christmas Markets in Paris can be found in the following locations: the Tuileries Garden (formerly along the Champs-Élysées), Saint-Germain-des-Prés, Saint-Sulpice, Place de la Nation, Place des Abesses in Montmartre, Gare de l'Est and Trocadero.
From November 18th through January 7th.
Montpellier: Christmas with a Mediterranean Twist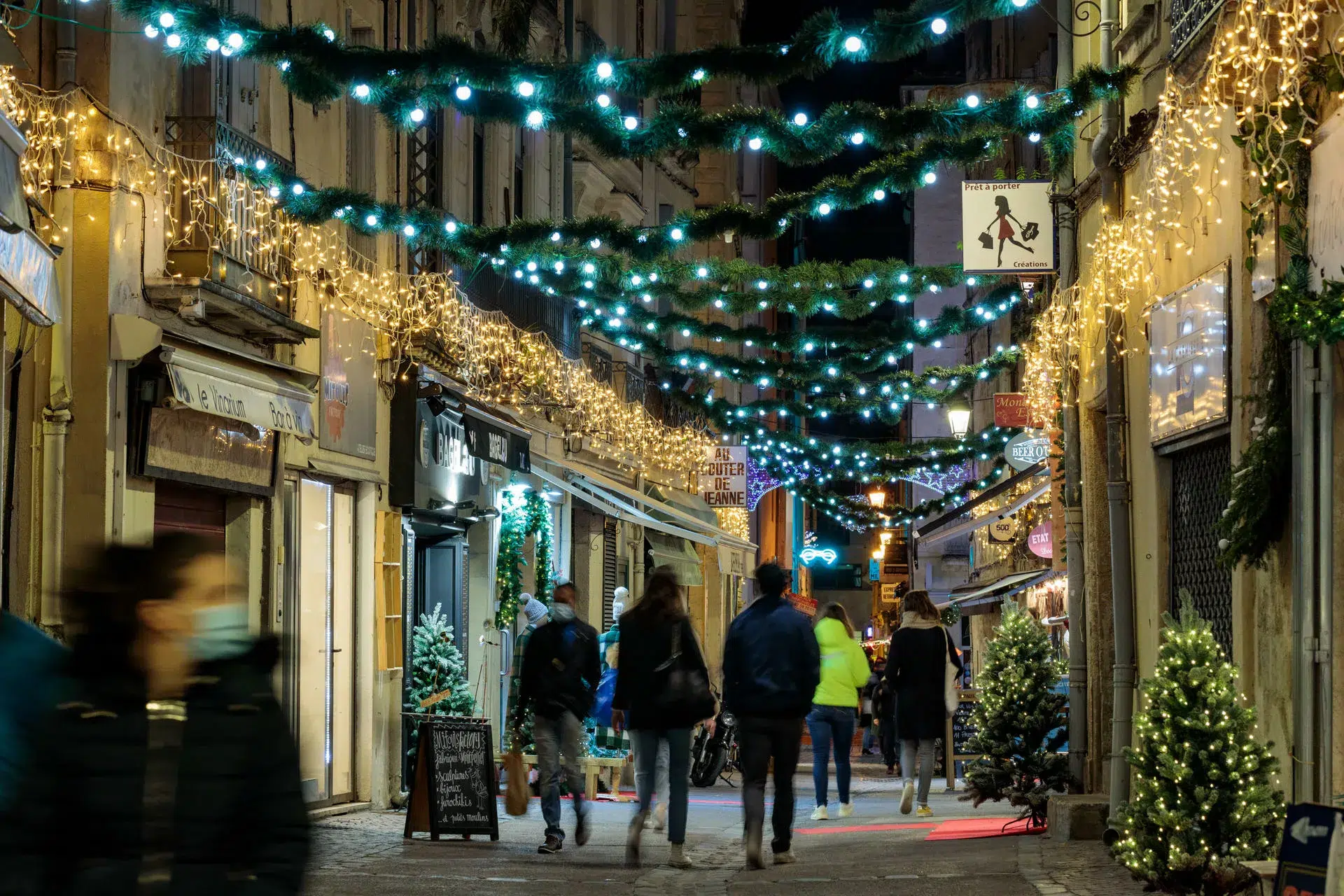 If you are hoping to experience an enchanting Christmas atmosphere with a Mediterranean twist, look no further than the beautiful Montpellier Christmas Market, also known in French as the Hivernales de l'Esplanade, one of the most popular Christmas events in Southern France.
The event normally sees the Esplanade Charles de Gaulle transformed into a winter wonderland. However, in 2023 the event will take place at Place Royale du Peyrou.
In Christmas stalls, visitors will find a selection of unique crafts from artisanal soaps and handmade jewelry to local food delicacies from the surrounding Languedoc-Roussillon region. Savor Christmas specialties like Bûche de Noël, a classic Christmas dessert that is similar to a sponge cake roll, confit de canard, foie gras, oysters, ratatouille, tarte tatin, and more.
From December 2nd through December 30th.
Annecy: Christmas Market and Light Show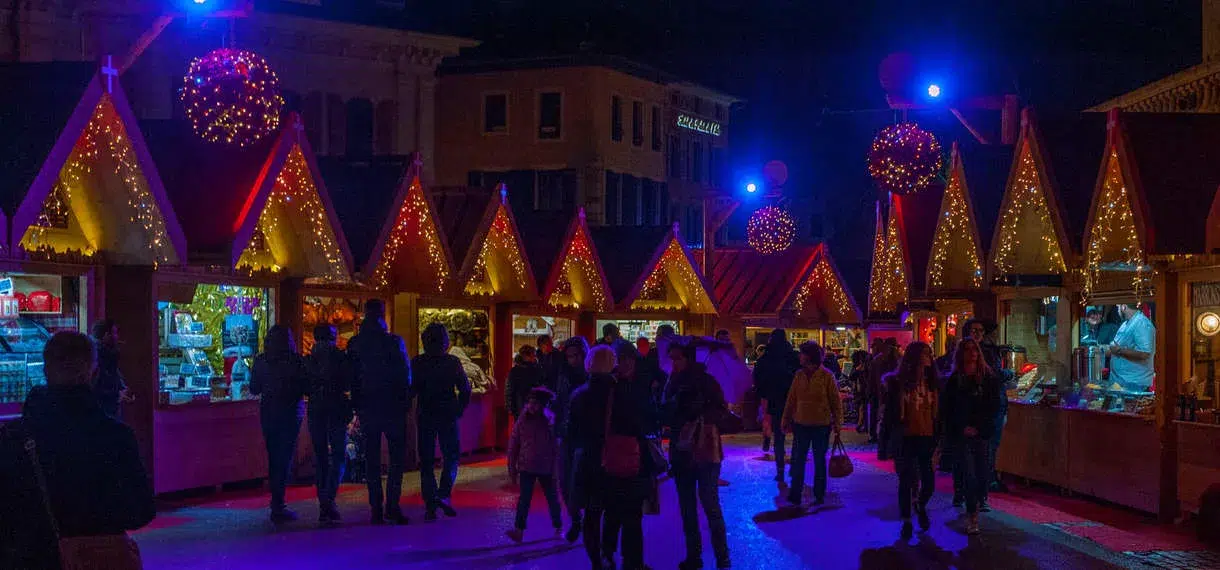 \Annecy's Christmas festival is held in the little Venice of the Alpine Christmas landscape. Around 90 exhibitors present their wares in 120 wooden Savoyard chalets. In fact, Annecy organizes two Christmas markets for residents and visitors.
The first market is located at the entrance of Annecy's old town, allowing visitors to stroll in the old streets dating back to the Middle Ages. These Alpine chalets offer ideal Christmas gifts and authentic Savoyard culinary specialties such as tartiflette and diots au vin blanc. For a memorable souvenir, you can buy beautiful hand-made santons, traditional games, or toys.
Then, you can visit Annecy's second Christmas market on Place François de Menthon. Also known as the Alpine Village, it recreates the atmosphere of an Alpine winter sports resort. Discover the numerous chalet-style stands showcasing original clothing creations and costume jewelry. Visitors can taste gourmet foods like fondue, oysters, or raclette. At the end of the day, stop to enjoy a musical performance in a guinguette atmosphere, or try ice-skating.
From November 25th through January 6th.
Honfleur: Artisanal and Gourmet Christmas Market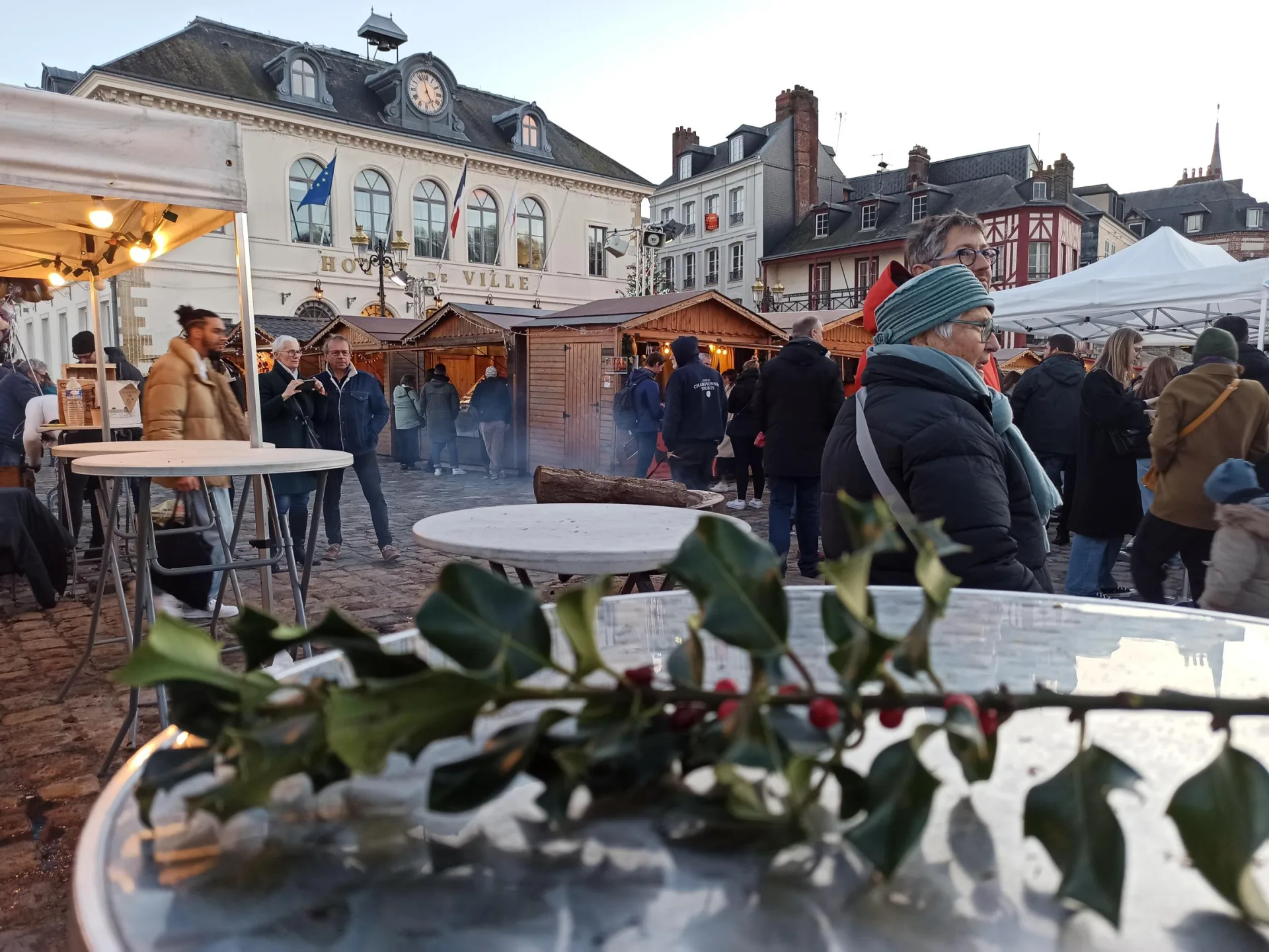 The picturesque city of Honfleur is mostly known for its historic harbor, unique church, and many timber-framed houses. The Christmas atmosphere is incredible with glowing fireplaces in the city of impressionist painters.
The Honfleur Christmas market takes place near the Place de l'Hotel de Ville. Visitors can discover the 28 chalets filled with novelties. Enjoy the oyster bar and various food stalls, a Christmas beer barrel, and above all an original attraction called the Double Toboggan Run, a sliding tunnel instead of an ice rink.
Activities like storytelling, musical choirs, and various craft demonstrations and workshops can also be enjoyed. The exhibitors of the market are carefully selected to highlight regional quality products.
From December 20th through January 7th.
Where to Stay in Honfleur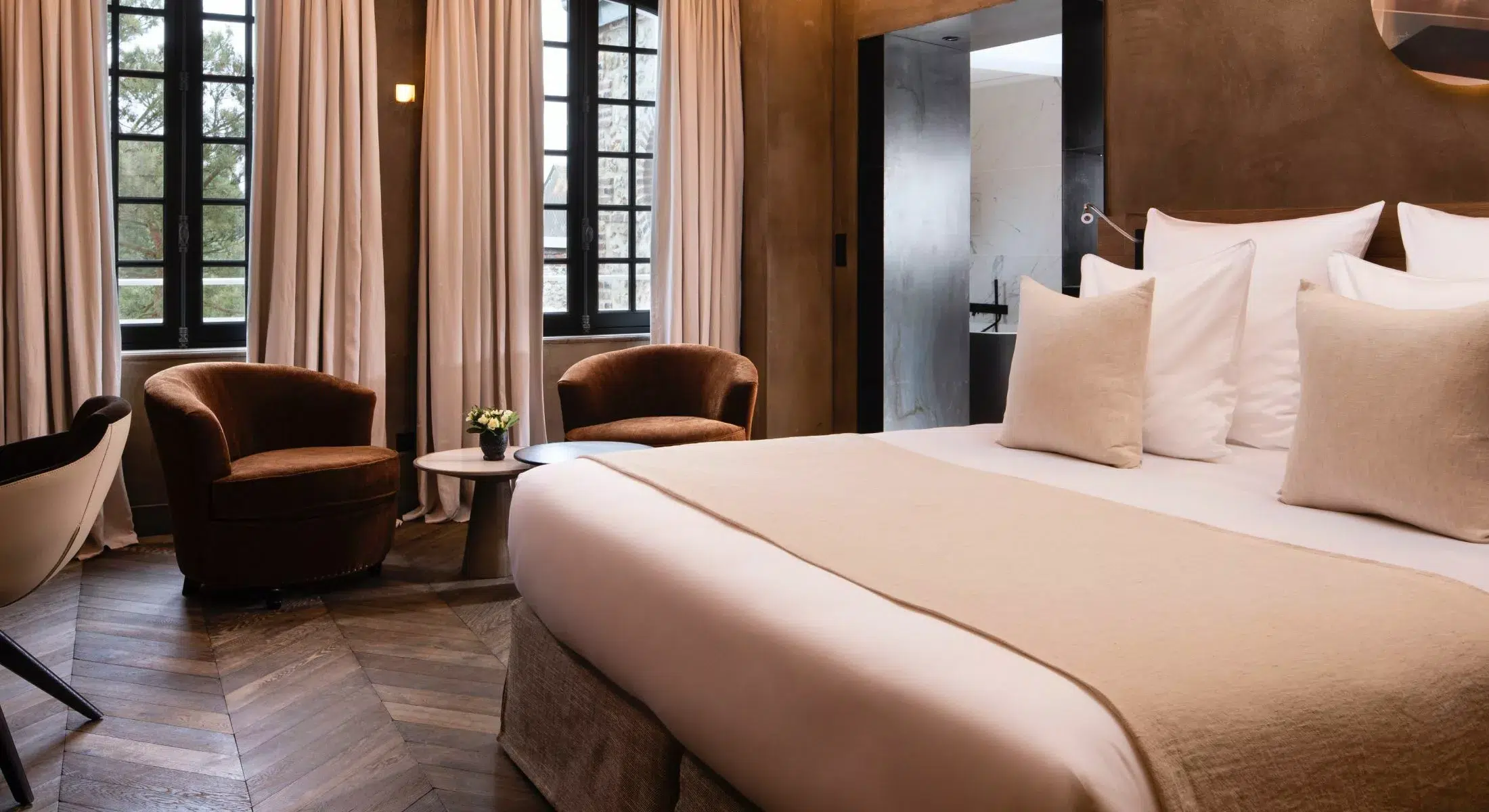 Hotel Saint Delis

Nestled in the heart of Honfleur's historic district in Normandy and just two hours from Paris, this luxury 5-star hotel with a discreet charm is an essential part of the city's arts and historical heritage. Situated among the 17th-century architecture, the hotel appears enchanting from the first glance.

Every room overlooks beautiful gardens and provides a variety of views in an intimate and personalized setting. The bedrooms are elegantly furnished and have magnificent, comfortable bathrooms where the beauty of marble and mirrors combine to create a luxurious and contemporary atmosphere.

Rooms are equipped with modern amenities, each room has a shower hammam, and the Deluxe and Junior suites have a spa bath as well. While you are here, you can also enjoy services such as horse carriage rides, massage therapy, and painting lessons. There are also facilities for child care.

Guests will also be able to savor dishes made from local ingredients and inspired by Saint-Siméon collection restaurants for the best culinary experiences, in the restaurant of Ferme Saint Siméon.

This is an ideal place for a family stay or a weekend of relaxation, as well as a vast array of activities that will delight young and old alike.