Spend two weeks sampling the very best wines in Beaujolais, Burgundy, and Champagne
Premium | From $6,299 pp
Travel from Champagne, through Burgundy, and finally to Lyon where you will enjoy a perfect balance of gastronomic and cultural experiences. In Burgundy, you'll enjoy a fabulous full day amongst the vineyards learning about prestigious wines. A cooking class in Dijon will provide not only a lesson in French cooking but also in the French "Art de Vivre." Finish your trip to Lyon to discover the fascinating history of the gastronomic capital of France!
Day by day
Day 1: Reims
Private Transfer: Reims Train Station to Reims
A chauffeur will meet you for a private transfer between Reims Train Station and Reims.
Your driver will be waiting for you at the end of the platform by the head of your train.
Overnight Stay with Breakfast at a Château-Hôtel between Reims and Epernay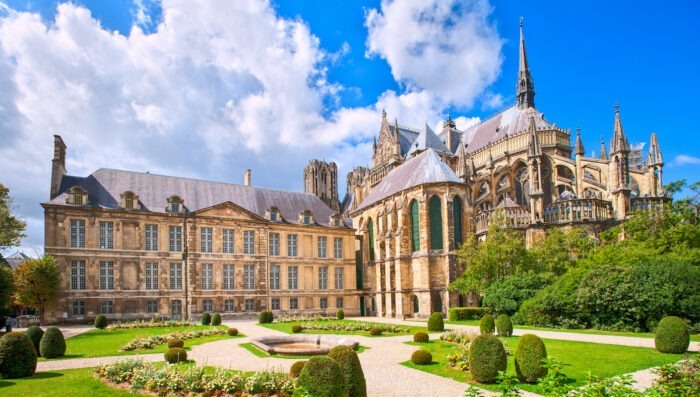 Day 2: Reims - Epernay
Driver at Disposal for the Day
A car with an English-speaking driver will be at your disposal.
Private Guided Tour of Notre Dame Cathedral in Reims
Meet your local guide in front of Notre Dame de Reims for a private tour of the cathedral. Notre-Dame de Reims, a majestic Jewel of Gothic Art is an architectural marvel, the beauty of which will immerse you the first time you see it. This masterpiece of the 13th century is unique with its stylistic unity, its stained glass windows, and its statues, including the emblematic Smiling Angel. The Baptism of Clovis around the year 500 and the 25 coronations of the Kings of France in this major site of prestige and history have given the city the name of the Coronation City.
Suggestion: Explore Epernay
Epernay is well known as the capital of the Champagne-producing region of France: it is a wealthy-looking town because of the expensive 19th-century townhouses and other mansions constructed with the wealth derived from the Champagne trade. The town sits below the vine-covered hills typical of the region. It is the perfect location to discover various well-known Champagne producers.
Start your tour of the grand Champagne houses on Avenue de Champagne. Some of these have the most remarkable and extensive caves below the buildings. Along this avenue stand many of the most impressive Champagne houses and châteaux in Epernay. Moët-et-Chandon and Mercier are the most renowned Champagne houses. They will introduce you to the Champagne tasting experience (called a dégustation in French). But there are also many smaller producers open for visits in the town. The garden at the Château Moët-et-Chandon will be the highlight of your day.
Epernay is best known as a mecca for those with an interest in Champagne. But the town and the surrounding region also contain places of interest. Because of its geographical location near the French border, Epernay has been attacked and almost destroyed numerous times during its long history. As a result, there is little remaining here from the medieval period: most architecture in the town dates from the 19th and 20th centuries. The Portail Saint Martin is the oldest monument in Epernay. It is an impressive stone doorway and all that remains of the 16th-century Church of Notre Dame.
Overnight Stay with Breakfast at a Château-Hôtel between Reims and Epernay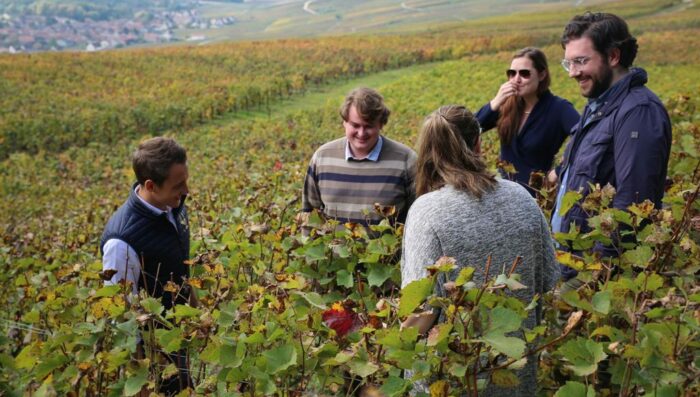 Day 3: Dijon
Private Transfer: Reims to Dijon
A chauffeur will meet you for a private transfer between Reims and Dijon.
Meet your driver or guide in the hotel lobby near the concierge desk.
Suggestion: Free Day in Dijon
A stroll through Dijon reveals a charming and well-preserved medieval town that is perfectly accessible by foot. The quaint alleys are lined by half-timbered houses that look like something out of a fairytale. The Saint-Bénigne Cathedral is truly a Gothic masterpiece.
The Palace of the Dukes of Burgundy contains remarkably well-preserved buildings from the 14th through 17th centuries. The Philippe le Bon Tower is a 15th-century watchtower offering some marvelous views for those who climb its 316 steps. The palace contains the exceptional Musée des Beaux-Arts.
There are some great fine-dining restaurants accompanied by renowned wines from the region's prestigious vineyards including Couchey, Brochon, Gevrey-Chambertin, and Chambolle-Musigny.
Enjoy Dijon, a beautiful gem in France's Burgundy region!
Overnight Stay with Breakfast at a 4-star Historic Hotel in the Center of Dijon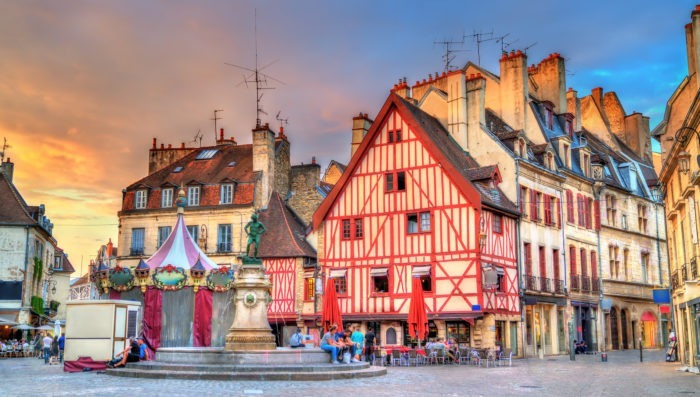 Day 4: Dijon - Fenay
Private Cooking Class and Lunch in Dijon
This personalized cooking class will teach you important French cooking skills like how to make macarons, molecular cuisine, verrine and siphon, foie gras, chocolate, or themed menus for example. You will also learn the important entertaining and "Art de Vivre" skill of how to prepare and properly serve Champagne. The class is adaptable to whatever you desire!
Included: preparation and tasting of a starter, main course, and dessert
Overnight Stay with Breakfast at a 4-star Historic Hotel in the Center of Dijon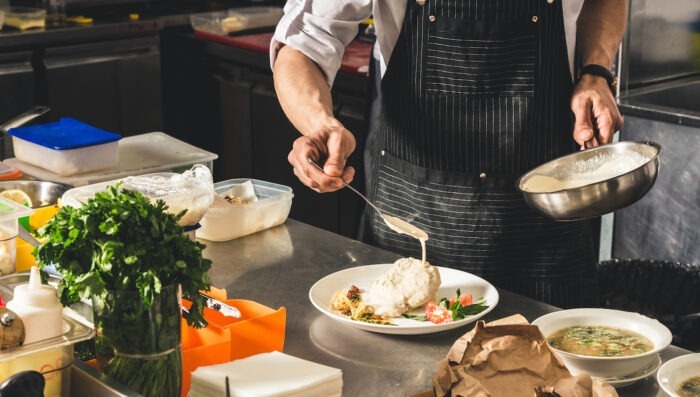 Day 5: Dijon
Full-Day Private Guided Tour of the Prestigious Vineyards of Burgundy
Make the most of your trip to Burgundy and visit world-renowned domains. Spend a day out in the countryside, tasting carefully selected red and white wines and visiting authentic family producers.
Discover the reputable Côte de Beaune & Côte de Nuits.
Meet your friendly local guide at your hotel and hop in a comfortable private minivan. Take a scenic drive to reach one of the most recognized domains in Burgundy and enjoy a full visit and tasting.
Experience a French apéritif in the middle of the vines consisting of French delicacies to be paired with a beautiful wine of the day.
In the afternoon, discover the charm and authenticity of family producers and tour two attentively chosen genuine family-run wineries. Savor an exclusive wine selection: a palette of well-balanced and exceptional aromas.
Drive through Burgundy's most esteemed Grand Cru vineyards and hear about their story, and how they have come to be so appreciated.
A nice option is a casual terroir lunch at a domain surrounded by Burgundy's hillside vineyard. If the weather allows, lunch will be served outside. It will not take too long and you will spend a great time.
Overnight Stay with Breakfast at a 4-star Historic Hotel in the Center of Dijon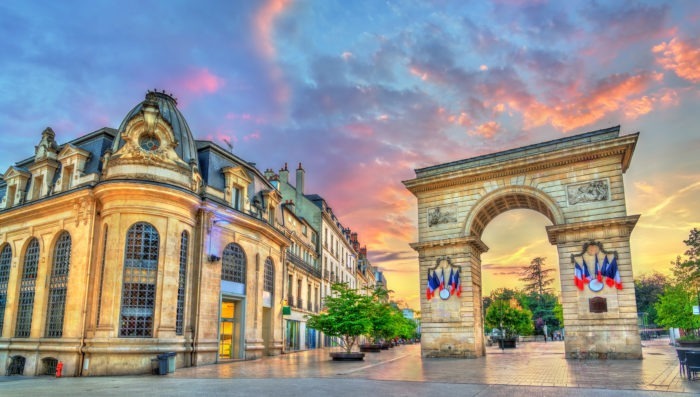 Day 6: Beaune
Private Transfer
A chauffeur will meet you for a private transfer between the train station in Dijon and your lodging in Beaune.
Suggestion: Discover the Beautiful Town of Beaune and its Wineries
Beaune is regarded as the wine capital of Burgundy. Among its highlights are the wine cellars, the Basilica Notre-Dame from the 12th century, and the hospices of Beaune, a former charity almshouse built in 1443 as a hospital for the poor. It features a stunning collection of art and culture treasures such as paintings, sculptures, carpets, and apothecary gear offering a fascinating insight into history. The colorful roofs made of terracotta of the court of honor are a veritable masterwork.
The former almshouse possesses a vineyard area of 60 hectares producing French wines and Grands Crus. Since 1764, 41 Cuvées de Prestige are sold in auctions. The profits are solely used for the financing of hospitals, care of the elderly, and medical research.
You will also visit some gourmet shops and taste local specialties.
After the visit to the town, you will take a walk through the wineries, and then return to Dijon.
This is a perfect activity for gourmets and wine lovers!
Overnight with Breakfast at a 4-star Hotel in Beaune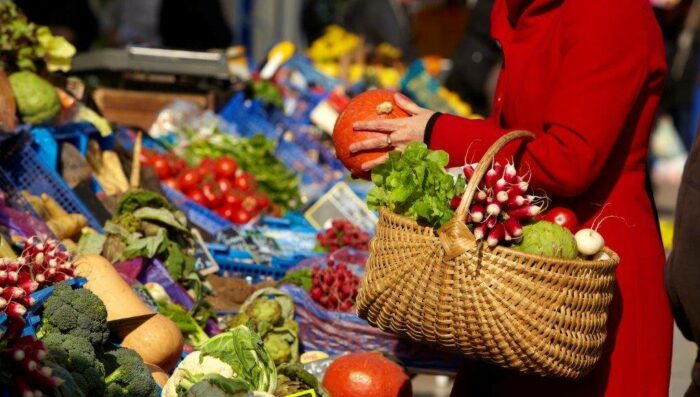 Day 7: Beaune
Burgundy Gourmet Tour
Five culinary tasting stops let you discover various specialties of Burgundian cuisines, such as charcuterie boards, cheeses, macarons, chocolates, breads, pastries, and more.
Depending on the season and your day of the visit, your guide accompanies you to a local food market in a village close to the vineyards, in Beaune or the famous "Halles de Dijon" where you can meet local producers and farmers.
You will get to enjoy regional products, such as the Burgundy truffle, parsley ham "jambon persillé", local gingerbread, Cassis from Dijon, Anise of Flavigny candies, chocolates, pastries, and not to forget the famous Dijon mustard.
A relaxing afternoon through the legendary vineyards of Côte de Nuits or Côte de Beaune. Castles, former abbeys, Romanesque churches and winegrowing villages on the Grands Crus Road.
At the end of the day, a stop in a traditional cellar for a comparative Burgundy wine tasting, white and Pinot Noir, including Premier Crus and Grand Cru. You can combine your choice of local products selected during the day with local wines during a special food and wine pairing tasting.
Overnight with Breakfast at a 4-star Hotel in Beaune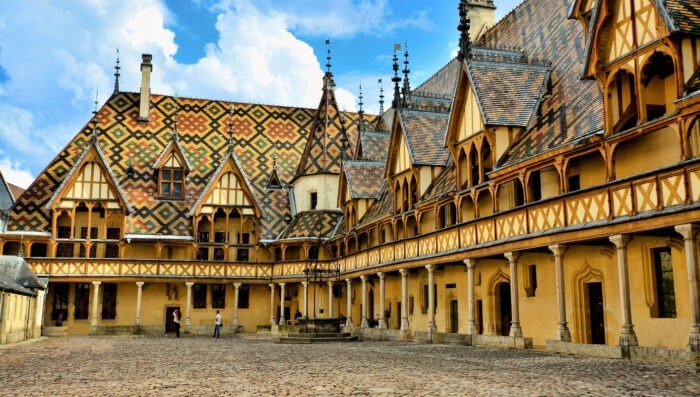 Day 8: Lyon
Train in First Class between Beaune and Lyon
Private Guided Tour of Lyon, from the Presqu'ile (Bellecour Square) to Old Lyon
On either side of the Saône River, take a guided tour to discover two districts with very different atmospheres.
On the left bank of the Saône, the Presqu'île, the heart of Lyon where superb squares like Bellecour, the Célestins, the Jacobins are next to luxury boutiques, restaurants and remarkable monuments such as the Théâtre des Célestins.
On the right bank, you'll find Vieux-Lyon, a colorful Renaissance district with narrow cobbled streets lined with Renaissance hotels and pierced by traboules.
This is an ideal route to soak up the atmosphere and the art of living in Lyon, from past to present. From the main streets to the Renaissance alleys, relive the great periods of Lyon's history.
Overnight Stay with Breakfast at a Historic 4-star Hotel in the Center of Lyon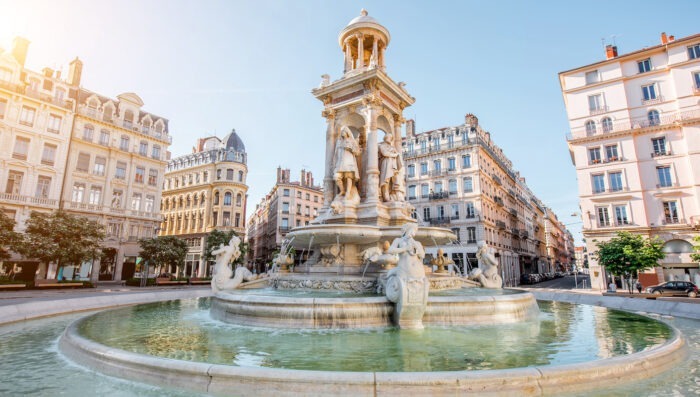 Day 9: Pérouges
Private Full-Day Tour of the Beaujolais Wine Region, Bresse, and Medieval Pérouges
Visit these emblematic territories which are Beaujolais, Bresse, and Dombes, in a special way. This original itinerary will offer you a global overview of the Lyonnaise region. Enjoy an exceptional day to discover the wonders of these three regions.
Leaving Lyon, you will take the road in the direction of the Beaujolais region, just north of Lyon. The morning will start with a tour of a winery, where you will be able to test your knowledge of the Beaujolais wines. Thanks to a tasting of wines from the estate, you will be able to discover and fully appreciate the aromatic richness of these wines.
You continue your trip in Chatillon-Sur-Chalaronne, in the heart of the Bresse region. With its remarkable architecture and its famous Bresse poultry, this small town offers a gourmet stopover for you to have lunch. Your guide will gladly give you advice about the local specialties you should taste. On Saturdays, market day, you will wander around the stalls under the halls dating back from the 11th century, in an authentic and convivial atmosphere.
You will then drive to Pérouges and cross the unique sceneries of the Dombes region, the region of a thousand lakes. This medieval village listed as one of The Prettiest Villages of France welcomes you for a gourmet pause in an authentic Hostellerie from the 13th century. You will taste the famous "Galette" from which the recipe is kept a secret. You will enjoy some free time in the village, so you can wander in the small cobblestone streets and travel back in time, before heading back to Lyon.
Overnight Stay with Breakfast at a Historic 4-star Hotel in the Center of Lyon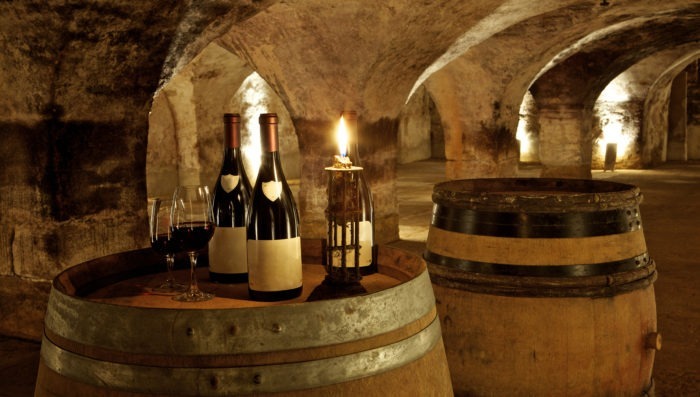 Day 10: Lyon
Private Half-Day Gourmet Walking Tour of Lyon
This gourmet tour passes through Lyon's most emblematic neighborhoods with stops to taste local specialties.
Meet your guide by the Saint-Jean Cathedral. He is a specialist in culinary history, who will show you around the charming historical Lyon and point out the admirable traboules, sheltered medieval passageways.
The first gourmet stop is at one of the best pastry shops in Lyon, where you will learn about how pralines are made. Of course, you'll get to taste them too! The popular pink sugar-coated almonds are a perfect dessert on their own but are also the base of a number of praline-based treats.
The tour continues on the other side of the Saône River, where the Bourgeoisie settled in the 17th century. The Presqu'île district has seemingly countless bouchons, traditional bistros found only in Lyon. Learn the history of the Mères Lyonnaises, or the mothers of Lyon, 19th-century middle-class women who worked outside their homes as cooks. They created brand new culinary traditions incorporating regional cooking.
A stop at one of the famous Chocolats Voisin stores to taste Coussin de Lyon is a must! This unique chocolate and marzipan dessert is shaped like the cushions used by Lyon's silk weavers. It has been a symbol of Lyon since the 1960s.
Finally, visit the indoor Paul Bocuse Market, in the modern Part-Dieu district. This is a center of Lyon gastronomy that brings all of the region's fine products under one roof: charcuterie, cheese, quenelles, chocolate, wines, and much more. Products change based on seasonal availability, but no matter when you visit, it is a gourmet pleasure.
Your tour ends at the "Halles Paul Bocuse."
Overnight Stay with Breakfast at a Historic 4-star Hotel in the Center of Lyon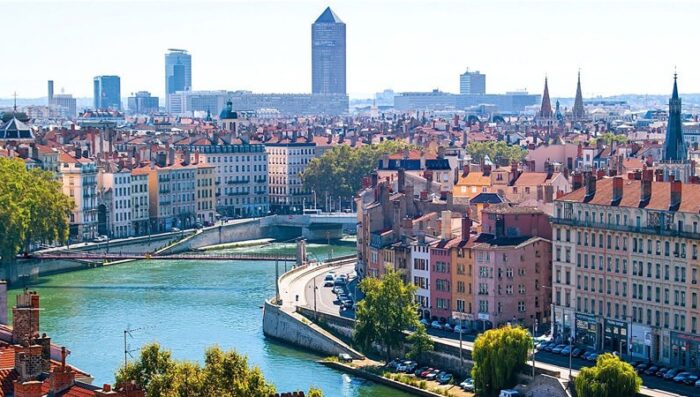 Day 11: Lyon
Private Transfer to the Lyon Train Station
A chauffeur will meet you for a private transfer between your accommodation and the train station.
About This Trip:
Enjoy 24/7 English-spoken telephone assistance while traveling
This itinerary includes transport, activities, guides, accommodations with breakfasts, and other listed services
Price is in USD per person, assuming double occupancy. Note that prices and availability are subject to change.
Customize this itinerary:
Every French Side Travel trip is custom-built for your unique needs and interests. Above is an example of what's possible. If this isn't exactly what you're looking for, contact us today. Put together your dream trip with our travel experts. Handpick the accommodations, guides, activities, and meals that are right for you.
When you book with French Side Travel, you're getting a trip that's as unique as you are. 

Our Favorite Hotels in Beaujolais, Burgundy and Champagne
Hotel Abbaye de Maizières
Château de Courban & Spa Nuxe
Hôtel de la Poste et du Lion d'Or