A perfect mix of gastronomy and sightseeing
Liberty | From $2,299 pp
Spend seven days driving and eating your way through Normandy. This is a perfect mix of gastronomy and sightseeing. A car means you'll have the freedom to explore important sites like Claude Monet's Giverny and the Impressionist Museum, the D-Day beaches, and the old towns of Bayeaux and Honfleur. Gastronomes will relish the chance to eat seafood in Deauville, visit a Camembert cheesemaker, tour a Calvados apple brandy distillery, and wander through traditional Normand markets. A cooking lesson with Chef Olivier Briand of Ty Gibus is the cherry on top.
Day by Day
Day 1: Paris - Campigny
Pick Up of your Rental Car
At your arrival, a rental car of category G (Renault Megane/Auris – automatic or similar) will be at your disposal for the length of 5-6-7 days. Thus, you can move freely and comfortably.
On the day of departure, you will drop off the vehicle.
Two Hour Private Guided Tour of the Historic Center of Rouen
Famous for its Gothic cathedral which inspired Claude Monet's series of cathedral paintings, the capital of Normandy has outstanding medieval heritage.
Your guided tour will also take you to see the Saint-Maclou church, a true jewel of Gothic architecture, the Saint-Maclou atrium, a former parish cemetery, the abbatial church of Saint-Ouen, the Gros Horloge (large clock), and a very important and emblematic building in the city, the Maison Sublime, which is the oldest Jewish monument in France. You will also see the Sainte-Jeanne d'Arc Church and its 16th century stained glass windows.
Wandering through the center of Rouen, you will see beautiful half-timbered buildings, the Palace of Justice with its civil architecture from the late Middle Ages, and the Place du Vieux-Marché where Joan of Arc was tortured in 1431.
Overnight Stay with Breakfast in a Standard Double Bedroom in an Authentic 200-year-old Normandy Thatched Cottage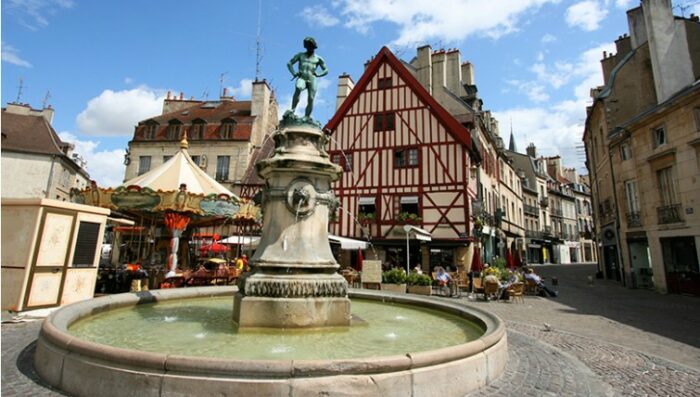 Day 2: Honfleur - Villers-Sur-Mer
Guided Visit of the Busnel Distillery
First, you'll get to tour the Busnel house to discover the art of calvados creation and visit the museum with antique tools and historical photographs to discover the history of Ernest Busnel and his heirs. A short video projection will end the visit.
Then, you'll visit the distillation room with its double distillation pot stills. You'll follow the slow process of the transformation of apples into calvados in the copper stills.
You will get to taste Maison Busnel's prestigious references where you will learn all about the different aromas of Calvados Busnel.
Discovery of Honfleur Tour
More than 1,000 years old but incredibly well-preserved thanks to the creation of a protected area in 1974, Honfleur still holds the same fascination for its visitors.
During this visit, you will walk through the old districts of Honfleur's center. Your guide will reveal to you in particular the impressive structure of the Salt Granaries (17th century) which were once used to store the salt of the gabelle.
Then you continue towards the famous Old Basin and the Lieutenancy. Finally, you will end with the discovery of the amazing Sainte-Catherine church, built between the 15th and 16th centuries and unique in France: all made of wood with its separate bell tower.
The typical and authentic charm of this small town will captivate you!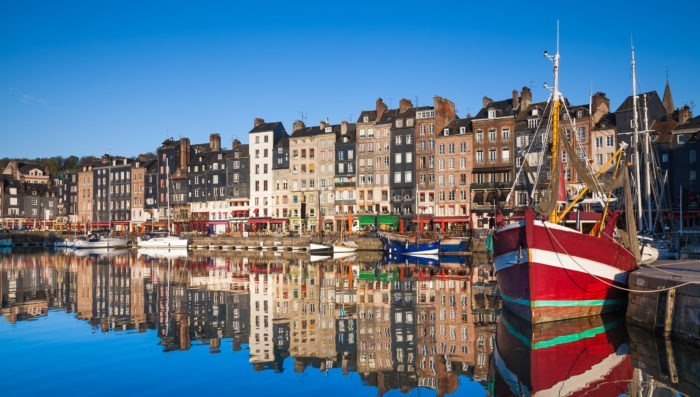 Visit Domain d'Apreval
Guided visit of the Domaine followed by the tasting of Gingerbread together with our three specialties: Cider, Pommeau and Calvados "Réserve."
Overnight Stay with Breakfast at a Charming Guesthouse in a Typical Normandy Seaside Town
Day 3: Deauville - Villers-Sur-Mer
Private Side-Car Tour of Deauville
Alone or in pairs, embark on a 40-minute journey with your "Gentlemen Sider," a retro-looking motorcycle enthusiast, aboard an authentic sidecar. You will discover the prestigious seaside resort of Deauville with its characterful villas that line a beautiful sandy beach, racecourses, golf courses, casinos, galleries, and the famous "Planches de Deauville," an iconic place on the Norman coast.
You will visit unmissable places and monuments including the Barriere Casino, Claude Lelouch Square, Place des Six Fusillés, Villa Strassberger, the path to the military cemetery, the racecourse, and Avenue de la Terrasse.
Inspired by the original Soviet M72 and its most recent incarnation, your motorbike is just as robust, simple, beautiful as its forebears. But it has all the modern features modern riding demands: disc brakes and modern suspension, without losing those retro looks. Whether you are a history lover or wish to appreciate the wonders of the Normandy coast, your sidecar will transport you to the heart of the local treasures.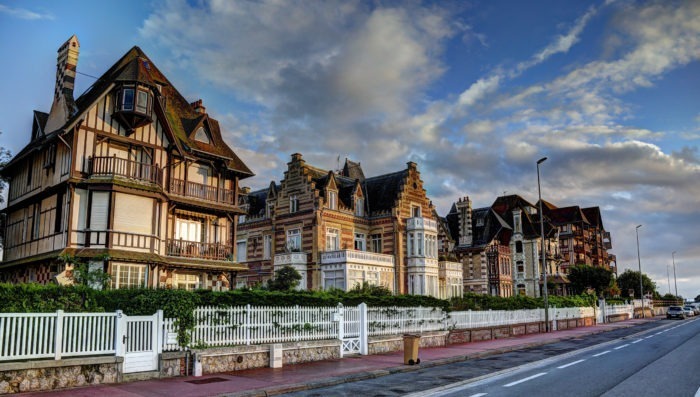 Suggestion: From the Stall to the Table Visit and Lunch
L'Étoile des Mers is first and foremost a high-flying fish shop. It is also a place to enjoy a tasting at a delicious restaurant in the heart of the city.
Daughter, granddaughter, and great-granddaughter of fishermen, owner Lydie Perchey leaves the fishing to her three brothers. They bring her fish to her directly from the port of Trouville: soles, plaice, Saint-Jacques, mackerel are the most popular – and are as fresh as fresh can be!
At the bottom of the shop, guests can enjoy the fresh catches. Chef Romain Trosselo and his griddle will cook for you the catch of the day.
Overnight Stay with Breakfast at a Charming Guesthouse in a Typical Normandy Seaside Town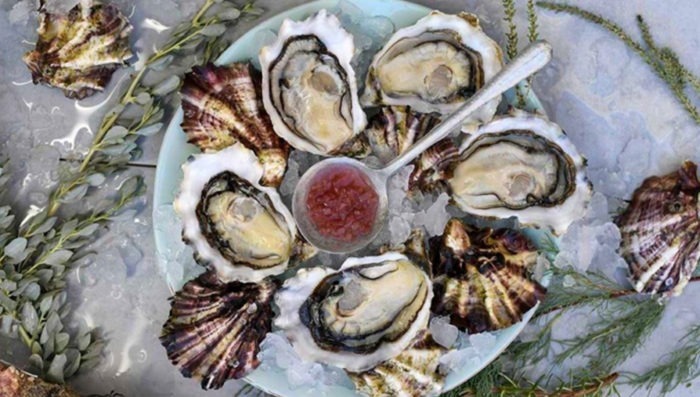 Day 4: Saint-Étienne-la-Thillaye - Villers-Sur-Mer
Cooking Class in a Traditional Normandy Farmhouse
This morning, drive to the small village of Saint-Étienne-la-Thillaye (approximately xxkm/xx miles).
Brigitte invites you into her kitchen and shows you how to cook traditional specialties of Normandy: chicken supreme "flambé" with Calvados (an apple brandy), scallops in all their forms, desserts (crème à la Normande, Calvados soufflé and traditional tarts).
Your host is a passionate cook who is in love with Normandy and its typical products. She organizes culinary workshops where she teaches the secrets of Normandy cuisine, turning her life-long passion into her job.
After the cooking class (1.5 hours), enjoy your meal around the table in a convivial and warm atmosphere. You'll join Brigitte in a unique green setting amidst pastures, meadows, apple trees, and cows. Her picturesque and traditionally built Norman farmhouse feels like traveling back in time, and ensures a total change of scenery!
Overnight Stay with Breakfast at a Charming Guesthouse in a Typical Normandy Seaside Town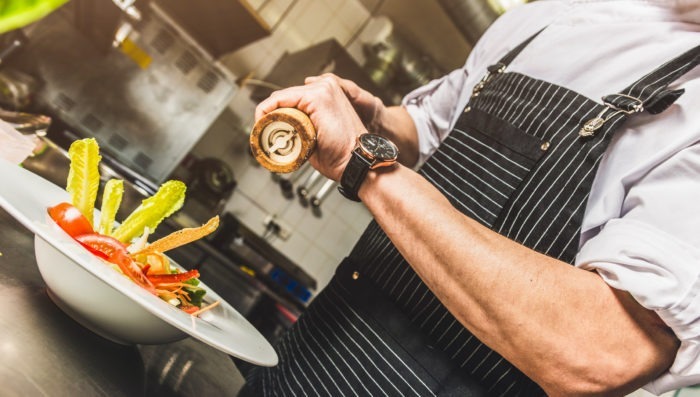 Day 5: Pont L'Eveque - Beuvron-en-Auge - Camembert
Workshop in a Calvados Distillery: a Tasting and Sensory Experience
Situated in Pont l'Evêque, in the heart of Normandy, the family-owned distillery was founded in 1821 and has been passed on from generation to generation since. The current fifth-generation welcomes you for a tasting and sensory experience.
Calvados is a popular French liqueur that is enjoyed after meals.
This experience is a world-class attraction that immerses the audience in a multi-sensory journey through the centuries, from Vikings to the present day. Visitors discover and witness the mystery of transformation that turns apples into Calvados, from the region's orchards to Calvados' success all over the world.
This unique experience culminates in an exquisite tasting in the presence of an expert guide, who will teach you the art of tasting in three stages: the eye, the nose, and the palate. You will have access to the best collection of Calvados brands ever presented in one place.
Suggestion: Explore Beuvron-en-Auge
Almost every house in this village is built in the gorgeous half-timbered style for which Normandy is famous; those that are not are also very picturesque buildings. Houses in Beuvron-en-Auge typically date back to the 17th century. Have a close look at the manor house, classified as a historical monument, as the detail on the woodwork is superb, with faces and patterns carved into it.
The village lies along one main street. Almost every pavement edge has been beautifully planted with a mass of rudbeckias, nicotianas, salvias and much more. Many of the houses are now shops selling local produce such as cider and Calvados, or cafés and restaurants and several antique shops and artist workshops. The village Church of Saint Marin is also built in the typical style of the region.
After enjoying a wander around the town, don't forget to stop in the village for a glass of Calvados, the famous local brandy made from apples. Beuvron-en-Auge is part of the Normandy cider route. It is a marked route that passes through several villages and by several cider producers in the region. Look out for signs marked 'Route du Cidre' with a picture of an apple.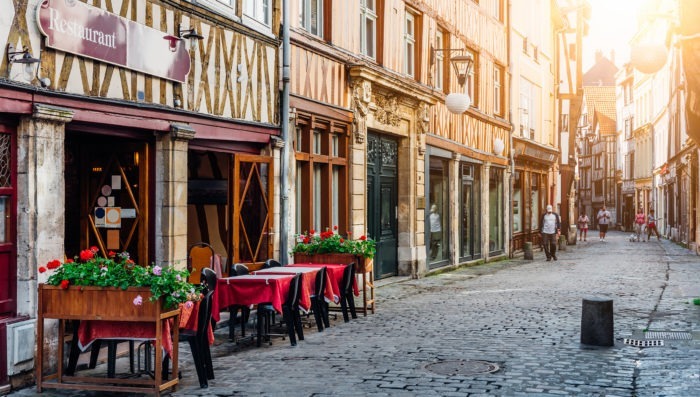 Discovery of the Durand Cheese Factory in Camembert
A national cultural and gastronomic heritage, Camembert is much more than a cheese: it is a true symbol of France. The last dairy farm that produces Camembert is located in the village of Camembert in Normandy and is where Nicolas Durand raises 100 Norman cows.
You will discover the farm and the stages of cheese making: ancestral savoir-faire (know-how). The visit is followed by a tasting.
Overnight Stay with Breakfast at a 4-Star Château Hotel Near the Town of Bayeux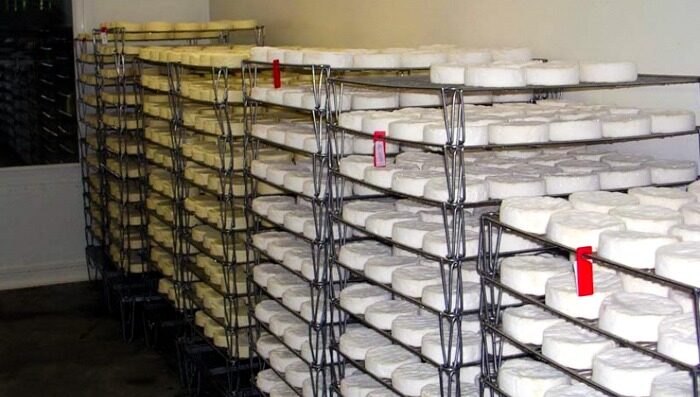 Day 6: Bayeux
Guided Walking Tour: The Cathedral and the Old Bayeux
A gem of Normand-style architecture, situated in the heart of the conservation area, the Bayeux Cathedral was consecrated on July 14th 1077 by Bishop Odo of Conteville, in the presence of his illustrious brother, William the Conqueror, Duke of Normandy and King of England. It is believed that Odo commissioned the Bayeux Tapestry. The masterpiece from the Middle Ages was probably intended to be hung in the cathedral nave.
Around the cathedral, the historic center was luckily untouched during the events of 1944. You'll take in the rich heritage with timber-framed houses, manors and townhouses.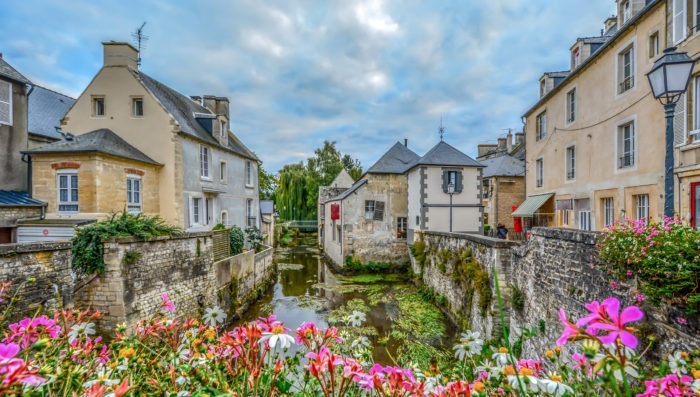 Vintage Private Jeep Tour of the D-Day Landing Beaches
Haven't you always dreamed of boarding an original jeep? See and uniquely discover the Normandy coast on an authentic World War II Willy's Jeep! Manufactured from 1941 to 1945, these small utility vehicles are considered the iconic Jeep of the Second World War and inspired a crowd of similar cars. Over time, military models have evolved into the Civilian Jeep.
Your guide will take you back in time to two historically significant locations of Operation Overlord. Explore the D-Day landing beaches and gain insight into World War II history. Learn the names of the men and women who made the ultimate sacrifice.
Whether you are a great admirer of military history or someone just curious about how the events played out on D-Day, this tour will help you better appreciate the remarkable acts of courage and bravery that took place during this war.
Overnight Stay with Breakfast at a 4-Star Château Hotel Near the Town of Bayeux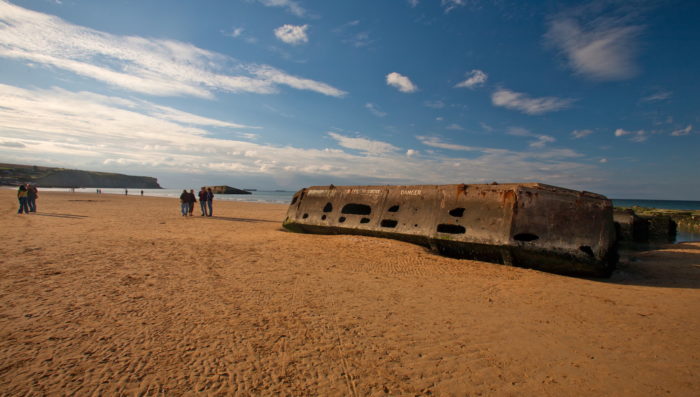 Day 7: Paris
Drive to Paris
You will drop off your car with the rental car company.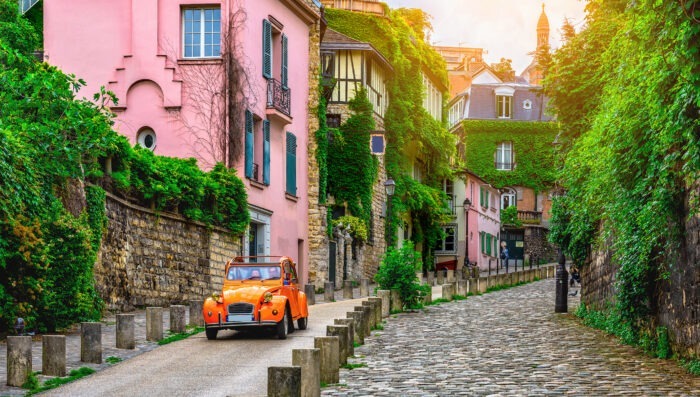 About This Trip:
Enjoy 24/7 English-spoken telephone assistance while traveling
This itinerary includes transport, activities, guides, accommodations with breakfasts, and other listed services
Price is in USD per person, assuming double occupancy. Note that prices and availability are subject to change.
Customize this itinerary:
Every French Side Travel trip is custom-built for your unique needs and interests. Above is an example of what's possible. If this isn't exactly what you're looking for, contact us today. Put together your dream trip with our travel experts. Handpick the accommodations, guides, activities, and meals that are right for you.
When you book with French Side Travel, you're getting a trip that's as unique as you are. 

Our Favorite Hotels in Normandy