A luxury mix of all the must-sees with gourmet stops of Paris, Normandy, and Loire Valley.
Luxury | From $19,299 pp
This luxury tour mixes the must-sees with gourmet stops. Visit the simply unmissable Château de Chambord and Château de Chenonceau. Visit the royal town of Amboise, and taste Loire Valley wines paired with local cheeses. The highlight of the week is a hot air balloon ride.  5-star hotels and chateaux, and private chauffeur guides ensure that you don't miss a thing. A private full-day chauffeured tour takes you to the D-Day beaches, the Colleville-Sur-Mer American Cemetery, and history-changing sites of the Battle of Normandy. Spend the night in Bayeux before heading off for a day at the mesmerizing Mont-Saint-Michel and its bay, one of the most popular sights of France.
Day by Day
Day 1: Paris
Private Transfer from Paris Airport to Paris Center
A private driver will pick you up at the airport and drive you safely to Paris center in a Mercedes Class E or Mercedes Viano Deluxe Minivan.
Paris Orientation Private Tour
Your licensed guide will meet you at your hotel.
He will give a presentation of Paris and provide useful information such as historical sites to visit, how to get around, events not to be missed during your stay, itinerary proposals, and the do's and don'ts.
Your guide will be happy to answer any questions you may have about your Paris trip and also give you some tips that will make your stay a memorable one.
This presentation is followed by an orientation tour around the hotel to help you orient yourself and give you some ideas and independence for your stay. The tour will end in the vicinity of your hotel.
Overnight Stay with Breakfast in a Beautiful 5-star Hotel near the Champs-Élysées in Paris
Day 2: Paris
Full-Day Private Tour of Paris and Guided Louvre Tour with Licensed Driver Guide
Experience the beautiful city of Paris and its wonderful monuments, museums and the architectural wonders, and the ever famous Louvre museum with a licensed driver-guide.
Your driver will pick you from your hotel for a full-day tour of Paris in a Peugeot 508, VW Caravelle, or similar vehicle.
Pass by the Opera Garnier, one of the world's most famous opera houses, the Palace Vendôme, Paris' most luxurious square, and the Place de la Bastille brimming with history. Tour the religious and historic heart of Paris the Cathedral of Notre Dame, renowned for its Gothic architecture made famous by Victor Hugo's novel. Pass by the Madeleine Church, Montmartre, and the Sacre Coeur. You'll finish with a guided tour of the Louvre.
Before it became a museum in 1793, the Louvre had long been one of the principal palaces of the Kings of France. Located right in the heart of Paris, the Louvre's galleries stretch for 786,000 square feet and is home to the world's largest collection of artworks, spanning more than 7,000 years. After visiting the Louvre, the tour ends with the Champs Élysées, Paris' most famous and most beautiful avenue.
Your licensed driver guide will pick you up from your hotel and will drop you off at your hotel after the tour.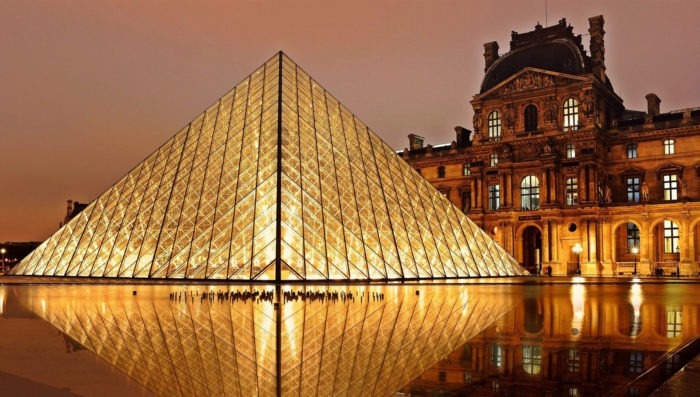 Private Evening Roundtrip Transfer
A private driver will pick you up at your accommodation and drive you safely to your evening program and back.
Dinner Cruise on the Ducasse Sur Seine – Menu "Nuit Etoilée"
Enjoy a delicious 4-course menu with a cold appetizer, a warm appetizer, a fish or meat main dish, dessert, and a champagne and wine pairing with your meal.
The night reveals another facet of Paris, this time adorned with thousands of lights. In silence, the boat slips into the city and offers a gentle and ecological way to see the French capital from another angle.
At the table, under the guidance of chef Pierre Marty, the menu unfolds like a play in four acts, complemented by prestigious and eclectic wines selected by our sommelier.
This delicious journey ends in front of the Eiffel Tower
Overnight Stay with Breakfast in a Beautiful 5-star Hotel near the Champs-Élysées in Paris
Day 3: Paris
Full-Day Custom Private Tour in a Luxury Vehicle
Enjoy a custom-built tour with an English-speaking driver.
High Jewelry Private Walking Tour with a Licensed Guide
If you love jewelry and truly appreciate artisan craftsmanship, then this tour is for you!
With this 4-hour tailor-made jewelry tour that starts at your hotel, your guide will explain the historical and cultural significance of jewelry through the ages. You will get a brief introduction about the history of the gemstone trade, jewelry techniques, and trends, and the great master jewelers who defined the craft of fine jewelry as we know it today. Your guide will help you find the jewelry pieces you've always been looking for!
Whatever you like (vintage or new, art deco or art nouveau or costume jewelry), your guide will make sure to take you to the best shops in Paris.
You will also have the unique opportunity to visit a French high jewelry house in Place Vendôme which is home to the most luxurious and long-established jewelry houses on the planet. You will get to see precisely how a piece of jewelry is made in the traditional French way. You will be lucky to try some rings including some Eiffel Tower rings and get the chance to handle precious stones with professional tools. You will get to experience the enthusiasm and the absolute love of the craft that this jewelry maker invests in every single masterpiece crafted.
The tour includes a coffee break on the way.
For a very unique experience that will bring you entire satisfaction, we'll ask you to give us as many details as you can before the tour, so that we can prepare it carefully, as well as an approximate shopping budget.
Private Wine experience: Discover France in Six Glasses
Taste five carefully chosen wines and one Champagne to help you discover major French wine regions.
Discover the art of blind wine tasting, using all your senses: sight, smell, taste, but also touch and hearing. This will help you maximize the sensual aspect of the wine tasting experience. Explore your ability to recognize aromas through a stimulating sensory game, and participate in a friendly gastronomic quiz.
With all wines, hear memorable anecdotes to help you impress your friends back home – but also great tips and tricks from our exceptional sommelier to learn how to recognize the origin of a French wine without looking at its label!
Last but not least, you will learn the key to sabering Champagne – before sharing a glass of course. And you will leave not only with a great memory but also with a very useful booklet and a branded drop-stop for many years of perfect pouring. Served with sliced hams, bread, and olives.
Overnight Stay with Breakfast in a Beautiful 5-star Hotel near the Champs-Élysées in Paris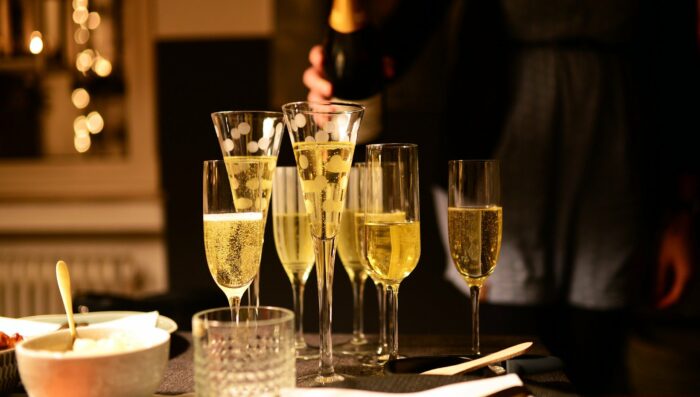 Day 4: Paris - Versailles
Full-Day Custom Private Tour in a Luxury Vehicle
Enjoy a custom-built tour with an English-speaking driver.
Versailles Skip the Line Entrance Ticket Including Musical Fountain Show
With this entrance ticket to the Palace of Versailles, you can visit at your own leisure the main state apartments and discover the real life of the French Kings.
Visit the King's chambers with their elegant décor, and the grandiose Hall of Mirrors, which was once a reception hall overlooking the immense gardens of the palace.
Overnight Stay with Breakfast in a Beautiful 5-star Hotel near the Champs-Élysées in Paris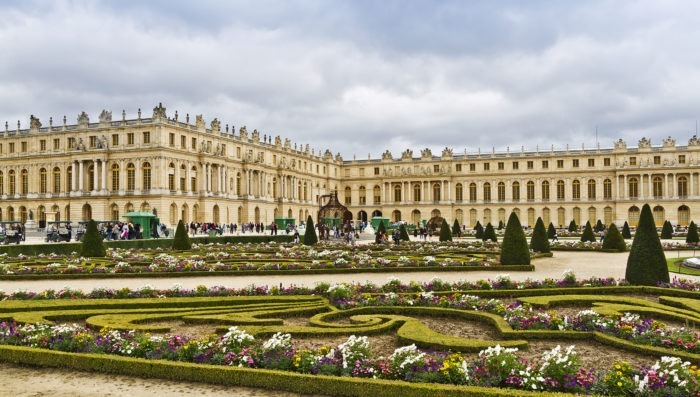 Day 5: Paris- Bayeux - Port-en-Bessin
Private Transfer in a Luxury Vehicle: Paris to Bayeux
A chauffeur will meet you for a private transfer between Paris and Bayeux
Overnight Stay with Breakfast in an Exquisite 5-star Hotel in Port-en-Bessin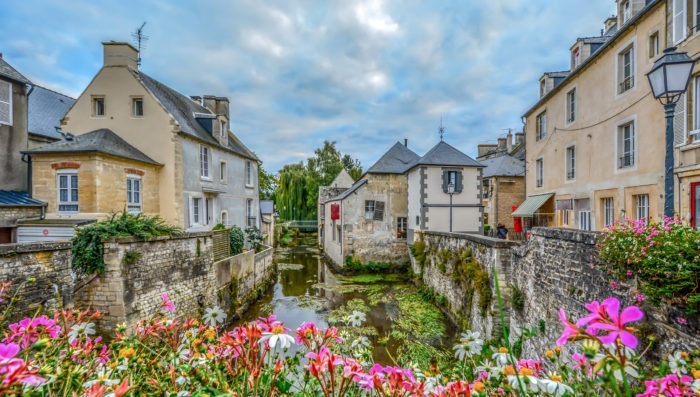 Day 6: Pointe du Hoc- Colleville sur Mer (US Cemetery)- Utah Beach- Omaha Beach
Full-Day Private Driving Tour of the D-Day Landing Beaches
Normandy was on every newspaper front page around the world. The biggest amphibious force ever assembled was about to try breaking through Fortress Europa. 156,000 allied personnel would land on D-Day, making it the introduction of the last chapter of WW2 in Europe.
During your day tour, you will see both Utah Beach and Omaha Beach landing sites, which were the two American sectors. Discover the mighty cliffs that the rangers climbed at the Pointe du Hoc, as well as Sainte-Mère-Eglise: the first town in France to be liberated by the US Airborne Division. Finish this emotional day at the Normandy American Cemetery where you will be able to pay respect to the sacrifice forever owed to the greatest generation.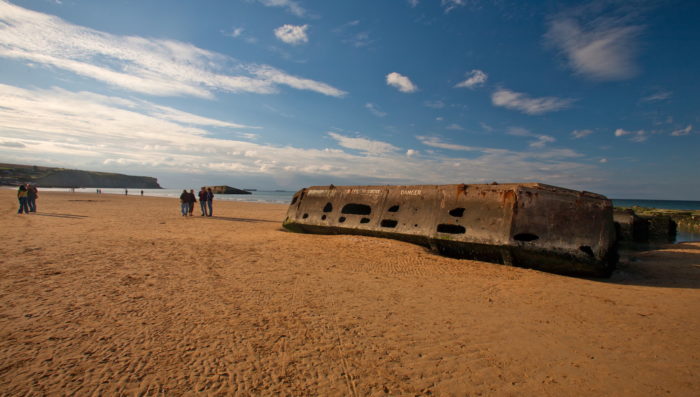 Day 7: Caen- Beuvron-en-Auge- Port-en-Bessin
Full-Day Private Driving Tour of the Pays d'Auge
Going on a full-day tour of cheese-making and cider-brewing is probably the best way to discover Normandy.
In the morning, you will learn everything about Camembert. One of the last producers making Camembert on a farm will welcome you. After seeing the cows, the production process, and tasting different products you will know more about Norman cheeses than the average French man!
Weather permitting, you could have a picnic lunch in one of France's most picturesque villages with local products such as a seasonal salad, andouille, baguette, teurgoule, butter, cheeses, and ciders…or go to a restaurant recommended by your guide.
Then, you will discover the process of cider brewing. Your guide has chosen the best places in Normandy for you to have an unforgettable experience. By the end of the day Normandy's "art-de-vivre" will no longer hold any secrets for you.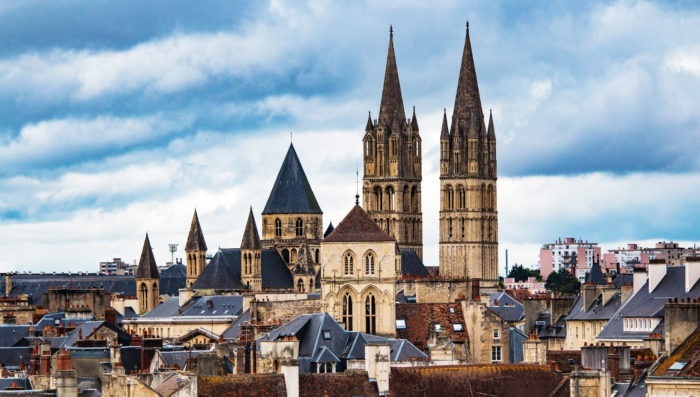 Day 8: Bayeux- Tours- Amboise
Private Transfer: Bayeux to Tours
 A chauffeur will meet you for a private transfer between Bayeux and Tours.
Overnight Stay with Breakfast in a Lovely 4-star Mansion in the Heart of Amboise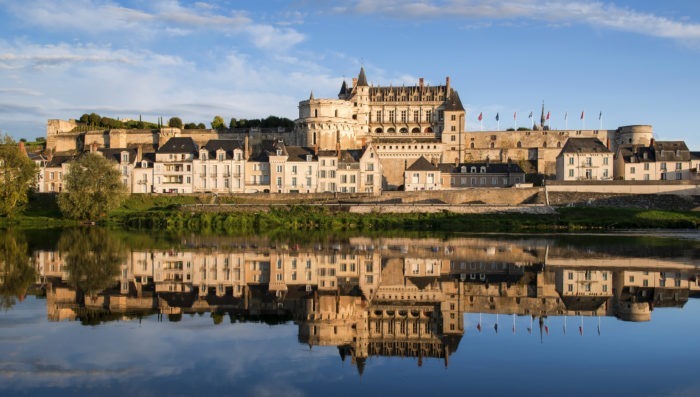 Day 9: Amboise- Chenonceau- Chaumont-sur-Loire
Full Day Private Tour of Amboise, Clos Luce, and Chenonceau Castles
Chenonceau, which was known as "the Ladies' castle" and built across the Cher river, is both delicate and feminine. Surrounded by amazing gardens, it is superbly furnished and decorated. There, you will discover the intrigues of the royal French court.
Amboise is the castle where Leonardo da Vinci was buried after he died in 1519. He spent the last three years of his life in Clos Lucé after he was invited by King Francis I of France. Discover his universe and genius through 40 models of his famous machines designed by IBM.
Private Guided Cruise Tour on a Traditional Boat with Lunch
You will get to cruise the Chaumont sur Loire River on a traditional boat with lunch on board prepared by a caterer with a starter, main course, dessert and wines.
Overnight Stay with Breakfast in a Lovely 4-star Mansion in the Heart of Amboise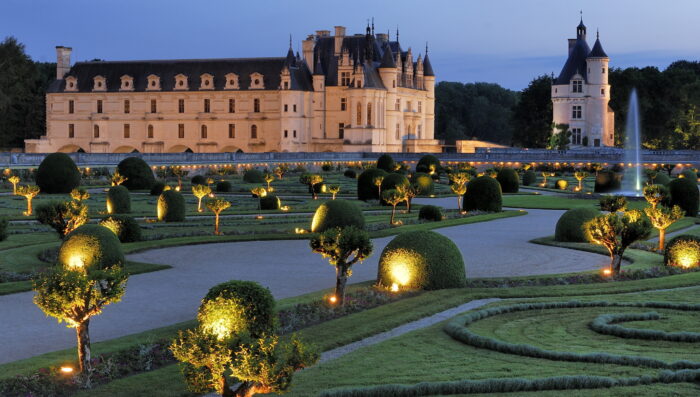 Day 10: Blois- Chambord- Cheverny- Amboise
Full Day Private Tour of Blois, Chambord, and Cheverny
Blois will give you an amazing panorama of the Loire Valley architecture from the 13th to 17th centuries. This castle welcomed 10 queens and seven kings of France and the visit will fill you in on the secrets of the court and the wars of religion.
Or why not visit Chambord, which is the largest and the most impressive castle in the area, famous for its outstanding architecture and double-helix staircase. Located in the Sologne area in the largest enclosed game park in Europe, it is a celebration of the personality of King Francis I in the 16th century.
Owned by the same family for six centuries, Cheverny is the most furnished château in the area. It is a symbol of the heart of French living, surrounded by a pretty English park. You will also have a chance to meet the pack of hunting hounds owned by the Marquis.
Private Guided Tour of the Château de Chambord
This is an after-hours guided tour of the Château de Chambord. Enjoy exclusive access to areas not usually open to the public.
The tour ends with a glass of champagne so you will feel like royalty in this 16th-century royal masterpiece.
Overnight Stay with Breakfast in a Lovely 4-star Mansion in the Heart of Amboise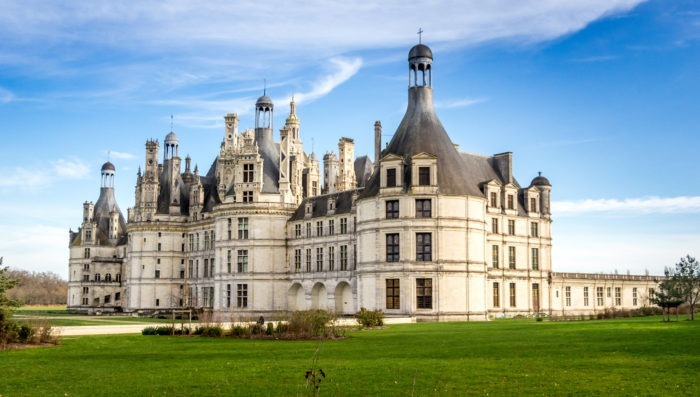 Day 11: Amboise- Paris
Private Hot Air Balloon Ride Over the Châteaux
You will be picked up at your hotel early in order to get you to the châteaux at sunrise. The time and location of takeoff depend upon wind conditions. You'll get to see the crew prepare and inflate the balloon before taking off to enjoy the Loire Valley sunrise. It makes for a magical experience that is simultaneously relaxing and exhilarating.
Start with a safety briefing before your one-hour flight. When you land, you can help the crew to fold the balloon before a flight graduation ceremony and breakfast.
After the trip, you'll be dropped back off at your hotel with plenty of time for another adventure.
Private Tour of Loire Valley
A day that can fully be customized to your interest.
Overnight Stay with Breakfast in a Beautiful 5-star Hotel near the Champs-Élysées in Paris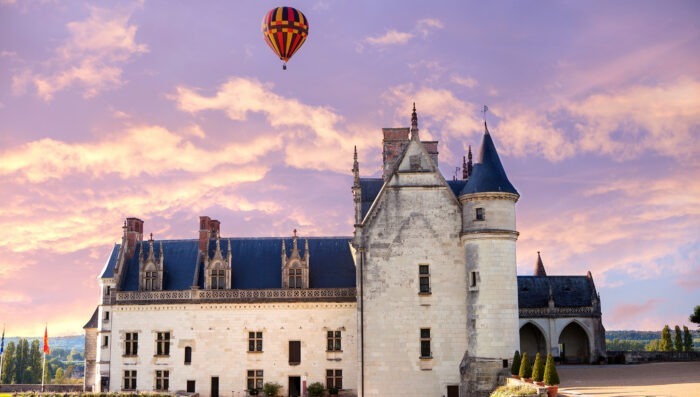 Day 12: Paris
Private Transfer from your Accommodation to Paris Airport
A private driver will pick you up from your accommodation and drive you safely to Paris airport in a Mercedes Class E or Mercedes Viano Deluxe Minivan.
Departure Assistance "Fast Track" from Car Park to Plane with Immigration Skip-the-Line
Your personal greeter/porter will escort you from the car park to your plane and assist you with check-in, tax refund and customs formalities.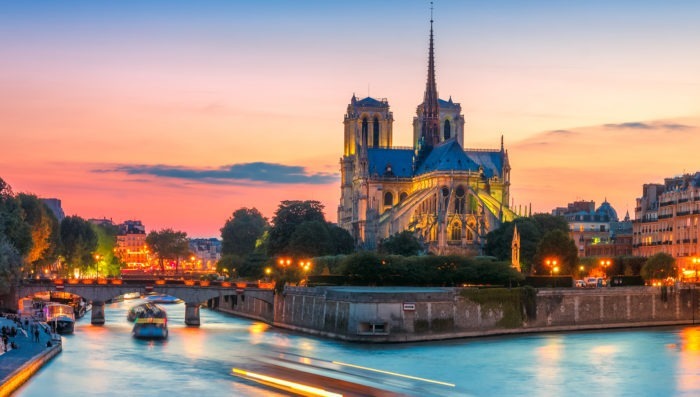 About This Trip:
Enjoy 24/7 English-spoken telephone assistance while traveling
This itinerary includes transport, activities, guides, accommodations with breakfasts, and other listed services
Price is in USD per person, assuming double occupancy. Note that prices and availability are subject to change.
Customize this itinerary:
Every French Side Travel trip is custom-built for your unique needs and interests. Above is an example of what's possible. If this isn't exactly what you're looking for, contact us today. Put together your dream trip with our travel experts. Handpick the accommodations, guides, activities, and meals that are right for you.
When you book with French Side Travel, you're getting a trip that's as unique as you are. 

Our Favorite Hotels in Normandy