Enjoy the Best that Bordeaux has to Offer in five days and four nights.
Luxury | From $6,099 pp
Enjoy the best that Bordeaux has to offer in five days and four nights. Bordeaux is a charming city brimming with beautiful 17th-century architecture, great food, and world-class wine. Just outside of the city, the natural beauty impresses from the seaside Arcachon and the Dune of Pilat to the vineyards. This tour highlights this enchanting destination. Wine tours help develop your palette and expand your knowledge of the region's wonderful whites and reds.
Day by Day
Day 1: Bordeaux
Super Luxury Private transfer from Bordeaux Airport – to Hotel Bordeaux
A chauffeur will meet you for a private transfer from Bordeaux Airport to your hotel in Bordeaux in a luxury vehicle.
Welcome to Bordeaux!
Bordeaux is one of France's most fascinating cities. It lends its name to its renowned wines and is praised for its fine cuisine. There is no need to go to a fancy restaurant to find an excellent meal, great eats can be found in many bistros. Besides being France's uncontested capital of good food and wine, it also boasts splendid monuments, mansions, and architecture.
Outside of the city, there are many exciting excursions. Wide Atlantic beaches, imposing sand dunes, lush vineyards, and dense fragrant pinewoods dominate the landscape. The well-marked hiking and biking trails help to make this region an outdoor paradise!
Night in a 5-star hotel in Bordeaux in a Premium Room with a Balcony, & breakfast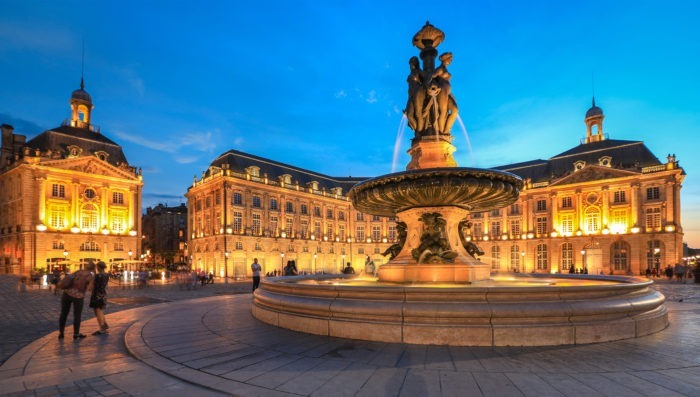 Day 2: Bordeaux
Private Luxury Gourmet walking tour in Bordeaux
A luxury gourmand 2-hour walking tour or a unique experience in the city. Feel the charm of the city like a real resident, while tasting the best products of Bordeaux in the unique workshop that will unveil the secrets of its fabrication for you.
This tour is the crème de la crème with a tasting of rare products from the region. You will go to 3 gourmet places and a surprise gift to take away will also be offered.
Bordeaux Aperitif Cruise
Enjoy views of Bordeaux's wide quays and 18th-century façades from the magical Gironde river. Cruise while enjoying charcuterie, amuse-bouches, local specialties with a glass of wine! Pass under the Jacques Chaban Delmas lift and the Pont d'Aquitaine bridge before turning around at the village of Lormont.
Night in a 5-star hotel in Bordeaux in a Premium Room with a Balcony, & breakfast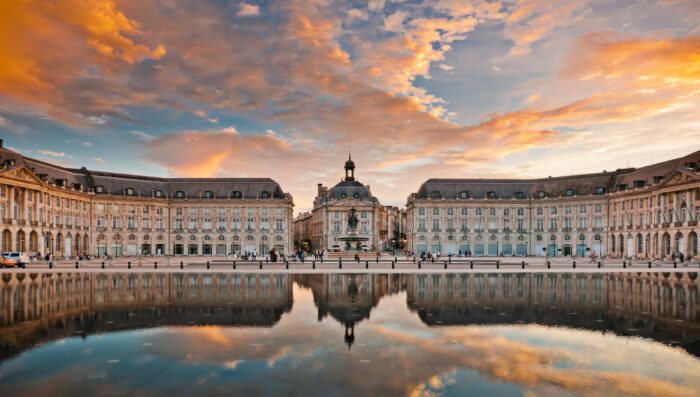 Day 3: Saint-Émilion
Private Full-Day Visit to Saint-Émilion and Pomerol – Connoisseur
Spend a day exploring the Saint-Émilion, Fronsac, and Pomerol appellations, their prestigious domains, and tasting sessions of grands crus.
Pick up is at your hotel in Bordeaux with a scenic drive as you make your way through the rolling hill and enchanting vineyards of the Saint-Émilion region.
Your first visit is to Château Beau-Sejour Becot in Saint-Émilion grand cru classé producer. The château is located on a privileged position on a clay and limestone plateau. The Becot family has run this outstanding vineyard, for six generations. Their grand crus wines rank among the very best in the world, earning the premier grand cru classé B label.
You'll experience a private tour of the property and learn about the terroir, the vineyard, the history of the family, the technical facilities, and the underground cellars. It is followed by a lively tasting entertained by the sommelier, each wine is enhanced by a delicacy, in a privileged room with a terrace overlooking the vineyard.
Next up is Château Grand Barrail Lamarzelle Figeac, a producer of Saint-Émilion grand cru. Discover the secrets of their wines, grape varieties, and wine assembly with a technical tour followed by "Grand Cru Classé Rive Droite" themed tastings in a private tasting room at La Cave Dourthe. Explore different terroirs, and aromas, and try two Saint-Émilion grand crus, two reds from Pomerol, and one white confidential cuvée.
Lunch follows in downtown Saint-Émilion looking out over a sea of vines and the Dordogne valley. Enjoy an à la carte selection of seasonal dishes.
Following lunch, is an exclusive visit to Château Clinet Pomerol. This château is one of the most prestigious producers in the famed Pomerol appellation and is responsible for some of the world's greatest merlots. Tour the vineyard and cellars and learn about Pomerol wines from our experts. Taste the 2013 vintages of Château Clinet, Fleur de Clinet, and Ronan by Clinet. (One bottle of each vintage is presented)
End your day with free time for a stroll through medieval Saint-Émilion where you can visit its charming boutiques.
Night in a 5-star hotel in Bordeaux in a Premium Room with a Balcony, & breakfast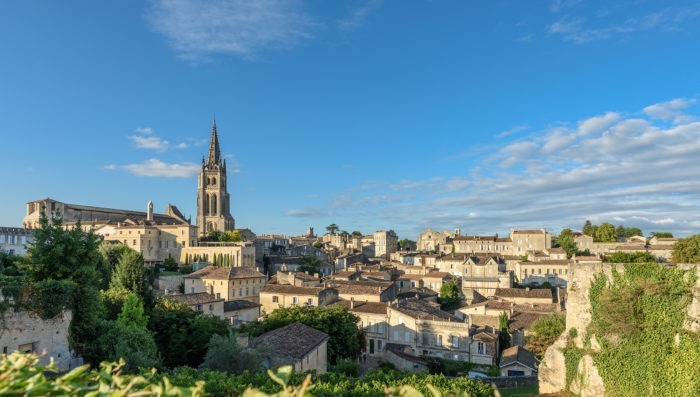 Day 4: Arcachon - Dune du Pilat
Private Tour of Arcachon
Situated along the Atlantic coast, the Arcachon Bay is a haven of rural calm within reach of dynamic city life.
During your tour, you will visit the city of Arcachon with its two parts: the Ville d'Eté (Summer town) and its seaside style (seaside promenade, casino, and shops) and the Ville d'Hiver (Winter town), much quieter, with its sumptuous villas hidden from the public by pine trees.
You could also choose to go strolling through typical fishing villages for a few photos, where the relaxed and quiet atmosphere invites you to slow down your pace. Don't forget to taste local oysters with a glass of dry white wine at one of the many log cabins.
Or, why not climb the highest sand dune in Western Europe: ʺLa dune du Pilat." From the top (106 meters or 115 yards), you will enjoy the best panoramic views of the Arcachon Bay. Possibility, to visit this area by sea, aboard a local "Pinasse" boat, but one especially fitted for your comfort. Or why not rent bikes to explore the region at a slower pace?
Night in a 5-star hotel in Bordeaux in a Premium Room with a Balcony, & breakfast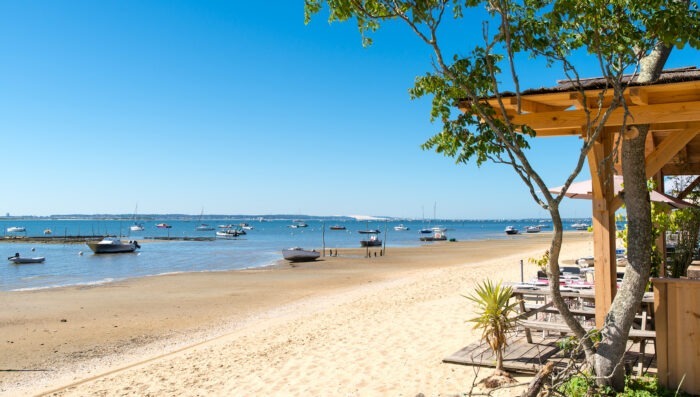 Day 5: Médoc
Full-Day Tour of Médoc Wines – Connoisseur
Pick up and drop off is at your hotel in Bordeaux.
Spend a day getting to know Bordeaux wines, the Médoc appellation, and the profound effect of terroir on your wine.
The first visit is to Château Lascombes, a producer of Margaux deuxième grand cru. The estate is lovely with architecture dating to the 17th through the 19th centuries. The cellars are decidedly more modern with fluorescent blue lights and Oxoline barrel racks. The château marries the best of the traditional and the high tech to create fine wines of great complexity. You'll get a chance to taste two reds: Château Lascombes and Chevalier de Lascombes. Lunch follows in the town of Paulliac.
Next is a visit to Château Pichon Baron, a Pauillac deuxième grand cru. The estate dates to the end of the 17th century. The terroir is exceptional and marked by the oceanic climate along the estuary. The visit includes the vineyard and cellars. Sample three wines presented by one of the estate's sommeliers.
The day ends with a stop at Château Gruaud Larose, a Saint-Julien deuxième grand cru. Enjoy a private visit to the cellars to see the old vintages. The new visitors center contains a tasting area, lounge, and shop. A panorama overlooking the vineyards and the Gironde estuary awaits from the tower.
Night in a 5-star hotel in Bordeaux in a Premium Room with a Balcony, & breakfast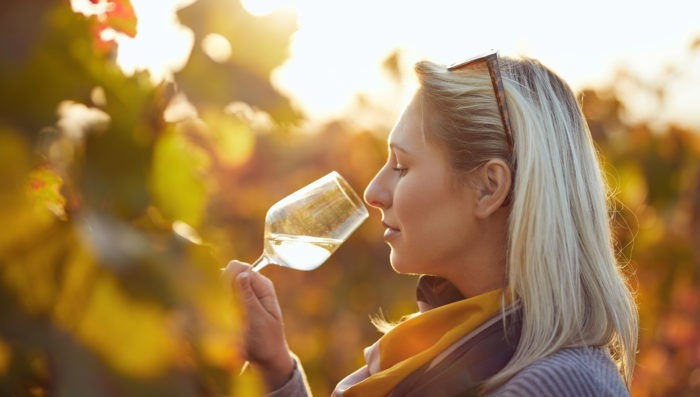 Day 6: Bordeaux
Super Luxury Private transfer from Bordeaux Hotel – Bordeaux Airport
A chauffeur will meet you for a private transfer from your hotel in Bordeaux to the airport in Bordeaux in a luxury vehicle.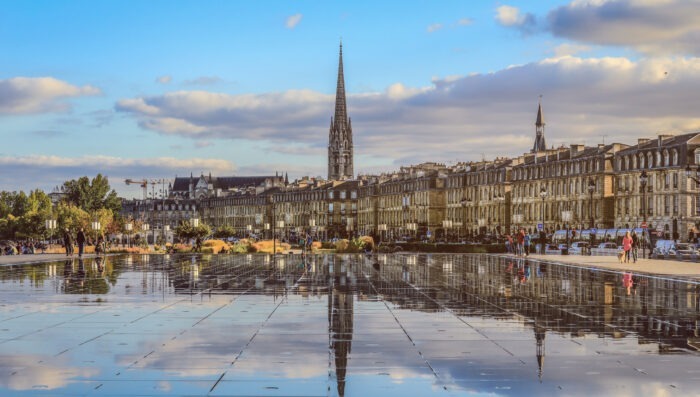 About This Trip:
Enjoy 24/7 English-spoken telephone assistance while traveling
This itinerary includes transport, activities, guides, accommodations with breakfasts, and other listed services
Price is in USD per person, assuming double occupancy. Note that prices and availability are subject to change.
Customize this itinerary:
Every French Side Travel trip is custom-built for your unique needs and interests. Above is an example of what's possible. If this isn't exactly what you're looking for, contact us today. Put together your dream trip with our travel experts. Handpick the accommodations, guides, activities, and meals that are right for you.
When you book with French Side Travel, you're getting a trip that's as unique as you are. 

Our Favorite Hotels in Bordeaux
Intercontinental Bordeaux