Experience Paris in an interactive and fun way!
Premium | From $3,899 pp
Discover the highlights of Paris that will be fun and interactive for the whole family. You'll tour the city in a vintage car, have a memorable scavenger hunt at the Louvre Museum, and experience a costumed Medieval Tour of Paris to name a few things!
Day by Day
Day 1: Paris
Private Transfer from the Airport to your Accommodation
A private driver will pick you up from the airport and drive you safely to your accommodation in a Peugeot 508, VW Sharan, VW Caravelle, or similar vehicle.
Overnight stay and breakfast in a classic room at a beautiful 4 -star Hotel in Paris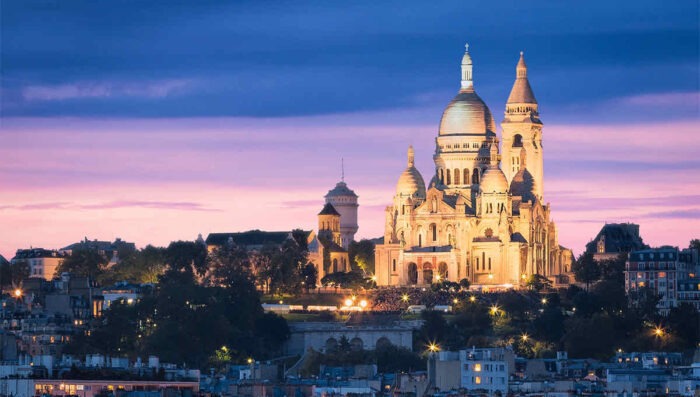 Day 2: Paris
Private Transfer within Paris
A private driver will pick you up anywhere in Paris and comfortably drive you to your destination in a Peugeot 508, VW Sharan, VW Caravelle or similar.
Invalides & Eiffel Tower Area Art and Food Private Guided Walking Tour
With this three-hour walking tour in Paris' 7th arrondissement, you'll explore both the iconic places in the area and also discover some lesser-known gems.
After walking in the gardens of the Rodin museum, you will walk to Invalides before heading to the gourmet street of the area. You will stop at a fantastic cheese shop, have a drink "à la française," and discover renowned gourmet shops.
You'll also have a pastry tasting before reaching Champs de Mars to learn about the history of the Eiffel Tower.
Entrance to the Eiffel Tower with Third Floor Summit Access
Skip the line and visit the very top of the most famous monument in the world – the Eiffel Tower! Save time by going directly to the 3rd floor via elevator with your skip-the-line ticket. You'll outsmart the thousands of people waiting in line with priority access to the very top!
At 984 feet high, you will admire the unarguable best areal views that Paris has to offer and see the main monuments such as the Louvre Museum, the Invalides, and many more from an unparalleled perspective.
However fantastic views are not the only thing you'll see at the very top. The office of Mr. Eiffel himself is a room he had reserved at the top of the tower to welcome his visitors.
In several places there are illuminated panels with some pictures from the late nineteenth and early twentieth centuries, sometimes even more recently. We see the engineers who designed the tower, Gustave Eiffel the contractor, the architect Sauvestre and Emile Nouguier, the designer. There is also a sign explaining how the inauguration of the tower took place in 1889, and the opportunity to see up close the technical installations at the top of the tower.
Finally, there is a champagne bar on the 3rd floor of the Eiffel Tower with a server offering two varieties of champagnes by Alain Ducasse: a white and a rosé. How many chances in your life will you get to sip champagne at the very top of the Eiffel? Not very many, but here is an opportunity now – best to take it!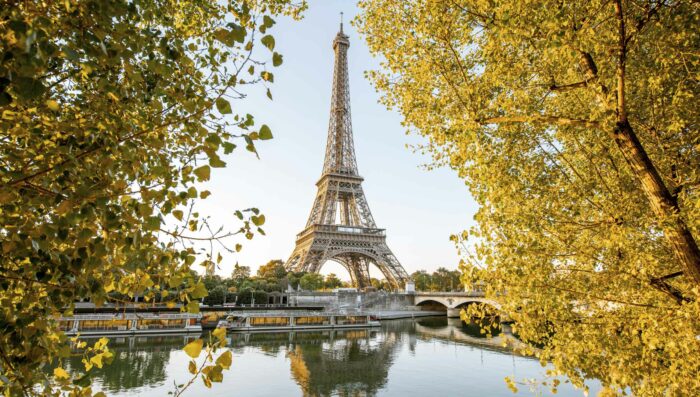 Guided Seine River Cruise with Gourmet Break
Each cruise aboard offers unique stories, anecdotes, and discussions, whether you are discovering Paris and its monuments and museums for the first time or not.
In this guided cruise, you will embark on an original tour of the capital and its bridges.
Sit back and enjoy this unique moment with a delicious foie gras and chutney sandwich accompanied by a glass of Sauternes white wine.
Overnight stay and breakfast in a classic room at a beautiful 4 -star Hotel in Paris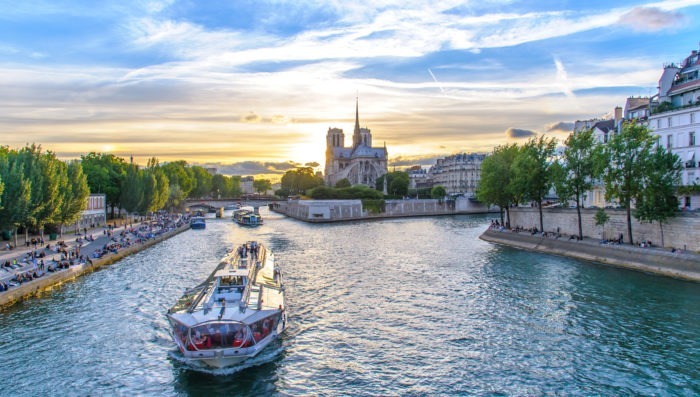 Day 3: Paris
Private Guided Bike Tour in the Heart of Paris and the Marais with a Professional Guide
Starting out from the futuristic surroundings of Beaubourg, explore the reputable and now-in-style Marais district, home to one of the most beautiful spots in Paris: Place des Vosges.
A typically delicious café awaits you at one of the oldest covered markets in Paris. Your professional guide brings you up to date on the recent scandals of the Buren Columns and the Louvre Pyramid before taking you to where the Celts first settled, the legendary Heart of Paris: l'Ile de la Cité. Then take in Notre Dame on your way to Ile St.Louis – and all its hidden secrets…
Your bike guide has many pleasant surprises in store for you! He will entertain you with facts and trivia about the beautiful old streets, their monuments, and people. He won't forget to let you in on a few insider tips and guide you smoothly through hidden shortcuts that are easily accessible by bike.
Take beautiful snapshots and unforgettable memories back home!
Overnight stay and breakfast in a classic room at a beautiful 4 -star Hotel in Paris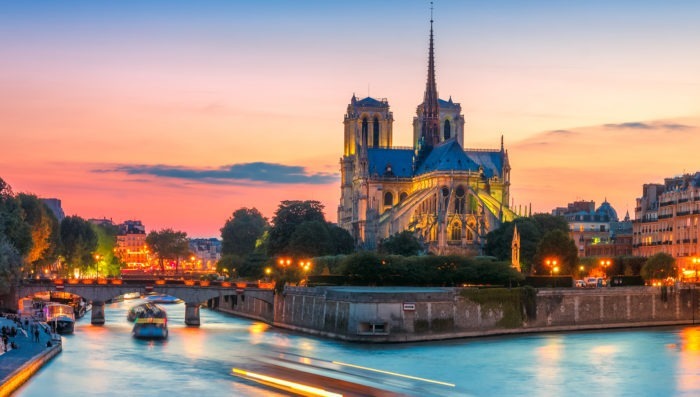 Day 4: Paris
Private Transfer within Paris
A private driver will pick you up anywhere in Paris and comfortably drive you to your destination in a Peugeot 508, VW Sharan, VW Caravelle or similar.
Private Medieval Paris Costumed Tour for Children
With this tour specially designed for young and old, you will go back to the time of knights and castles.
Here there will not be any beggars, but only bold knights and noble countesses in your ranks!
You will follow Acelin, the sage faithful commoner at the service of the kings of France. He'll make you walk the historic heart of the capital of the Kingdom. This family visit will allow you to review the history of France and Paris in a fun and pleasant way around its main monuments and buildings that marked the medieval era. After this stroll, medieval Pairs will have no more secrets for you.
You will also discover the Sainte Chapelle. This walk will take you along the Seine, between the two islands of Paris on one side the island of the city on the other side find the island of Saint Louis.
Explore the Jardin des Plantes
The Jardin des Plantes is ideal for those who wish to enjoy nature and discover different plant species. It was founded in 1640 as a piece of land where the official doctor of the King of France could grow medicinal herbs for the king.
The Jardin des Plantes is divided into several sections. These are some of the parts that are worthwhile visiting:
Ménagerie: This zoo, inaugurated in 1794, is one of the oldest in the world.
Labyrinth: A mesh of hedges, meant to be a labyrinth, but leaves much to be desired.
Historic trees: Throughout the park, you can find trees planted in 1734.
Rose garden: Designed in 1990, the rose garden has over 170 types of European roses.
Alpine garden: This garden has over 2,000 plants from the Alps, North America, the Pyrenees, and Himalayas.
Natural History Museum: The museum is located in different galleries along the park. Especially worthwhile is the Grande Galerie de l'Évolution (Evolution gallery), where you will find hundreds of different stuffed animals.
Private Guide at Disposal
Enjoy a 1.5 hour private tour with a licensed guide
Overnight stay and breakfast in a classic room at a beautiful 4 -star Hotel in Paris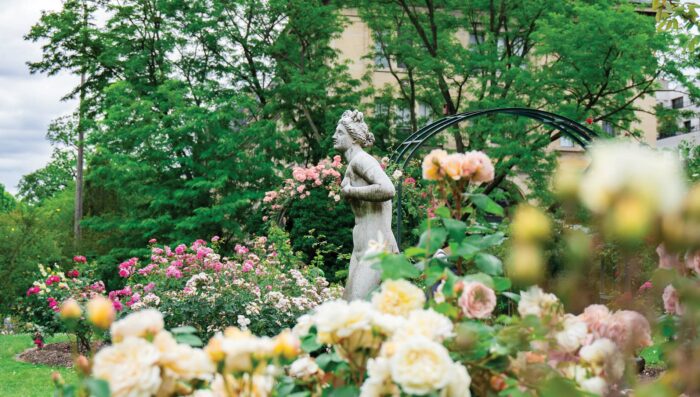 Day 5: Paris
Private Ride through Paris in a Legendary Citroen 2CV and Lunch at a Typical Parisian Restaurant
We invite you to take a stroll in the popular Citroën 2CV through the capital's legendary monuments!
Enjoy a 2CV ride followed by a meal in the heart of Paris. You will have lunch in a typical Parisian restaurant that will give an unforgettable gastronomic touch to your visit.
Paris, the French capital, is renowned for its historical sights and monumental beauty. Superb Haussmann-style townhouses, grand avenues and boulevards, legendary museums, churches, and parks offer endless opportunities for excursions and visits.
While in Paris, you may want to stroll through the city's chic boutiques, catch a performance at one of its famed operas or cabaret shows, enjoy a nice meal in one of the many gourmet restaurants – and, last but not least, wander about the lively side streets, and picturesque narrow alleys reflecting the authentic Parisian ambiance and art de Vivre.
In Paris, the city of love and light, you will be spoilt for choice!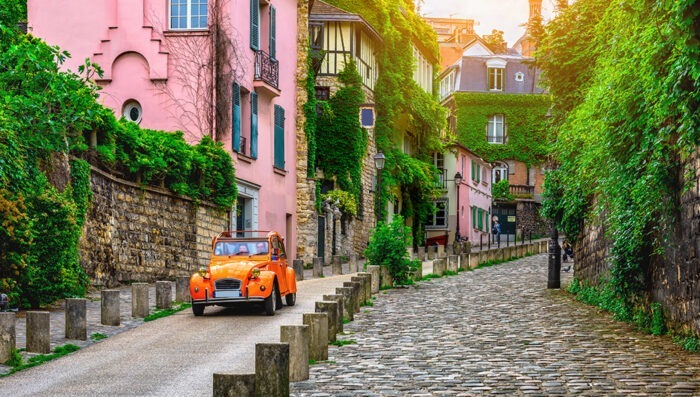 Private Louvre Scavenger Hunt
While adults discover the highlights of the historic museum with its many treasures, children are handed a specially-designed booklet plus a pencil and are asked to look for clues and answer questions as they walk through the different wings of the museum. "What were the symbols of the Egyptian Pharaohs?" "Why that smile on the Mona Lisa's face?" At the end of the hunt, kids are rewarded with a surprise gift…
Suggestion: Visit the Tuileries Garden
The Jardin des Tuileries is a large area of gardens and parks in the center of Paris, between the Louvre and Place de la Concorde. Very popular with locals and visitors, it is also a perfect place to relax after visiting the museums and monuments nearby.
In 1664 the royal gardener Le Nôtre had the task of taking a rather barren area of wasteland and disusing tile factories (hence the name "Tuileries") and converting it into a royal garden. He had the idea of creating one long straight avenue down the middle with features on either side.
Along the main path, through the Jardin des Tuileries, you will pass numerous water features, garden areas, and statues as well as kiosks and cafes; there are plenty of seats if you have come here for a picnic or to escape the crowds of the Louvre for a while.
One notable attraction, near the Arc du Carousel and the Louvre, is a collection of bronze statues of large naked women by a French artist called Aristide Maillol (1861-1944).
At the far end of the garden, near Place de la Concorde, is the Musée de l'Orangerie with its famous collection of waterlily paintings by Monet.
Overnight stay and breakfast in a classic room at a beautiful 4 -star Hotel in Paris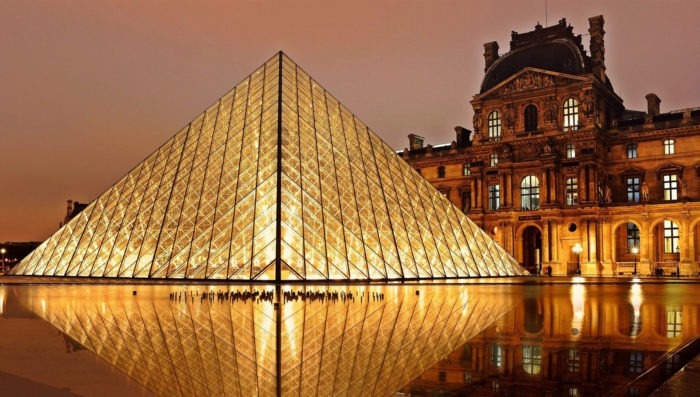 Day 6: Paris - Versailles
Versailles Skip the Line Entrance Ticket
With this entrance ticket to the Palace of Versailles, you can visit at your own leisure the main state apartments and discover the real life of the French Kings.
Visit the King's chambers with their elegant décor, and the grandiose Hall of Mirrors, which was once a reception hall overlooking the immense gardens of the palace.
Private Guide at Disposal
Enjoy a 3-hour private tour with a licensed guide.
Overnight stay and breakfast in a classic room at a beautiful 4 -star Hotel in Paris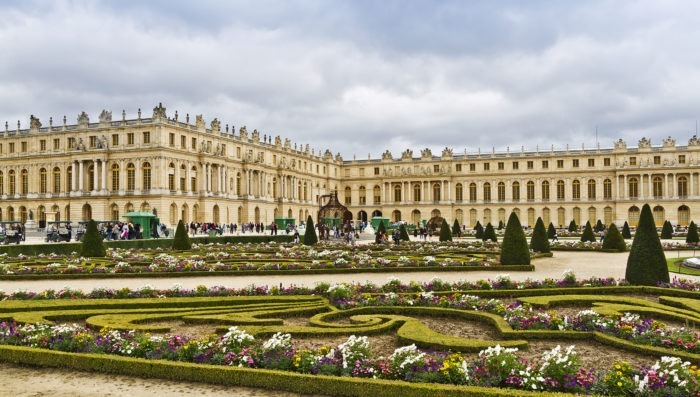 Day 7: Paris
Private Transfer from your Accommodation to Paris Airport
A private driver will pick you up from your accommodation and drive you safely to Paris airport in a Peugeot 508, VW Caravelle or similar vehicle.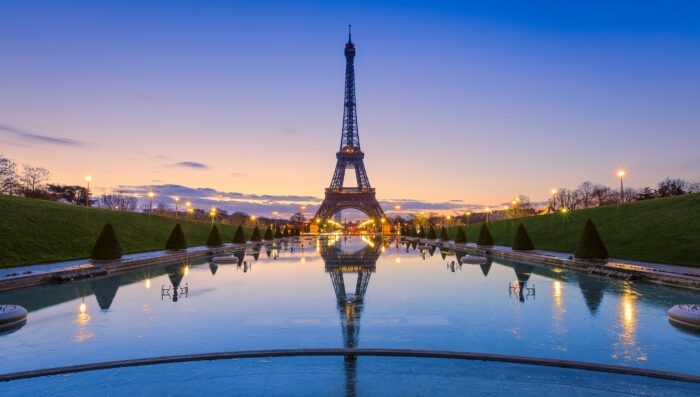 About This Trip:
Enjoy 24/7 English-spoken telephone assistance while traveling
This itinerary includes transport, activities, guides, accommodations with breakfasts, and other listed services
Price is in USD per person, assuming double occupancy. Note that prices and availability are subject to change.
Customize this itinerary:
Every French Side Travel trip is custom-built for your unique needs and interests. Above is an example of what's possible. If this isn't exactly what you're looking for, contact us today. Put together your dream trip with our travel experts. Handpick the accommodations, guides, activities, and meals that are right for you.
When you book with French Side Travel, you're getting a trip that's as unique as you are. 

Our Favorite Hotels in Paris, Champagne and Bordeaux