Experience the best of Lyon and Southern France's exceptional gastronomy
Liberty | From $2,999 pp
This trip is a true delight for the senses. Your journey begins in Lyon, France's culinary capital, and continues down into Provence and the French Riviera. It's a gastronomic adventure to taste some of France's fine cuisine and local specialties. You'll feel right at home in a welcoming bouchon, the tradition Lyoniasse bistro. Sip some great wine on a tour of the neighboring Beaujolais wine region. Next up, the highspeed train whisks you down into the heart of Provence, a land of alluring fragrances, flavors, and colors. From a base in elegant Aix-en-Provence, enjoy a wide range of local products and gastronomic traditions. Visit the daily markets for some great, authentic food. Explore the historic villages of the Luberon. Learn about the fine wines of Provence. If you have a sweet tooth you'll want to sample the iconic calisson, a famous almond, and fruit candy. The tour wraps up in Nice and Monaco. Sunbath on its famous beach, and enjoy the incredible Mediterranean food with a glass or two of Bellet. Contained within Nice's city limits, Bellet is France's only AOC-recognized urban vineyard.
Day by Day
Day 1: Lyon
Private Transfer from the Airport to your Accommodation
A private driver will pick you up from the airport and drive you safely to your accommodation.
Overnight Stay with Breakfast at a Historic 3-star Hotel in the Center of Lyon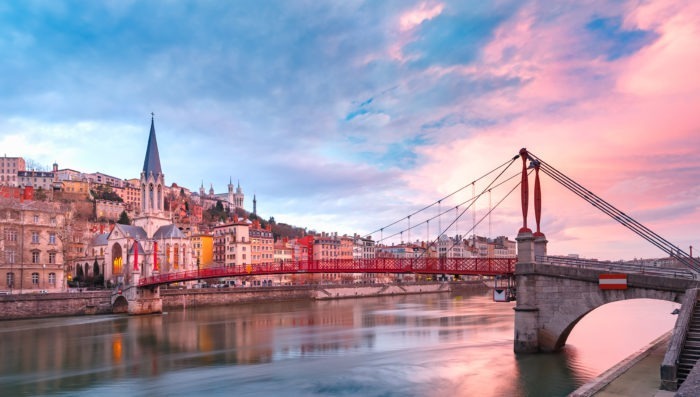 Day 2: Lyon
Visit the Southern Beaujolais Region & Wine-tasting at a small family winery
At 9:00 am, your small group tour minibus with your English-speaking driver-guide leaves Place Bellecour in Lyon to explore Beaujolais considered as France's prettiest wine region and discover the unknown beauty of the Golden Stones Country. Cross several quaint medieval towns built in ochre-colored stones and see majestic castles. Visit the lovely picturesque village of Oingt and enjoy panoramic views of stunning landscapes with rolling hills dotted with vineyards. Then, push the door of a family winery and immerse yourself in history, "terroir" and tradition meeting the winemaker himself. Enjoy a private vineyards inspection; learn of the wine-making process and wine taste several Beaujolais wines in a friendly atmosphere.
Stop for lunch in a Beaujolais restaurant: Delight yourself with a delicious meal in a typical Beaujolais "Bistrot" restaurant which serves regional cuisine. Our guide will be happy to translate and explain all the different courses for you! (Lunch is not included)
In the afternoon, discover Pérouges medieval town, a "must-see" attraction that makes you travel back to the middle age times! Walk along cobblestone streets and appreciate the architecture of ancient houses from the XIII to the XVI century. Learn about French History as you discover this unique setting used several times for background films including the 3 Musketeers. Finally, enjoy 30 minutes of free time: stroll through little craft souvenirs shops.
Just a beautiful day!
Overnight stay including breakfast in a 3-Star Hotel in Lyon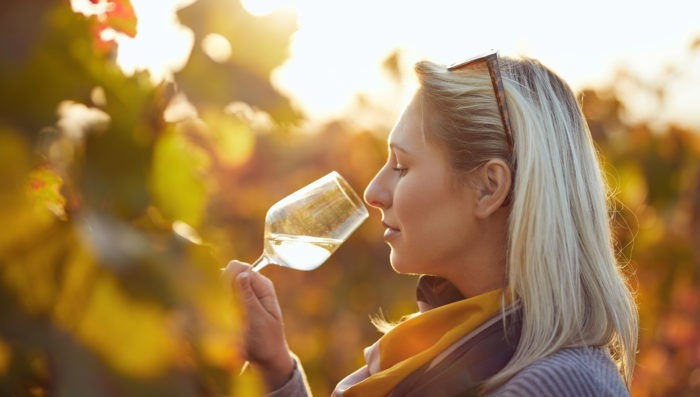 Day 3: Lyon - Aix-en-Provence
Private Half-Day Gourmet Walking Tour of Lyon
This gourmet tour passes through Lyon's most emblematic neighborhoods with stops to taste local specialties.
Meet your guide by the Saint-Jean Cathedral. He is a specialist in culinary history, who will show you around the charming historical Lyon and point out the admirable traboules, sheltered medieval passageways.
The first gourmet stop is at one of the best pastry shops in Lyon, where you will learn about how pralines are made. Of course, you'll get to taste them too! The popular pink sugar-coated almonds are a perfect dessert on their own but are also the base of a number of praline-based treats.
The tour continues on the other side of the Saône River, where the Bourgeoisie settled from the 17th century. The Presqu'île district has seemingly countless bouchons, traditional bistros found only in Lyon. Learn the history of the Mères Lyonnaises, or the mothers of Lyon, 19th-century middle-class women who worked outside their homes as cooks. They created brand new culinary traditions incorporating regional cooking.
A stop at one of the famous Chocolats Voisin stores to taste Coussin de Lyon is a must! This unique chocolate and marzipan dessert are shaped like the cushions used by Lyon's silk weavers. It has been a symbol of Lyon since the 1960s.
Finally, visit the indoor Paul Bocuse Market, in the modern Part-Dieu district. This is a center of Lyon gastronomy that brings all of the region's fine products under one roof: charcuterie, cheese, quenelles, chocolate, wines, and much more. Products change based on seasonal availability, but no matter when you visit, it is a gourmet pleasure.
Private Transfer to the Lyon Train Station
A chauffeur will meet you for a private transfer between your accommodation and the train station.
Direct Train from Lyon to Aix-en-Provence in First Class
Duration: approximately 1.5 hours
Private Transfer: Aix-en-Provence TGV Train Station to Aix-en-Provence
A chauffeur will meet you for a private transfer between the Aix-en-Provence TGV train station and Aix-en-Provence.
Overnight Stay with Breakfast in a 3-star hotel in Central Aix-en-Provence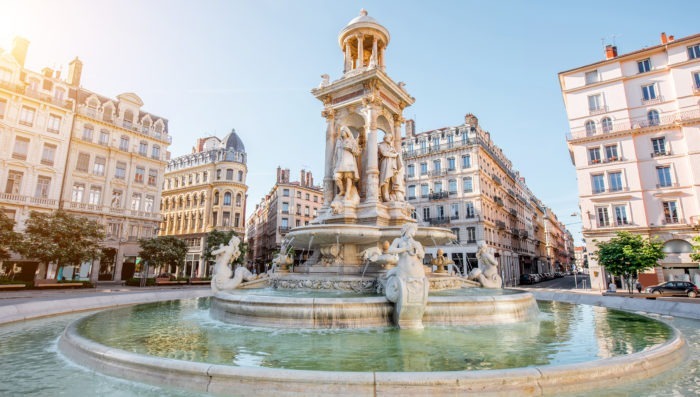 Day 4: Aix-en-Provence
Small-Group Gourmet Walking Tour
Meet your guide in front of Aix-en-Provence Tourist Information Center and discover the charming Provençal town with a diverse range of locally-made products. The open-air markets are very popular with the locals. You'll become one of them strolling through the colorful stalls.
Taste the famous Calisson, the sweet nougat, toasts with green and black tapenade, and of course some cheeses paired with a glass of wine.
Let your senses be seduced by the scents, colors, and flavors. You'll appreciate what the Provençal way of life means!
Overnight with Breakfast in a Historic 3-star Hotel in the Heart of Aix-en-Provence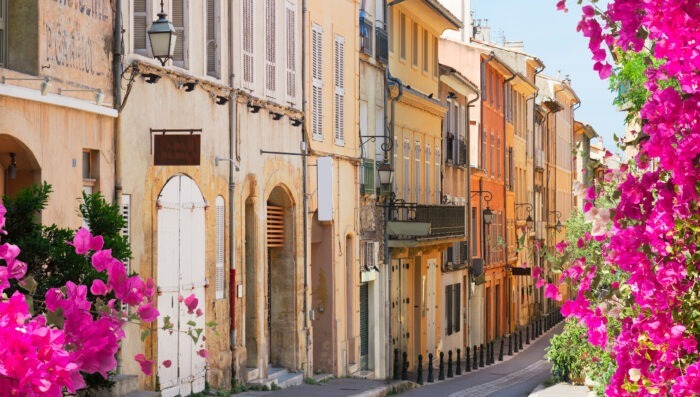 Day 5: Aubagne -Aix-en-Provence
Full-Day Private Walking Tour to Experience the Scents of Provence with Lunch
Enjoy a day in Provence's fragrant and beautiful countryside. Aubagne and the area around the Garlaban mountain are famous thanks to local writer Marcel Pagnol. The tour includes a workshop in which you'll gather and learn about Provence's aromatic plants. Lunch is at a secluded residence in nature. Think olive groves, beehives, and flowers.
Meet with local craftsmen including a potter and a santon-maker (Provençal Nativity figures). See an artisanal pastis maker's garden with aromatic plants. The tour will finish with a pastis tasting.
Overnight with Breakfast in a Historic 3-star Hotel in the Heart of Aix-en-Provence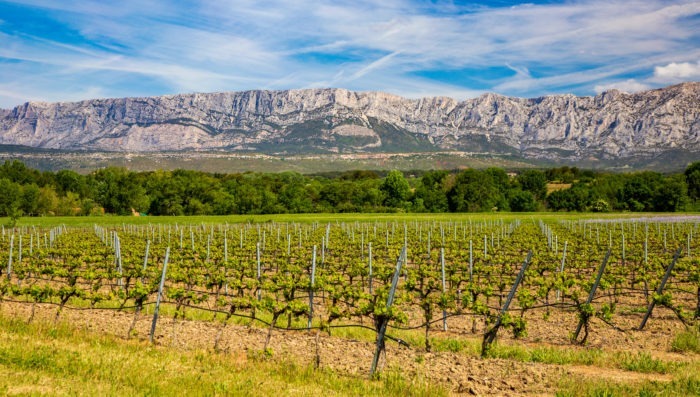 Day 6: Saint Remy de Provence - Les Baux de Provence
Full-Day Tour of Saint-Rémy, Les Baux-de-Provence, and Arles
Your first stop is Saint-Rémy-de-Provence. On Wednesdays, enjoy its outdoor market. It's one of the best in all of Provence. Stop for photos in the olive groves just south of the city, where you'll see the antiques ruins just outside the Roman city of Glanum and landscapes made famous by Vincent Van Gogh, during his stay in the adjacent Saint-Paul-de-Mausole hospice.
Next, you will continue to the exceptional Les-Baux-de-Provence. The village retains much of its medieval past from its narrow streets and imposing castle remains. The top of the town features exceptional views of the Alpilles Mountains and the olive groves below. From March to December, the Carrières de Lumières can be visited instead of the village. The former mine offers immersive sound and light shows of famous artists on its massive white walls.
In Arles, walk-in Vincent Van Gogh's footsteps and see the inspiration for some of his most famous paintings. Arles is also worldwide famous for its architectural heritage including its Roman amphitheater and theater and the Romanesque Saint-Trophime Church (entrance fee at own expense). The weekly market in Arles takes place on Saturdays and offers the opportunity to taste and buy local products like fruits, cheese, nougat, and tapenade.
Overnight with Breakfast in a Historic 3-star Hotel in the Heart of Aix-en-Provence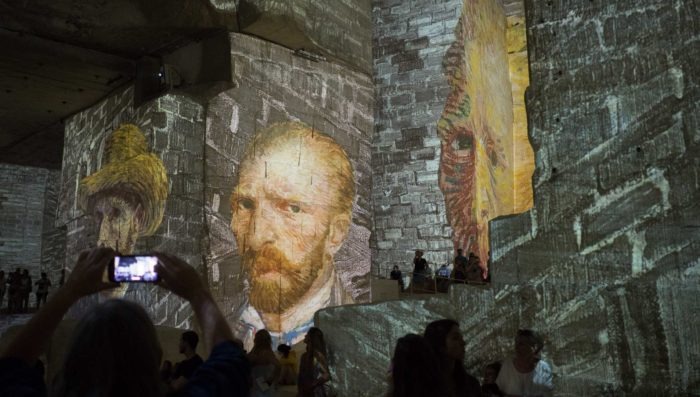 Day 7: Aix-en-Provence - Nice
Private Transfer: Aix-en-Provence to the Aix-en-Provence Train Station
A chauffeur will meet you for a private transfer between Aix-en-Provence and the Aix-en-Provence TGV train station.
Direct High-Speed Train from Aix-en-Provence TGV to Nice in First Class
Duration: approximately 3 hours
Private Transfer in Nice
A private driver will pick you up in Nice and drive you safely to your destination.
Overnight Stay with Breakfast in a Tradition Room at a 3-star Hotel in Nice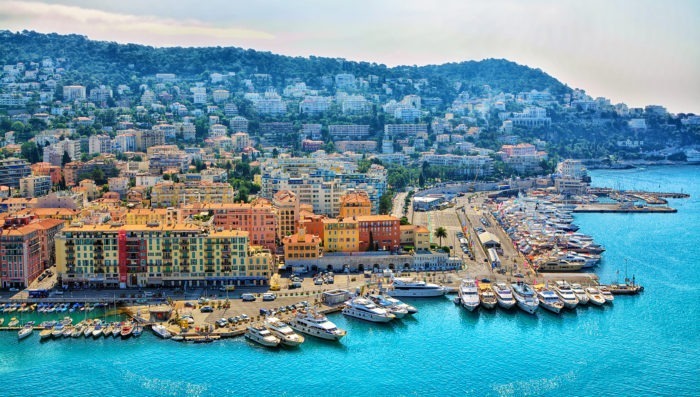 Day 8: Nice
Morning Liberation Market Tour and Cooking Class with Lunch in Nice
In this tour, you explore the upcoming Libération area and shop alongside the locals and get a hands-on introduction to Nice's cuisine and culture.
The tour will begin at 9 am in front of the Gare du Sud, a former train station that now houses a modern food hall. Just north of the main Nice train station, the city's biggest food market takes place six days a week. Known affectionately to locals as "la Libé," this up-and-coming part of Nice is reminiscent of Paris with its 19th-century style buildings and broad boulevards that offer a view of the mountains beyond the city. From there, you will visit the farmers' stalls to find the freshest local produce and select meat or fish for the cooking class.
Around 10:30 am, you will take the tram to the cooking studio, where you help prepare lunch. No need to worry if you are a beginning cook, the atmosphere is relaxed!
A couple of hours later, you will get to sit down to an authentic Niçois meal and toast your efforts with a glass of rosé (or, if you prefer, an intriguing local red or white wine). By 3 pm, you will be free to explore Nice's Old Town or perhaps head to the beach!
Overnight Stay with Breakfast in a Tradition Room at a 3-star Hotel in Nice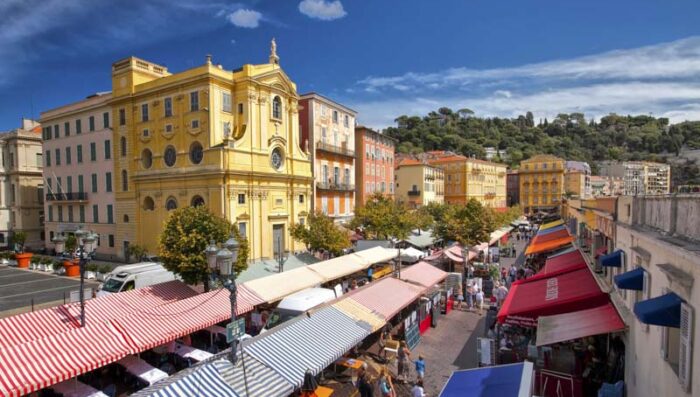 Day 9: Saint-Tropez - Nice
Full-Day Private Tour of Saint-Tropez
Charming Saint-Tropez is a mythical destination. Even the drive to Saint-Tropez Bay is a pleasure. The road takes you through the Maures Forest to Sainte-Maxime. From there you take a small ferry (15 minutes) to Saint-Tropez in order to better appreciate the beauty of the coastline.
In Saint-Tropez, there is something for everyone. It features an impressive historic fortress, the Annonciade Museum for art lovers, and a charming old town. The glamorous port, yachts, and boutiques will appeal to those who love luxury.
For your return, a chauffeur will pick you up in Saint-Tropez. You can choose to stop in the village of Port Grimaud (the so-called "little Venice of Provence"), Grimaud (one of the jewels of the South), or winery near Les Arcs (wine tasting at your own expense).
Overnight Stay with Breakfast in a Tradition Room at a 3-star Hotel in the center of Nice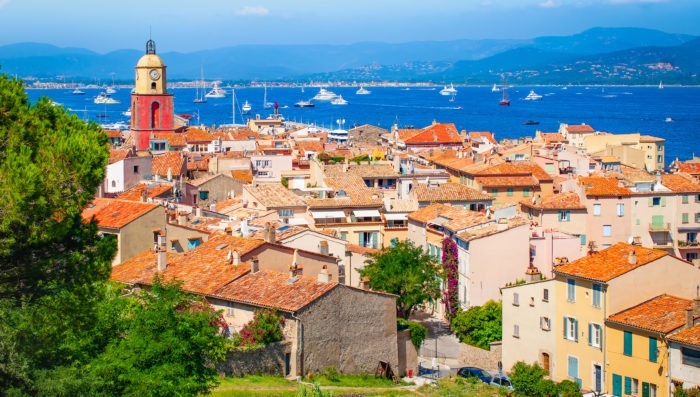 Day 10: Nice
Private Transfer in Nice
A private driver will pick you up in Nice and drive you safely to your destination.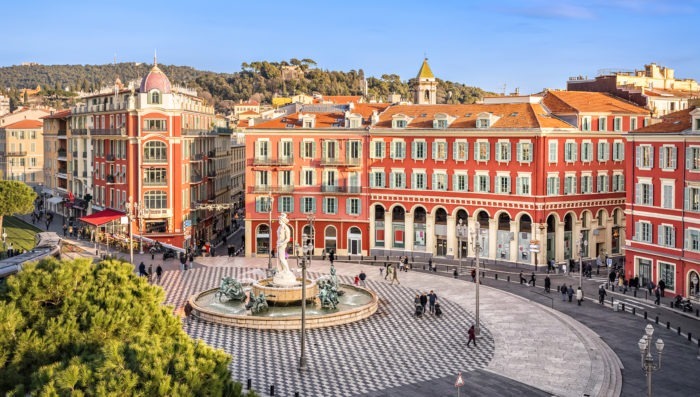 About This Tour:
Enjoy 24/7 English-spoken telephone assistance while traveling
This itinerary includes transport, activities, guides, accommodations with breakfasts, and other listed services
Price is in USD per person, assuming double occupancy. Note that prices and availability are subject to change.
Customize this itinerary:
Every French Side Travel trip is custom-built for your unique needs and interests. Above is an example of what's possible. If this isn't exactly what you're looking for, contact us today. Put together your dream trip with our travel experts. Handpick the accommodations, guides, activities, and meals that are right for you.
When you book with French Side Travel, you're getting a trip that's as unique as you are. 
Our Favorite Hotels in Southern France