Get away and explore Paris for 5 days
Liberty | From $1,599 pp
This is our classic tour of the City of Light. Go for a Seine River cruise before a visit to the Eiffel Tower. See a cabaret show at the Moulin Rouge. There's free time to allow you to explore the city's fine museums, dynamic neighborhoods, or indulge in some luxury shopping. Don't mistake classic to mean ordinary though. You will live experiences that the average visitor can only dream of. Tour the city by night in a legendary Citroën 2CV and go into Le Marais trendiest boutiques. A walking food tour of
Montorgueil
is a real highlight for foodies.
Day by Day
Day 1: Paris
Arrival private transfer from CDG or ORY to Paris: Private Transfer from the Airport to Accommodation
A private driver will pick you up from the airport and drive you safely to your accommodation.
Airport Meeting Point: The driver or the assistant will be waiting just after the customer exit, after the luggage delivery and will be holding a placard with your name on it.
Les Jardins d'Eiffel – Overnight and Breakfast – Confort room FIT: Overnight Stay with Breakfast in a Comfort Room at a Beautiful 3-star Hotel near the Eiffel Tower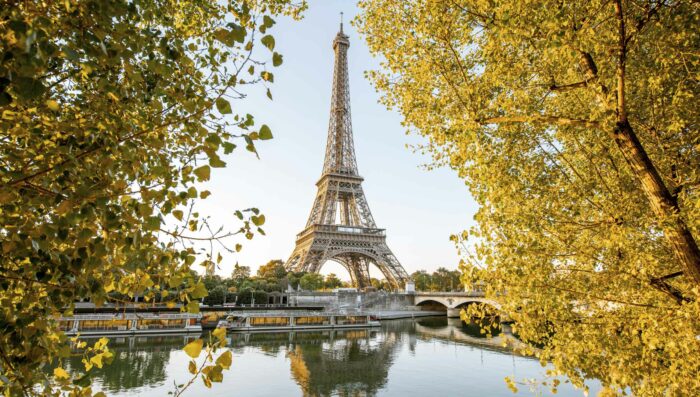 Day 2: Paris
Eiffel tower guided tour to the 2nd floor – 1H30: 
Eiffel Tower Second Floor Guided Tour in a Small Group
The Eiffel Tower has always been one of the most iconic edifices that the French have produced. An architectural and engineering marvel that has stood the test of time and continues to mesmerize the visitors time and again.
Your tour assistant will give you priority access into the Eiffel Tower for a visit to the first and second levels of this magnificent Parisian monument. Designed by Gustave Eiffel, with a height of 324 meters the tower is the tallest structure in Paris and a timeless cultural icon.
The view from the tower offers an unforgettable experience to see Paris with its grandeur: filled with timeless monuments and breathtaking views.
Paris City shared (3H) half-day driving tour with tour assistant driver: 
Small-Group Tour of Paris
Discover Paris and admire its major attractions during a sightseeing tour with your English-speaking driver/guide.
You will get an up-close and personal experience of all the Paris essentials, including the Champs-Élysées, Arc de Triomphe, Eiffel Tower, Opera Garnier, Trocadéro, Les Invalides, Place de la Concorde, Place de Vendôme, Notre-Dame Cathedral, Montmartre, the Louvre, and Madeleine.
This tour is the perfect opportunity to ask your guide any questions about the city, its history, or evolution. Our guides are knowledgeable, completely fluent in English, and are here to enrich your Parisian experience to make the most out of your stay!
Les Jardins d'Eiffel – Overnight and Breakfast – Confort room FIT: 
Overnight Stay with Breakfast in a Comfort Room at a Beautiful 3-star Hotel near the Eiffel Tower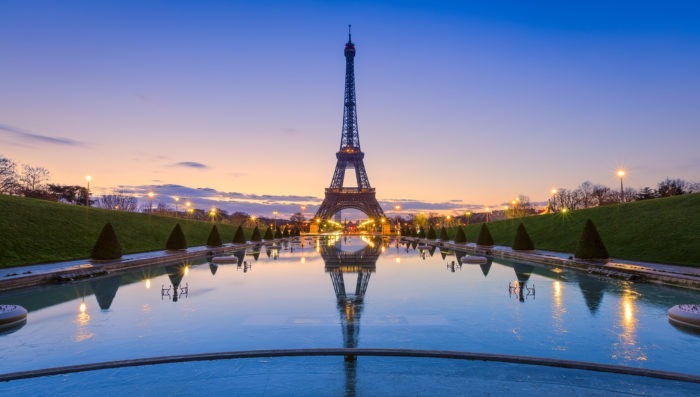 Day 3: Versailles
Versailles and Louvre guided (8H) shared full-day driving tour with tour assistant driver – pick up Eiffel tower drop off Louvre – entrance included: 
Small-Group Full-Day Guided Tour to Versailles and the Louvre Museum
Depart for the Palace of Versailles, located just outside of Paris. Relax and enjoy the scenery on the ride.
Skip the often long entrance lines and follow your guide on a tour of the palace, including the Hall of Mirrors, the Royal Chapel, and the golden bedroom of the King. The former residence of Louis XIV and three other French kings is surrounded by a 2,000-acre (809-hectare) garden, which you will have time to explore at your leisure.
You'll return to Paris and after some free time for lunch (not included)and begin the second part of your tour with a guided visit to the Louvre Museum.
You will again skip the long lines and follow your guide on a two-hour tour of the famous museum. See collection highlights such as the Venus de Milo, Winged Victory of Samothrace, the Mona Lisa, and David's Coronation of Napoleon. After the conclusion of your tour, you are free to explore the museum independently until closing time.
Les Jardins d'Eiffel – Overnight and Breakfast – Confort room FIT: 
Overnight Stay with Breakfast in a Comfort Room at a Beautiful 3-star Hotel near the Eiffel Tower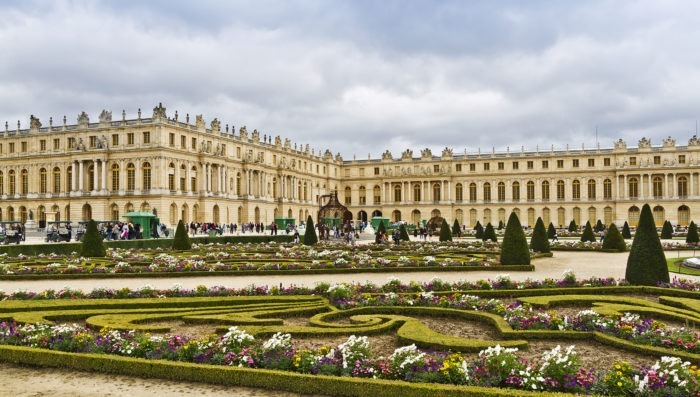 Day 4: Giverny
Half-day in Giverny, from the Eiffel Tower, to visit the house and gardens of the famous impressionist painter, Claude Monet – EX5: 
Half-Day Self-Guided Visit of Claude Monet's House and Gardens in Giverny
Take a half-day excursion from Paris to visit the house and the gardens of Claude Monet, the well-known Impressionist painter, with a professional driver guide. Immerse yourself in the world of the painter, famous for his landscape canvases and numerous views of his garden, such as the "Water Lilies," the "Japanese Bridge" and "The Irises." Your visit will also include the beautiful water lily pond, with its play of colors and Monet's legendary Japanese-inspired bridge. Learn about the artist's daily life by visiting his home and his studio.
Set off from central Paris for a unique excursion in the footsteps of the Impressionist painter Claude Monet. Admire the lush green landscapes of the French countryside as you travel by private vehicle to the small Normandy village of Giverny. The trip will take approximately 90 minutes. The painter and gardener Claude Monet lived in Giverny for 43 years with his family from 1883 until his death in 1926.
Passionate about gardening and color variations, he designed his flower garden, fruit tree orchard, and water garden as if they were works of art. As you visit the gardens at Giverny, you will see the central pathway leading up to the house, bordered by different varieties of nasturtiums and roses, as well as the multicolored flower beds full of tulips, narcissi, daffodils, irises, and peonies. Stroll through the Clos Normand Flower Garden, which is home to many plants of Eastern origins, until you reach the lavish water garden, so famous for its water lilies, weeping willows, and green-painted Japanese Bridge (bridges like this are traditionally red in Japan). Be captivated by Giverny's unique atmosphere, its light, and the reflection of clouds on the water.
Take the opportunity to explore Monet's pink-plastered house, where he lived and worked for many years (guided tours are not permitted due to the lack of space). Discover the blue reading room, which leads into Claude Monet's studio, where the leader of French impressionism worked until 1889. These rooms, as well as those of his private apartments, have been reconstructed with the original furniture that was in the house during Monet's life. Visit the sunny yellow dining room, which has been reconstructed down to the very last detail. It was very modern for its time, with earthenware dishes and a kitchen tiled with local blue and white Rouen tiles. In the Dining Room, admire one of the most important collections of Japanese prints in the world.
At the end of your visit, take advantage of the pretty gift and book shop – it is housed in what was once the studio where Monet painted the huge Water Lilies canvases. It stretches for more than 3,200 square feet! The shop offers a wide range of products linked to the Impressionist's work: postcards, posters, teas, books, official Claude Monet tableware, flower seeds, and plants.
Les Jardins d'Eiffel – Overnight and Breakfast – Confort room FIT: 
Overnight Stay with Breakfast in a Comfort Room at a Beautiful 3-star Hotel near the Eiffel Tower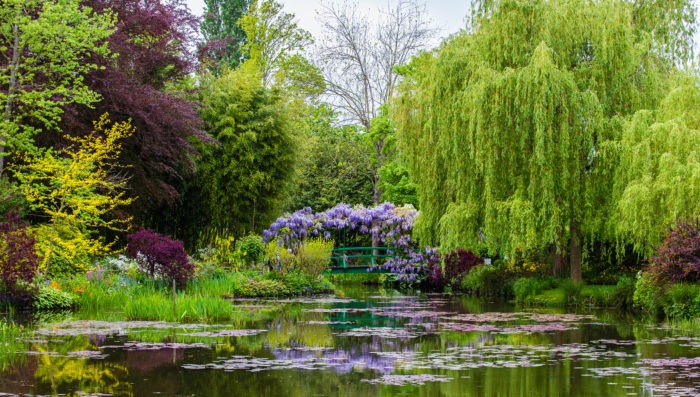 Day 5: Paris
Private transfer
A chauffeur will meet you for a private transfer between your lodging and the airport.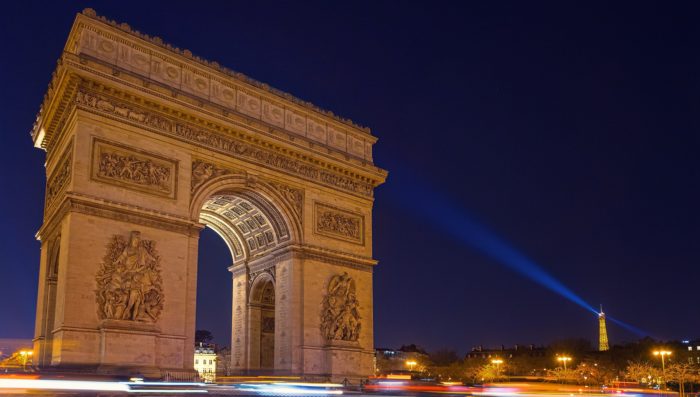 About This Trip:
Enjoy 24/7 English-spoken telephone assistance while traveling
This itinerary includes transport, activities, guides, accommodations with breakfasts, and other listed services
Price is in USD per person, assuming double occupancy. Note that prices and availability are subject to change.
Customize this itinerary:
Every French Side Travel trip is custom-built for your unique needs and interests. Above is an example of what's possible. If this isn't exactly what you're looking for, contact us today. Put together your dream trip with our travel experts. Handpick the accommodations, guides, activities, and meals that are right for you.
When you book with French Side Travel, you're getting a trip that's as unique as you are. 

Our Favorite Hotels in Paris