A car opens up outdoor possibilities in Bordeaux and Dordogne
from $3,799 pp
A self-drive trip is a fantastic way to explore what makes the area around Bordeaux so special. Spend a couple of nights in town before heading out to the countryside. This suggested itinerary takes you to sample Saint-Émilion grand crus and invites you to explore the region's cuisine with a cooking class. It finishes with three nights in the incomparable Arcachon. It's an outdoor paradise with the towering Dune du Pilat, Arcachon Bay, and the Gascogne Regional Nature Park.
Day 1: Arrive in Bordeaux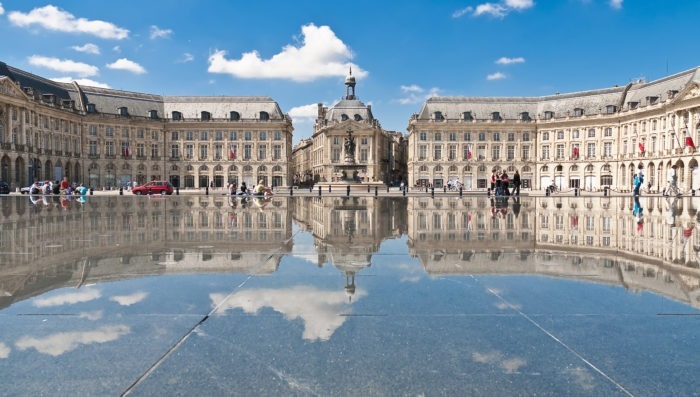 Pick up your Rental Car in Bordeaux
Dinner Cruise on the Garonne River
Discover Bordeaux's beautiful UNESCO-recognized waterfront and architecture while enjoying dinner aboard the restaurant boat, Sicambre.
The menu is inspired by traditional southwestern French cuisine. It is prepared onboard using local, seasonal ingredients. Explore the terroir of this region, reputed as perhaps the best corner of France for foodies.
Day 2: Bordeaux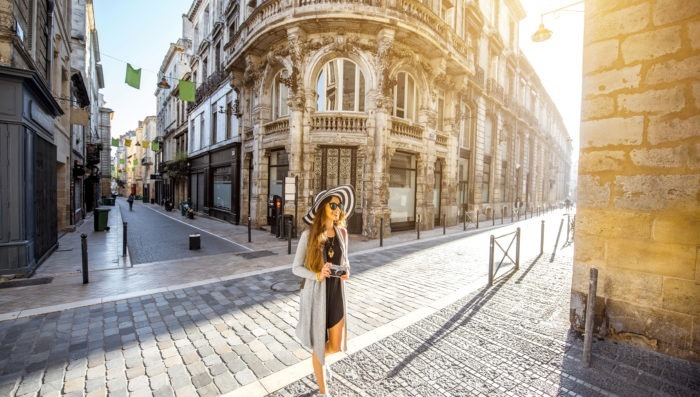 Suggestion: Free Day in Bordeaux
Bordeaux is one of France's most fascinating cities. It lends its name to its renowned wines and is praised for its fine cuisine. There is no need to go to a fancy restaurant to find an excellent meal, great eats can be found in many bistros. Besides being France's uncontested capital of good food and wine, it also boasts splendid monuments, mansions, and architecture.
Outside of the city there are many exciting excursions. Wide Atlantic beaches, imposing sand dunes, lush vineyards, and dense fragrant pinewoods dominate the landscape. The well-marked hiking and biking trails help to make this region an outdoor paradise!
Bordeaux private market tour, cooking class, and lunch 
This is a guided gourmet experience with a chef.  Start with a walk around Bordeaux to take in its favorite market. A cooking class and lunch follow. With the chef, learn French cooking techniques. Together you'll use outstanding local products to prepare a starter, a main course, and dessert.
Lunch includes an aperitif, starter, main course, dessert, and drinks
Day 3: Bordeaux, Saint-Émilion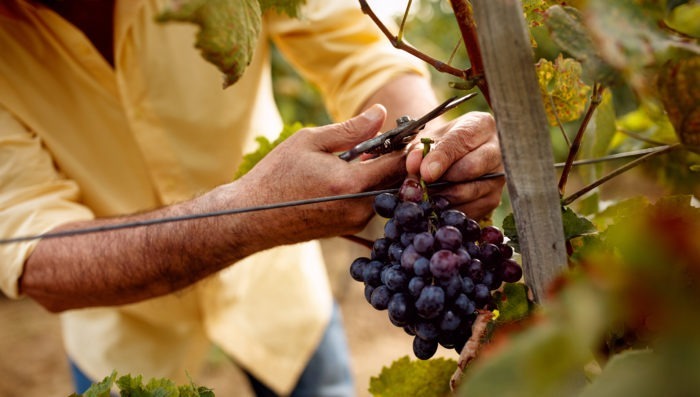 Drive to Saint-Émilion for your private guided wine tour. 
Saint-Émilion for wine lovers
Private guided full-day: Saint-Émilion for wine lovers
Spend a day getting to know Saint-Émilion's fine wine appellations. Enjoy a chauffeured drive through the rolling hill and enchanting vineyards of the Saint-Émilion region.
Your first visit is to Château Bernateau, a Saint-Émilion grand cru. This estate has been in the same family for 8 generations and produces organic wines. Taste 3 grand crus and learn about their path from the vineyard to your glass.
Lunch follows in downtown Saint-Émilion looking out over a sea of vines and the Dordogne valley. Enjoy an à la carte selection of seasonal dishes.
This tour and tasting of Château Guadet is led by the owner himself. The vineyard has earned the prestigious Saint-Émilion Grand Cru classé label. The vast limestone cellars were dug in the 17th and 18th centuries in the heart of the Saint-Émilion. They offer the optimal conditions to store the wine at a constant temperature around 55°F (13°C)
Next, at Château Grand Barrail Lamarzelle Figeac, a Saint-Émilion Grand Cru, learn what makes these wines special from their grape varieties, assembly and classification. This is a complete experience including a technical tour and the "Discover of Bordeaux's Grands Crus" tasting in the private tasting room at La Cave Dourthe. Learn about the different terroirs, while sampling three Grands Crus appellations including Château Grand Barrail, Lamarzelle, Figeac, a dry white Bordeaux, and a sweet Bordeaux.
Drive to your hotel in Les Eyzies-de-Tayac-Sireuil

Day 4: Dordogne: Les Eyzies-de-Tayac-Sireuil and Saint-Cyprien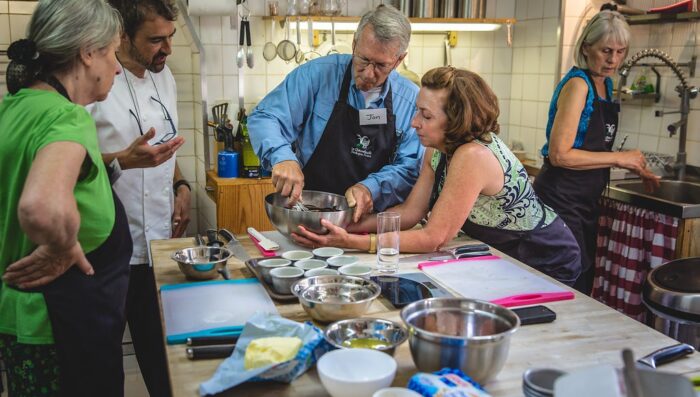 Cooking class with market tour and lunch in Saint-Cyprien

Experience a unique cooking class in a region renowned for its gastronomy. The day starts with breakfast before heading to a traditional farmers market.
Browse a bustling market with cheeses, charcuterie, wine, and fresh produce. Sample regional specialties and learn from local farmers how to choose the best seasonal ingredients.
After the market tour, you will head to a kitchen to experience the fun of hands-on cooking and tasting. The course covers all the basic and essential parts of périgordin recipes and cooking methods from preparation through service.
This tour finishes in style. Sit down to enjoy the three-course lunch you've prepared paired with regional wine or non-alcoholic beverages.
Day 5: Bergerac and Arcachon
Suggestion: Free Day in Bergerac
Bergerac is Dordogne's largest wine appellation. This area is home to more than a dozen Appellation d'Origine Contrôlées (AOCs), covering red, white, and rosé variations. The most famous are the white Monbazillac and the deep red Montravel. You can learn all about the region's fine wines at the Maison des Vins.
The charming city of Bergerac is worth exploring. The Notre-Dame and Saint-Jacques Churches are among its highlights. The historic district is characterized by half-timbered houses. The Place Pélissière is a wonderful spot for lunch or a drink. The Musée du Tabac is a curious stop that explores tabacco's cultural, sociological, and historical impacts. It is housed in a 17th-century château.
Drive to Arcachon
Day 6: Arcachon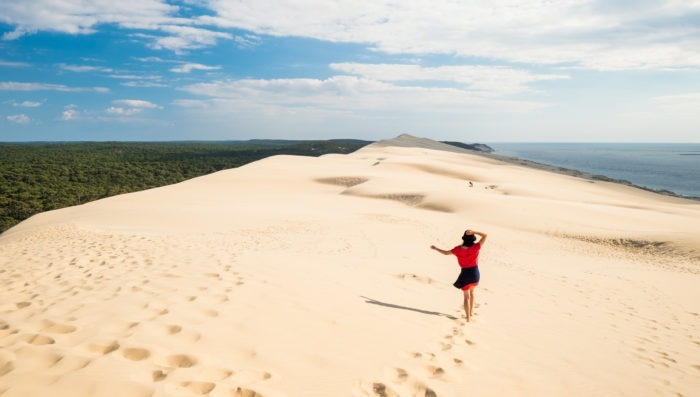 Traditional pinasse boat tour of Bird Island and the Lège-Cap Ferret
Enjoy the highlights of the breathtaking Arcachon Bay on a traditional pinasse boat. Your captain will sail through the small channels past oyster beds, picture-perfect beaches, l'Île aux Oiseaux (Bird Island), and Lège-Cap Ferret's charming villages.
While aboard, enjoy an aperitif of 6 local oysters, bread, butter, lemon, and pâté de campagne, accompanied by white wine.
Suggestion: visit Arcachon
The tranquil Arcachon Bay emerged as a luxury retreat for Bordeaux's rich in the 19th century. Most foreigners never make it, but that's a mistake. The elegant Belle Époque villas, rejuvenating spas, and expansive golden sandy beaches make it a favorite of the French. The largest sand dune in Europe, the Dune de Pilat, is an impressive site with even better views from the top.
The main attractions in Arcachon are the miles of sandy beaches, the vibrant town center and its markets, and the architecture of the ville d'hiver that boasts rows of Belle Époque mansions. There's an eccentric mix of neoclassical, neo-gothic, colonial and Swiss chalet styles. In the 19th century, this winter town competed with Alpine retreats as a sanatorium for tuberculosis sufferers.
Arcachon's beaches are on the Arcachon Bay, sheltering them from violent Atlantic waves. This makes it a wonderful area for families with children. Head south towards Biscarrosse for waves, surfing and body-boarding.
The seafood restaurants in Arcachon are of course particularly popular from classic bistrot fare like Moules frites (mussels and fries) along the beach to fine dining restaurants a few blocks into town. Foodies would be remiss to not try the oysters.
This is a great area for cycling. Rent a bike to take advantage of the 18-mile trail to Biscarrosse that passes by beaches and through seaside towns. Behind the beaches is the Landes des Gascogne Regional Natural Park, an expansive pine tree forest and wetland area.
Day 7: Arcachon
Suggestion: Climb the Dune du Pilat
One should plan at least three hours if you'd like to hike around the dune. It is 4 miles (6.5km) to go around it. It is free to walk on with no marked paths, so a shorter walk is possible. It is worth climbing for the magnificent view of the sea.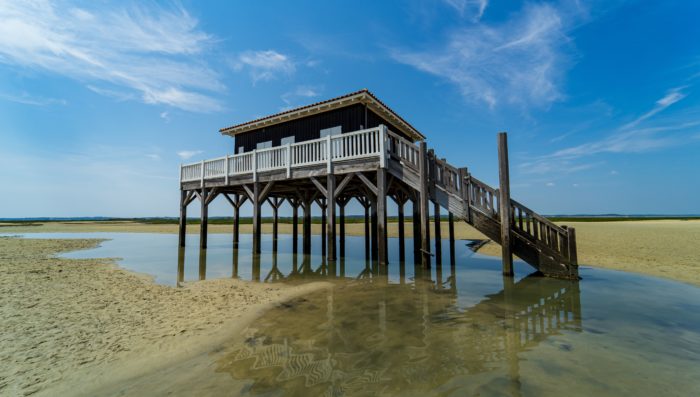 Private Lunch in a local fisherman's stilt-hut
Cabanes Tchanquées are traditional huts built on stilts in the Arcachon Bay. During high tide it looks like they are floating on water. Stop in one for an intimate meal just a half-hour outside Bordeaux.
The menu includes: a bottle of Champagne, fish rillettes, and a seafood platter with half of a lobster. A bottle of white wine, cheese, and dessert are also included.
Note: If you have dietary restrictions let us know when booking so that an alternative menu can be proposed. A seasonal local stew can be offered as an alternative to seafood.
Day 8: Return to Bordeaux
Unfortunately it's time to say goodbye. Return your rental car in Bordeaux.
About this trip
Enjoy 24/7 English-spoken telephone assistance while traveling
This itinerary includes transport, activities, guides, accommodations with breakfasts, and other listed services
Price is in USD per person, assuming double occupancy. Note that prices and availability are subject to change.
Customize this itinerary:
Every French Side Travel trip is custom-built for your unique needs and interests. Above is an example of what's possible. If this isn't exactly what you're looking for, contact us today. Put together your dream trip with our travel experts. Handpick the accommodations, guides, activities, and meals that are right for you.
When you book with French Side Travel, you're getting a trip that's as unique as you are.