Normandy Escapade: History, Culture, and Workshops
Luxury | From $7,799 pp
Experience the best that Normandy has to offer, through its history and culture. Explore the town of Deauville, enjoy sulky harness racing and glamorous private visits of Cabourg. Finish your amazing journey in Bayeux through horse riding along the flower-coast and enjoy a porcelain painting workshop. A gorgeous vision and wonderfully diverse Normandy trip.
Day by Day
Day 1: Paris - Deauville
Luxury Transfer from Paris Airports to Deauville
A chauffeur will pick you up from Paris airports (CDG, ORY, LBG) and drive you safely to your hotel in a luxury vehicle.
Welcome to Deauville!
Deauville started as the vision of Napoleon III's half-brother. From the adjacent town of Trouville, he looked across the marshes and dunes and decided to build a race course. Elegant villas were built between the race course and the sea. When Deauville was first created, it was a luxury resort and has remained so ever since. Most buildings are in the picturesque half-timber style, typical of Normandy.
Of course, despite the impressive architecture, the major attraction at Deauville is the long white sandy beach. Even the beach manages to remain luxurious, with posh colorful umbrellas (a trademark of the town) and well-maintained beach cabins. The beach cabins are named after American stars who came to Deauville for the film festival. The promenade along the 1.5-kilometer-long boardwalk is a highlight of any visit. There are lots of seafood restaurants along the waterfront. The highly reputed casino has a prime spot by the beach and is the venue for film festivals.
Deauville has gained a reputation for its American film festival, taking place every year at the beginning of September. Recently, an annual Asian film festival has also started. The town is home to equestrian events as well: the race course sits up above the village – an excellent spot for a day at the races.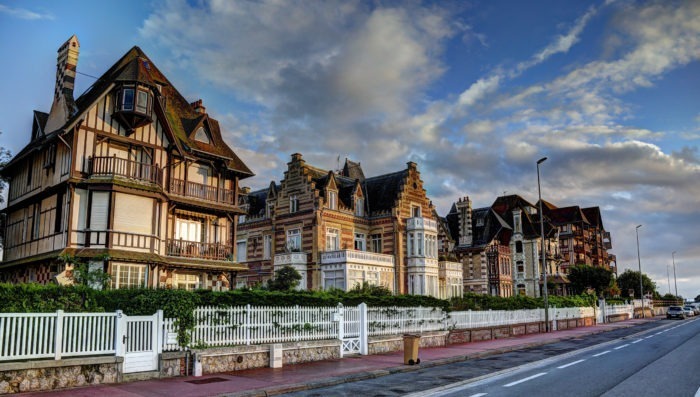 Day 2: Deauville
Luxury Driver-Guide at your Disposal for your Activity

Enjoy a custom-built tour from Deauville with an English-speaking driver-guide.
Sulky Harness Racing at the Beach
Enjoy and participate in sulky harness racing, the top-most adventurous sport known all over the world. A challenging and exciting sport, whose roots extend nearly 3000 years ago to the Assyrian kings who lived and breathed chariot racing. They even used this means of sport not only for war but even for hunting purposes.
Harness racing accompanied by a chariot has evolved over the centuries and represents the beauty and culture of Normandy. For a fulfilling experience, you will ride along the beaches of Deauville or in the countryside of the Cote Fleuri.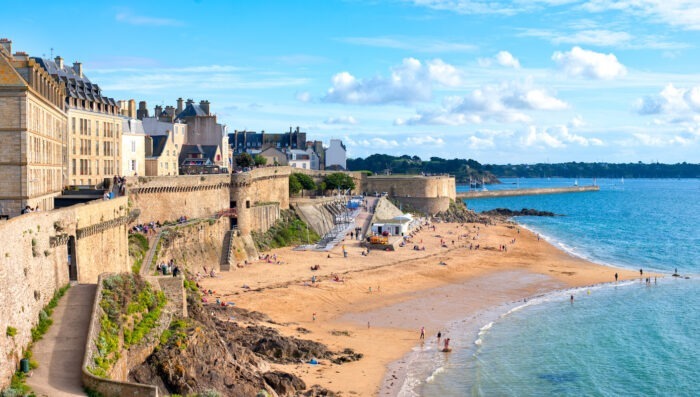 Day 3: Bayeux - Deauville
Private Visit to Cabourg and Houlgate of the Victorian Era
In this tour, you can experience an authentic Norman seaside view by traveling through the times of the late Victorian era to the first decades of the 20th century.
You will be happy to discover the magnificent coastal villas and a diverse range of architecture. You will also learn about the socialite's way of living, artists, and contemporary influencers of the present day ranging from Proust in Cabourg to the 27th American President William Howard Taft in Houlgate.
You will be filled with wonder by looking at the spectacular mansions owned by the international elite. For a memorable experience, you can venture inside any one of the mansions and sip on a cup of tea in the solarium or on the patio.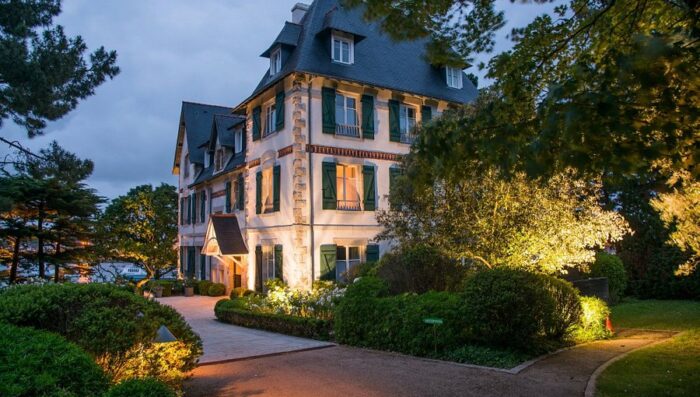 Day 4: Bayeux - Port-en-Bessin
From Deauville to Bayeux and its Surroundings – Horseback Riding on the Flower-Coast
Stretching more than 40 kilometers (25 miles), this flower coast extends from the region of Sallenelles to Honfleur. For more than 200 years, this length of the French coast has been favored by the Parisian elite. During the early 18th, 19th, and 20th centuries, the trend for sea bathing was a key factor that led to the creation of numerous towns, including Deauville and Trouville, Cabourg, and Houlgate beautifully designed with Norman architecture.
During the summer, you can stroll through the rolling meadows and orchards speckled with ripening fruits. To relax and have a good time, you can try horse riding or visit a local distillery to relish the flavors of the previous harvest which is a welcome respite from the hustle and bustle of big city exploration.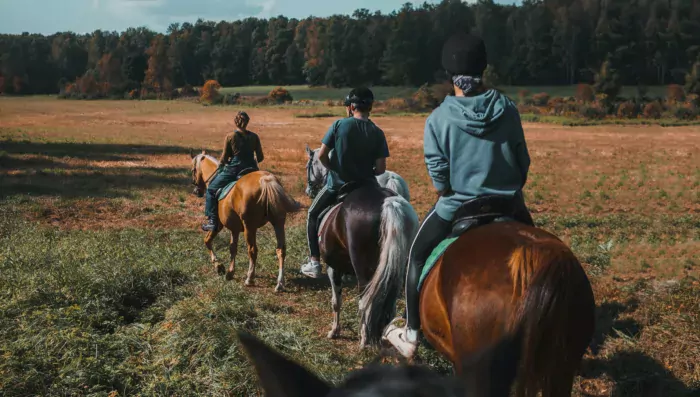 Day 5: Omaha Beach - Utah Beach - Grancamp-Maisy - Port-en-Bessin
Enjoy a Private Porcelain Painting Workshop with Snacks
Discover and experience a unique porcelain painting workshop with your family and friends in Bayeux. During your vacation, you can try pottery painting to unwind, relax, and create your own souvenir.
Enjoy a couple of hours in a warm, cozy, and nurturing environment where you will be welcomed by the artists who will interact with you and teach you the meticulous techniques to create your own piece of art.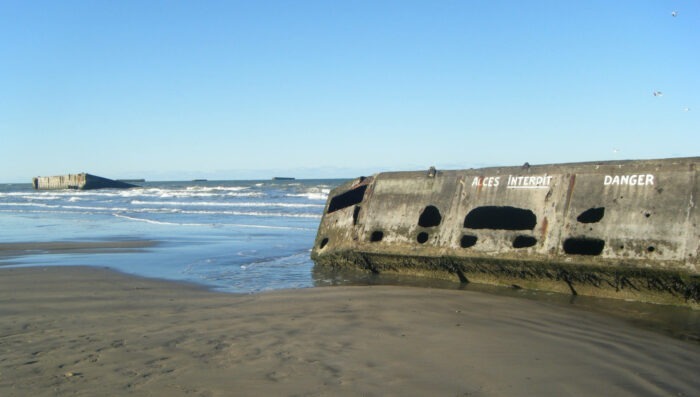 Day 6: Paris
Luxury Transfer from Normandy to Paris Airports
A chauffeur will pick you up from your hotel and drive you safely to Paris airport (CDG, ORY, LBG) in a luxury vehicle.
About This Trip:
Enjoy 24/7 English-spoken telephone assistance while traveling
This itinerary includes transport, activities, guides, accommodations with breakfasts, and other listed services
Price is in USD per person, assuming double occupancy. Note that prices and availability are subject to change.
Customize this itinerary:
Every French Side Travel trip is custom-built for your unique needs and interests. Above is an example of what's possible. If this isn't exactly what you're looking for, contact us today. Put together your dream trip with our travel experts. Handpick the accommodations, guides, activities, and meals that are right for you.
When you book with French Side Travel, you're getting a trip that's as unique as you are. 

Our Favorite Hotels in Normandy
L'Ermitage Mont Saint-Michel
Our Product Lines
Excellence
VIP Unique Experiences | Concierge Services | Private Tours (driver + licensed guide) | Chauffeur Services (luxury vehicles) | Top Licensed Guides | VIP Meet & Greet | Jet, Helicopter & Yachting | Fine Dining | Luxury 5* Accommodation (palace hotels, exclusive villa rentals) | 24/7 On-Site Assistance.
Luxury
Unique Experiences | Private Transportation (luxury vehicles) | Private Tours | Top Licensed Guides | Meet & Greet | Fine Dining | Luxury 5* Accommodation (hotels, villa rentals) | 24/7 On-Site Assistance.
Premium
Unique Experiences | Private Transportation | Private Tours | Self-drive | Top Licensed Guides | Authentic & Boutique 4* Accommodation (hotels, apartment rentals) | 24/7 On-Site Assistance.