Exclusive Getaway to the Principality of Monaco
Excellence | $31,399 pp
Escape to the dazzling destination of Monaco for a vacation that will be sure to make lifelong memories. When arriving to the small city-state it seems to appear out of thin air nestled between the rocky cliffs and the sparkling waters of the Mediterranean, which just adds to Monaco's dreamlike setting. Everything has been taken care of to ensure a seamless, stress-free vacation. Unique experiences will include: a private helicopter transfer to Monaco from the Nice Côte d'Azur Airport, private museum visits, and a tour of the French Riviera by sea in a luxurious yacht.
Day 1: Nice - Monte Carlo - Èze - Monte Carlo
Meet & Greet VIP Arrival at the Nice Airport
The greeter will welcome you upon your arrival at the airport and assist you with the check-in and immigration formalities. He will collect your luggage while you wait in a private lounge. He will then provide assistance to meet your driver and help you with your luggage.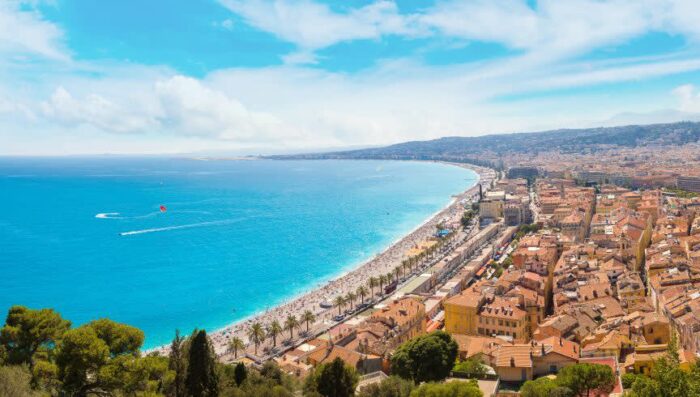 Helicopter flight transfer from Nice airport to Monaco Helipad
A private helicopter will be waiting to take you on the short flight from the Nice airport to the helipad in Monaco. Upon arrival, a private car and driver will drive you the rest of the way to your hotel.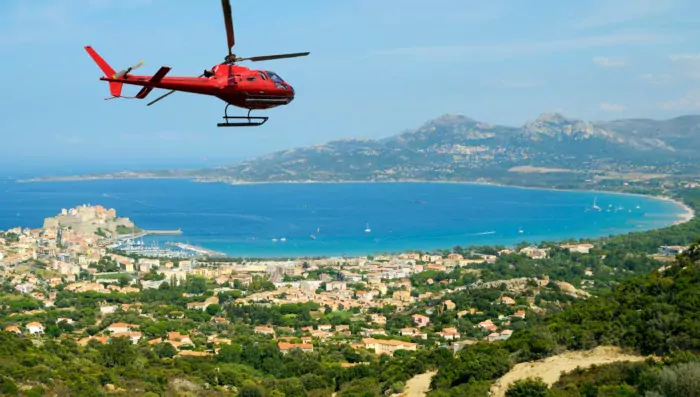 Private driver for the evening

A private driver will pick you up at your accommodation and drive you safely to your evening program and back.
Restaurant Booking – Restaurant La Chèvre d'Or Dinner
The exceptional location of the restaurant Chèvre d'Or is immediately impressive upon arrival.  The medieval village of Eze is located high on the top of a rocky hillside, which encourages you to enjoy spectacular views of both the countryside of the Cote d'Azur, as well as the Mediterranean Sea. After you have enjoyed the wonderful view, it's time to eat and there is plenty to get excited about here, too. The chef here creates harmonious and precise dishes bordering on the irresistible usage of delicious local produce such as fish, meat, vegetables, olive oil, and herbs. Meanwhile, the pastry chef's "vision of a local lemon" has become his signature dessert.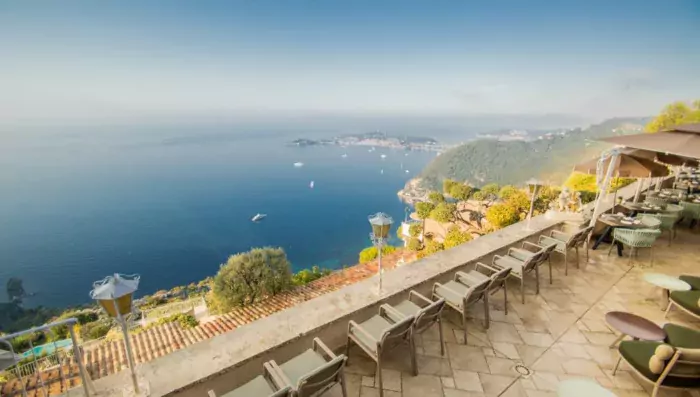 Day 2: Nice - Saint Jean Cap Ferrat - Monte Carlo
Private driver for the day
A chauffeur will pick you up in a luxury vehicle from your accommodation, drive you around the French Riviera according to your program and then drive you back to your hotel.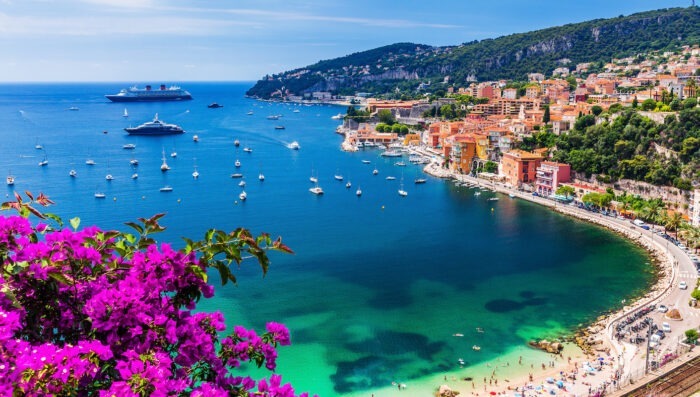 Morning at leisure – Suggestion: Visit Nice – The Pearl of the French Riviera
The elegant city of Nice is set against an impressive backdrop of soaring hills and the famous blue waters of the French Riviera. The "Place Rossetti" is at the city's heart, surrounded by brightly colored buildings, the cathedral, and a large fountain lending the square a unique flavor. Nice is a city for all seasons.
The Cours Saleya is the main street in the old town and hosts a daily flower and vegetable market (except Mondays). You can find top-notch seasonal produce here, and there is a good selection of other local souvenirs if you're eyeing some Marseille soap or lavender to take home with you.
Spend some time by the beautiful harbor, where the sun shines from the west in the evening. It's a popular restaurant area if you're looking for a special dinner by the water.
From the harbor, you can climb to the Colline du Château for great views of the city. Despite the name, there is no longer a castle on the hill, as it was destroyed in 1706. Now there is a beautiful park with views of the beach stretching along the Baie des Anges ("Angel Bay").
The beach might be Nice's most famous attraction. The famous "Promenade des Anglais" boardwalk follows the Mediterranean seafront for 3 miles (5 kilometers). It was built in the early 19th century when the English upper class began coming to the French Riviera to spend their winters in a mild climate. This gave the boardwalk its name, which translates to the "Walkway of the English."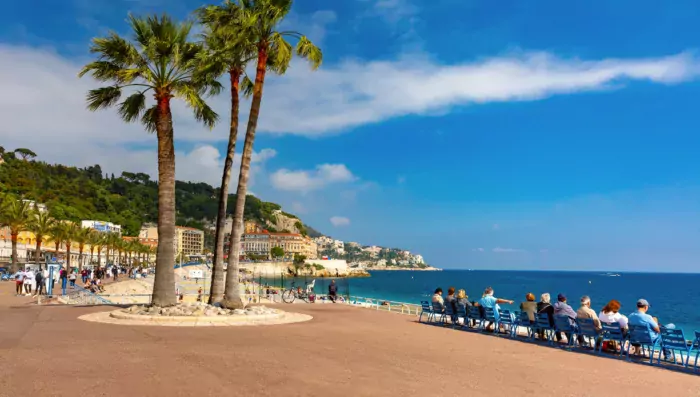 Enjoy a lunch  in the midst of the nature
Spoil yourself by indulging in a private luxury culinary escapade, catered and personalized according to your wishes, at a private location with an exceptional view.
This experience will be customized according to your preferences and can range from a picnic prepared with the best local products in a hidden and exceptional location to a day at an olive producer's place to a lunch in a garden, or a bathing-apéritif in natural basins and natural pools … you name it!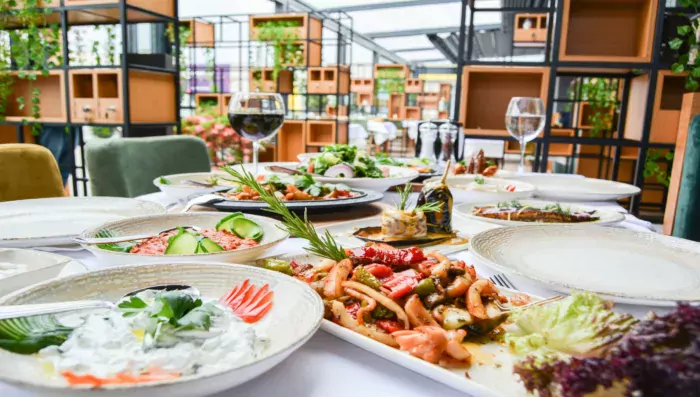 Exclusive visit in the footsteps of Marie Antoinette
You can discover the Villa Ephrussi de Rothschild and follow in the footsteps of the sovereign Marie-Antoinette, muse of poets and painters, queen of decorative arts, savoir-vivre, and fashion. The decoration of the house and the atmosphere is largely inspired by her.
At the end of the visit, talk about what you learned with the guide over a glass of champagne and snacks, in a unique place of the house, offering an exceptional panorama.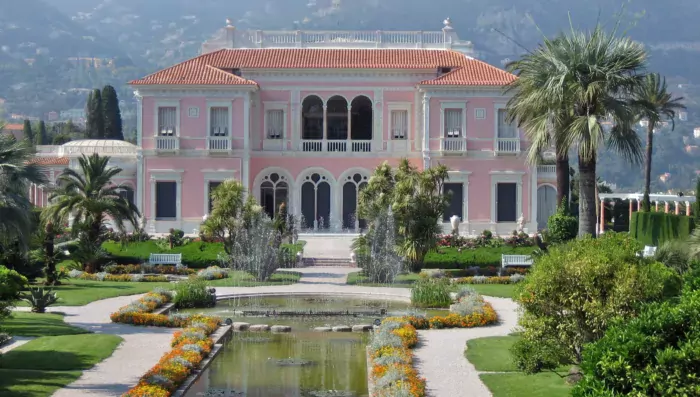 Day 3: Monte Carlo
Private driver for the day
A chauffeur will pick you up in a luxury vehicle from your accommodation, drive you around the French Riviera according to your program and then drive you back to your hotel.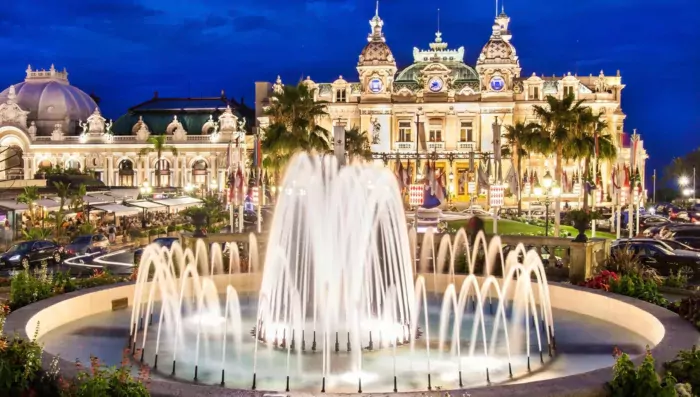 Private guided visit and backstage of Mediterranean zone at Oceanographic museum of Monaco
The Oceanographic Museum in Monaco was built by Prince Albert I in 1910, who was extremely passionate about oceanography. The museum houses thousands of aquatic species from the Mediterranean Sea and the earth's oceans.
From the outer facade to the interior decoration, the architectural style of the entire museum reflects a strong maritime atmosphere. Inside, you will find everything from an aquarium to a collection of natural history exhibits; from a shark pavilion to a Turtle Island with a panoramic terrace…  The museum offers visitors a great opportunity to understand how to know, love and protect the ocean.
In this private guided visit, you will get to see many different species of fish living in the Mediterranean as well as more than 200 species of invertebrates.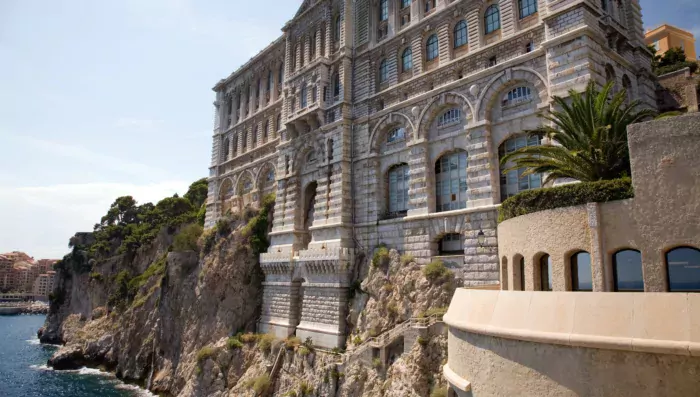 Suggestion: Have lunch at the Condamine Market of Monaco

La Condamine Market is a southern style market, and it is open every day, all year round, accommodating twenty or so traders within its confines. There are also numerous market gardeners, florists and small local producers on Place du Marché. The spirit is sunny, underscored by the soft, warm shades of the market hall and terracotta paving that is scattered with small ceramic tiles graced with Provençal motifs.
There are three zones within the market. Each offers an area equipped with colourful metal furniture, cozy lighting – and heating in winter -, where you can snack on treats purchased on site including Monegasque specialities such as socca, barbagiuans, pissaladière and fougasse.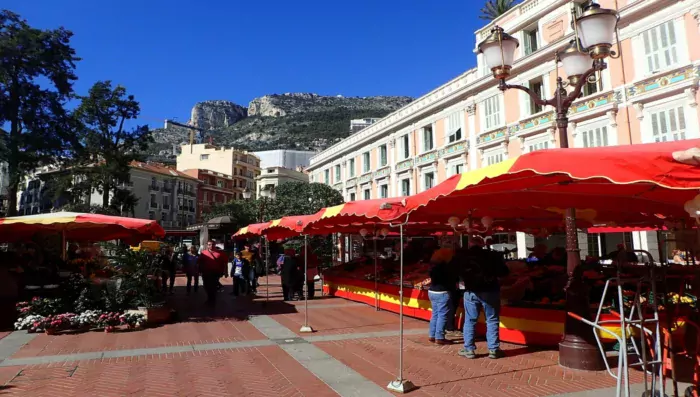 Prestigious and Exclusive private guided Tour of Fashion

With this tour, discover private collections, and confidential addresses and participate in the creation of your wardrobe. It will enable you have an extraordinary experience. Visit workshops, meet creators, and ake part in the creation of your semi-customized wardrobe or even better, completely tailor-made.
It is you and only you who will be the center of attention during this enriching shopping session, mixing expertise and style advice!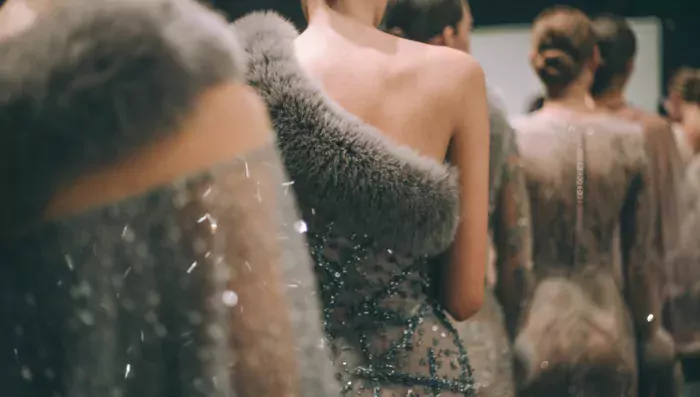 Day 4: Monte Carlo - Villefranche-sur-Mer - Monte Carlo
Luxurious cruise on a private yacht to discover Ile Lerins
Embark on an exciting nautical adventure on the sleek and sporty Princess V56 yacht (or similar) with a top speed of 25 knots. Hop on board and relax in this comfortable and stylish yacht.
Depart from Monaco and sail along the breathtaking landscapes of the French Riviera and take in the Mediterranean air. Sail along the Esterel near Cannes, and to the Lérins Islands. This archipelago formed with Sainte-Marguerite island, the monastery island of Saint-Honorat as well as the small, uninhabited islands Île Saint de la Tradeliere and Saint-Ferréol. Even in summer, these islands are never overcrowded, so you can relax in the small hidden bays.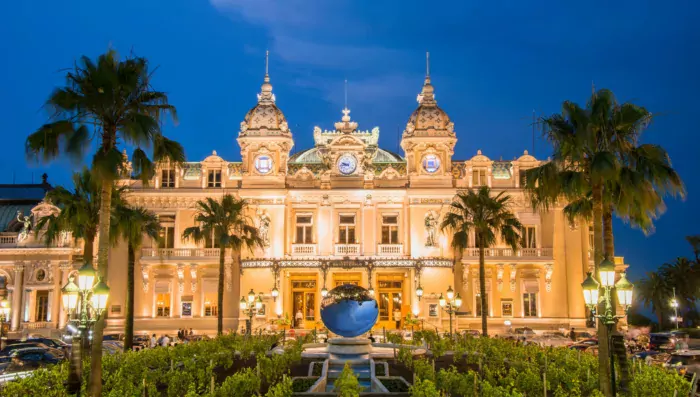 Day 5: Monte Carlo - Nice
Helicopter transfer from Monaco Helipad to Nice airport
A  private car and driver will pick you up at your hotel and drive you to the Monaco helipad. A private helicopter will be waiting to take you on the short flight from the Monaco helipad to the Nice Airport.
Meet & Greet VIP Departure at the Nice Airport
The greeter will welcome you at the car park upon your arrival at the airport and assist you with the check-in and immigration formalities. He will then provide assistance to the gate and help you with your luggage. You will also have access to the VIP lounge.
End of Our Service
Your journey with us has come to an end. We hope to see you soon!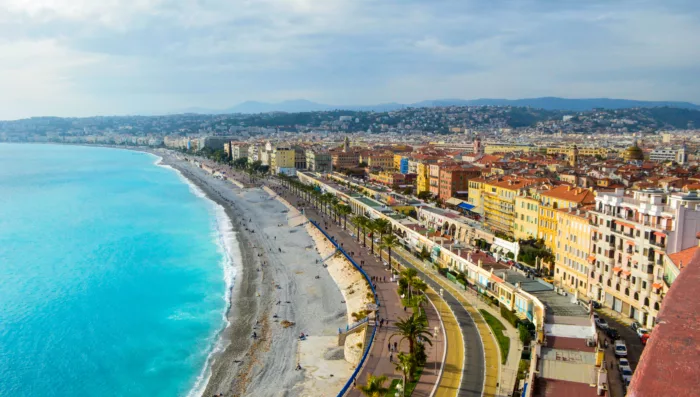 Map
About this trip
Enjoy 24/7 English-spoken telephone assistance while traveling
This itinerary includes transport, activities, guides, accommodations with breakfasts, and other listed services
Price is in USD per person, assuming double occupancy. Note that prices and availability are subject to change.
Customize this itinerary:
Every French Side Travel trip is custom-built for your unique needs and interests. Above is an example of what's possible. If this isn't exactly what you're looking for, contact us today. Put together your dream trip with our travel experts. Handpick the accommodations, guides, activities, and meals that are right for you.
When you book with French Side Travel, you're getting a trip that's as unique as you are. 

Our Favorite Hotels
Hotel Hermitage Monte Carlo
Hotel de Paris Montecarlo