Discover the very best of Parisian cuisine
Luxury | From $6,899 pp
For foodies, this six day trip to Paris is a true delight. You'll experience the best of the City of Light with a focus on incredible foods. You'll enjoy private wine tastings and fabulous restaurants. A core memory will be a private visit to a Parisian market with a French chef followed by a cooking class and lunch. By the end of the trip you'll be an expert in French gastronomy!
Day by Day
Day 1: Paris
Arrival Assistance "Fast Track" from Plane to Car Park with Immigration Skip-the-Line
The greeter will welcome you upon your arrival at the airport and assist you with the check-in and immigration formalities. He will then provide assistance to the gate or the car park.
Luxury Transfer from Paris Airport to Paris Center
A driver will pick you up at the airport and drive you safely to Paris center in a Luxury vehicle.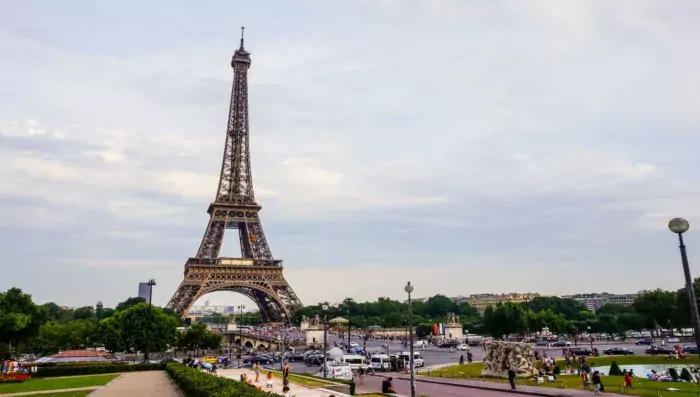 Day 2:Discover Paris during Lunch on a ride
Lunch on a Luxury Driving Coach-Restaurant through Paris
The Bustronome offers a unique fusion of sightseeing and fine dining. Admire the City of Light's best views while indulging in a refined four-course meal at this luxury restaurant on a double-decker bus. The "bustronome" is a luxury coach that stands out in particular for its panoramic glass roof, allowing you to admire the Parisian atmosphere in the best conditions, no matter the season of the year.
The glass-ceiling roof makes for fabulous panoramic views (the kitchen is below). Ready for a truly out of the ordinary and memorable dining experience? You've found it. It is an unprecedented marriage between beauty and pleasure on board this luxury coach-restaurant, an out of the ordinary experience ready to awaken your senses. On board, passengers will discover the most beautiful views in Paris while enjoying the best of its gastronomy.
During a four course lunch, the chefs will have you taste the best seasonal products. Savor the finest cuisine during a real gourmet escapade! This is a delightful way to discover the food and wine of a cultural capital while visiting its most beautiful monuments.
A state-of-the-art coach, which adapts to every road imperfection, allows guests to fully enjoy every course, while a musical program allows to discover eclectic French music while emphasizing the feeling of well-being.
A totally new, innovative concept offers individual multilingual commentaries of the visit. Giving priority to social interaction and sharing, it is suggested to use audioguides to learn about every secret of Paris.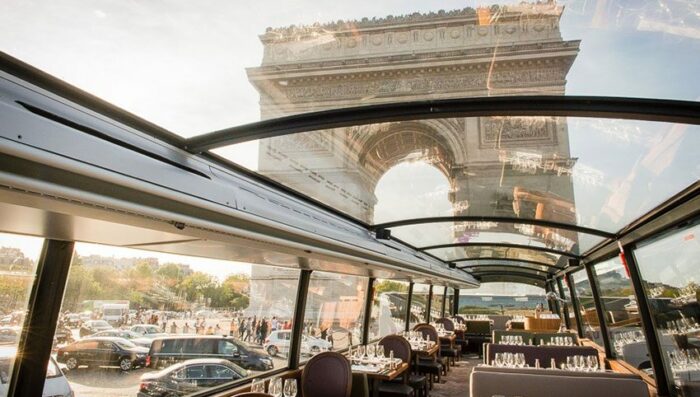 Suggestion – Wine Museum
Built within limestone quarries from the Middle Ages that once served as cellars for the Minims monastery, the wine museum's underground collections hold more than 200 wines, as well as thousands of historical artifacts.
Walking into the museum, you will be immediately overtaken by the density of the collections and its medieval cellars. After winding through a portion of the impressive limestone tunnels, a massive set of machinery that was once used to produce cognac comes into view.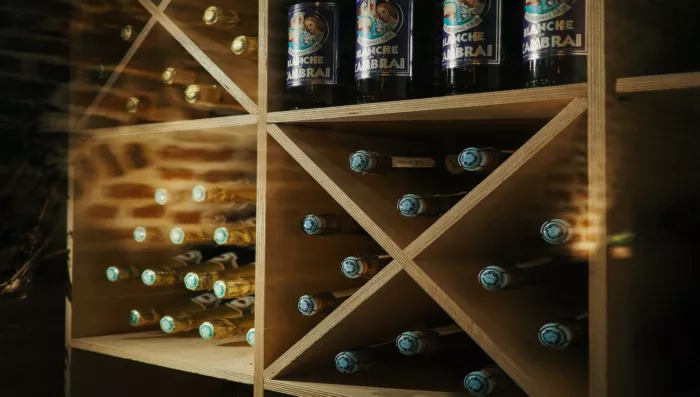 Day 3: Culinary insider's of Paris
Private Guided Food Tour at Châtelet les Halles District
You will get an insider's culinary tour of Paris through one of the city's central and most notable districts, the neighborhood of the ancient marketplace, Les Halles, or as it was often called, "the Belly of Paris"
During your tour to the rue Montorgueil and its immediate surroundings, your guide, specialized in food and French culture, will help you discover the rich history of this neighborhood, which prior to the construction of Rungis in 1969 was the main food distribution site for all of Paris.
In Les Halles district, you will discover renowned restaurants like L'Escargot Montorgueil, as well as traditional food shops, including, butchers, fishmongers, greengrocers, bakers and pastry makers, like the famous Stohrer.
To conclude this gourmet walking tour in Paris, and if time and weather permit, you will get to share a picnic to sample some typical French products. If the weather does not allow for a picnic, tastings will be held throughout the day at our partners' various shops.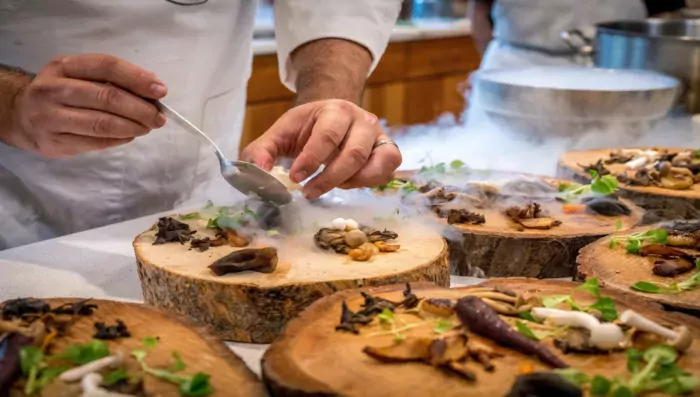 Afternoon at leisure in Paris
Spend the afternoon wandering round the City of Love!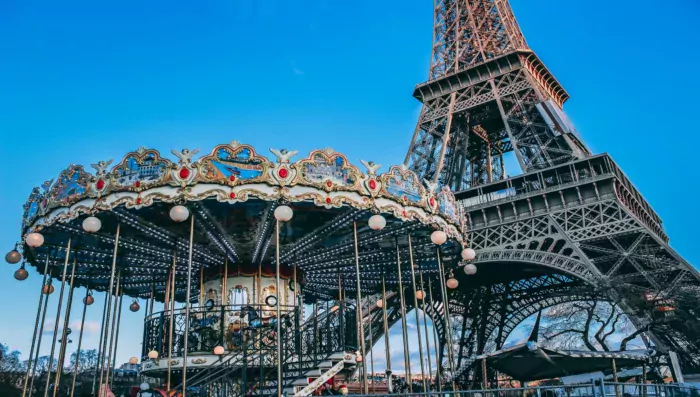 Day 4: Paris
Private Seine River Cruise with Breakfast
Enjoy a french breakfast with croissants, a mini bar with soft drinks, French coffee, or fruit juice.
This offers you a unique, tailor-made private cruise down the most beautiful waterway in the world, Paris' Seine River. Comfortably seated in its leather-covered banquette in the private salon, tinted windows to respect your privacy.
During this cruise, you will discover the historical center of Paris including the Notre Dame, the Musée du Louvre, Eiffel Tower and more.
This will be an amazing and unforgettable morning!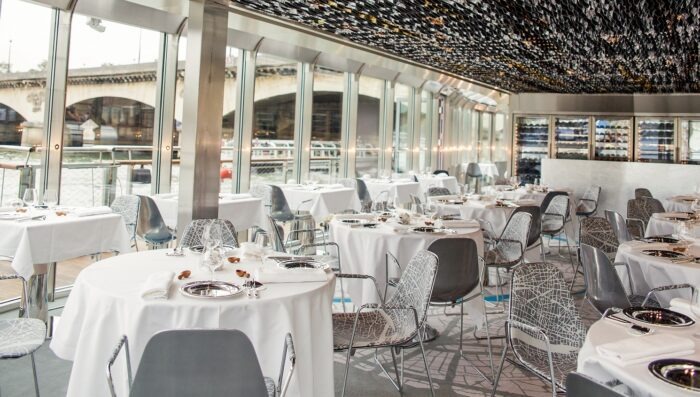 Private Visit & Wine Tasting in the Center of Paris
Take an exceptional journey into the world of wine. Located in the heart of Paris and offering a breathtaking setting, this visit and tasting is sure to be an unforgettable moment.
The cellars are located in a private mansion in the 1st district classified as a historical monument. The building has one of the most beautiful 17th century facades in the city. Erected by the Sommelier of Louis XV, this hotel houses the superb vaulted cellars of the Louvre, tastefully refurbished by wine lovers.
Enjoy a private visit followed by a premium tasting of three wines with a sommelier.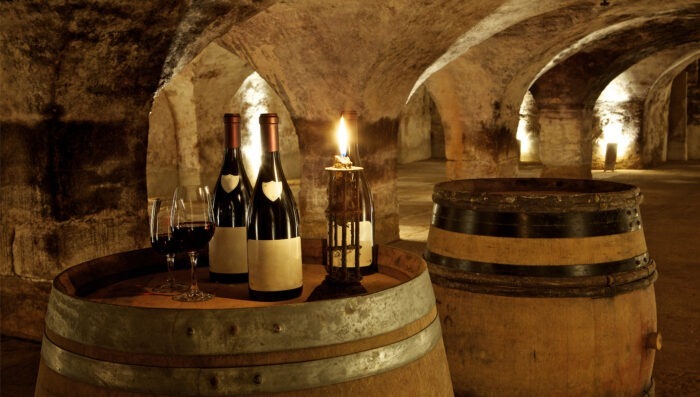 Day 5: Cooking Class
Private Morning Market Visit & Cooking Class Followed by Lunch
This morning you will embark on a unique culinary and Parisian cultural experience completely inspired by its gastronomical fare!
You will first be welcomed at a delightful location in the heart of the Latin Quarter with delicious croissants, fresh coffee, and some tea.
At a local market you will have to opportunity to buy fresh produce, and learn about the French market culture, French cheeses (while of course, eating some…!) and discovering the neighborhood along the way. "Market food selection" is the cooking topic least covered in classes or books – yet it is the most critical and at the heart of professional cooking – so why not learn something about it now? Cooking may well be defined as the transformation of finely selected ingredients to make them even more palatable. So, learn to choose the ingredients and why, but also where they come from!
Then, back to the kitchen. For 2.5 hours you will learn basic and advanced French cooking techniques through the process of creating a three-course French meal. You might get to drink a glass of wine or two in the process (for inspiration)! Simple techniques are the foundation of any great French meal and French professional cooking certification. You will cover five to seven of these fundamental techniques as each theory will be explained.
Finally, time for lunch – to which you'll add white wine, red wine, and cheese, of course!
During lunch, your host will share stories on each of the dishes to help illustrate various aspects of French culture: a bit of history, a touch of sociology, tongue-in-cheek humor, and quite a bit of gastronomy as one might expect. This is quite a unique, intimate, and quite delectable experience in Paris indeed!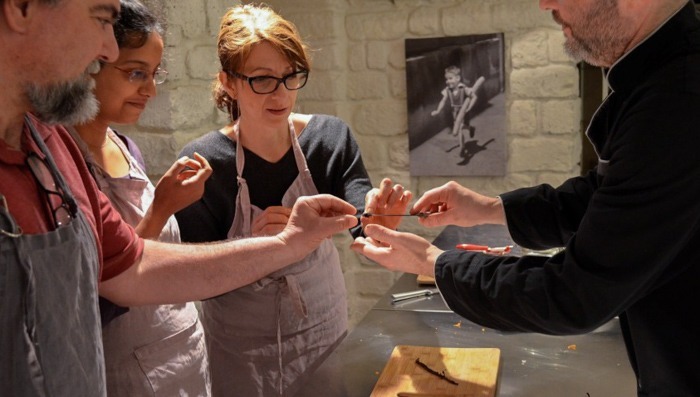 Day 6: Paris
Luxury Transfer from your Accommodation to Paris Airport
A private driver will pick you up from your accommodation and drive you safely to Paris airport in a luxury vehicle.
Departure Assistance "Fast Track" from Car Park to Plane with Immigration Skip-the-Line
Your personal greeter/porter will escort you from the car park to your plane and assist you with check-in, tax-refund and customs formalities, and luggage portage.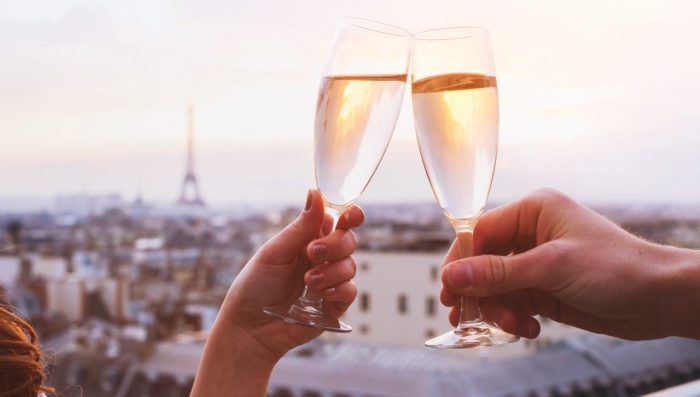 About This Trip:
Enjoy 24/7 English-spoken telephone assistance while traveling
This itinerary includes transport, activities, guides, accommodations with breakfasts, and other listed services
Price is in USD per person, assuming double occupancy. Note that prices and availability are subject to change.
Customize this itinerary:
Every French Side Travel trip is custom-built for your unique needs and interests. Above is an example of what's possible. If this isn't exactly what you're looking for, contact us today. Put together your dream trip with our travel experts. Handpick the accommodations, guides, activities, and meals that are right for you.
When you book with French Side Travel, you're getting a trip that's as unique as you are. 

Our Favorite Hotels in Paris, Champagne and Bordeaux
Maison Albar Hotels Le Vendome
Monsieur George Hotel & Spa
Our Product Lines
Excellence
VIP Unique Experiences | Concierge Services | Private Tours (driver + licensed guide) | Chauffeur Services (luxury vehicles) | Top Licensed Guides | VIP Meet & Greet | Jet, Helicopter & Yachting | Fine Dining | Luxury 5* Accommodation (palace hotels, exclusive villa rentals) | 24/7 On-Site Assistance.
Luxury
Unique Experiences | Private Transportation (luxury vehicles) | Private Tours | Top Licensed Guides | Meet & Greet | Fine Dining | Luxury 5* Accommodation (hotels, villa rentals) | 24/7 On-Site Assistance.
Premium
Unique Experiences | Private Transportation | Private Tours | Self-drive | Top Licensed Guides | Authentic & Boutique 4* Accommodation (hotels, apartment rentals) | 24/7 On-Site Assistance.