When you think of Champagne, chances are the sparkling beverage comes to mind. Visiting Champagne houses is a must while in the region, but there are also plenty of other things to see, do, and taste. Read on to discover French Side Travel's list of what to do in Champagne in 2022. It includes historical tours, gorgeous scenery from unique vantage points, and plenty of tasting opportunities.
---
What to Do in Champagne in 2022
Take a Full Day Tour of Champagne (Or Two)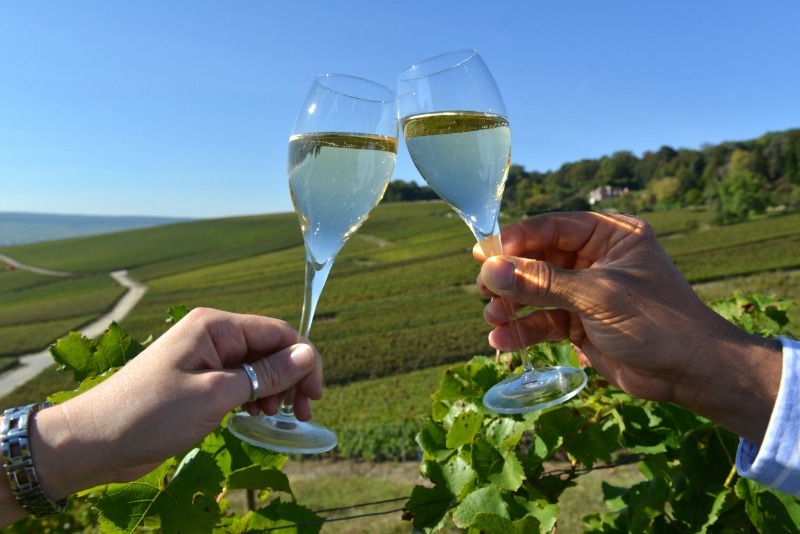 The best way to experience Champagne is with a driver and guide allowing you to sit back, relax and soak in the views and wines. Enjoy a commented drive along the scenic roads and discover the villages that make up Champagne. You'll stop at the charming UNESCO-listed town of Hautvillers. Here you can visit the church where famous monk Dom Pierre Pérignon is buried.
Visit a family-run boutique winery where you'll learn all about how Champagne is made, plus partake in a tasting. Drive through the picturesque Avenue De Champagne in Épernay where several prestigious Champagne Houses have their headquarters.
In the afternoon, uncover the secrets behind the signature taste of the largest producer of Champagne: Moët & Chandon. You'll taste some of the house's finest Champagnes in a private salon. The day finishes with a visit to the oldest producer of Champagne: Ruinart. Learn the fascinating history of this Champagne House while admiring their impressive art collection.
There are so many wonderful houses to discover that you could easily spend multiple days touring. Weather permitting, having a picnic lunch among the vines is a fabulous experience. If you're feeling sporty, there is also the option to visit Champagne on an electric bike.
Where to Stay in Champagne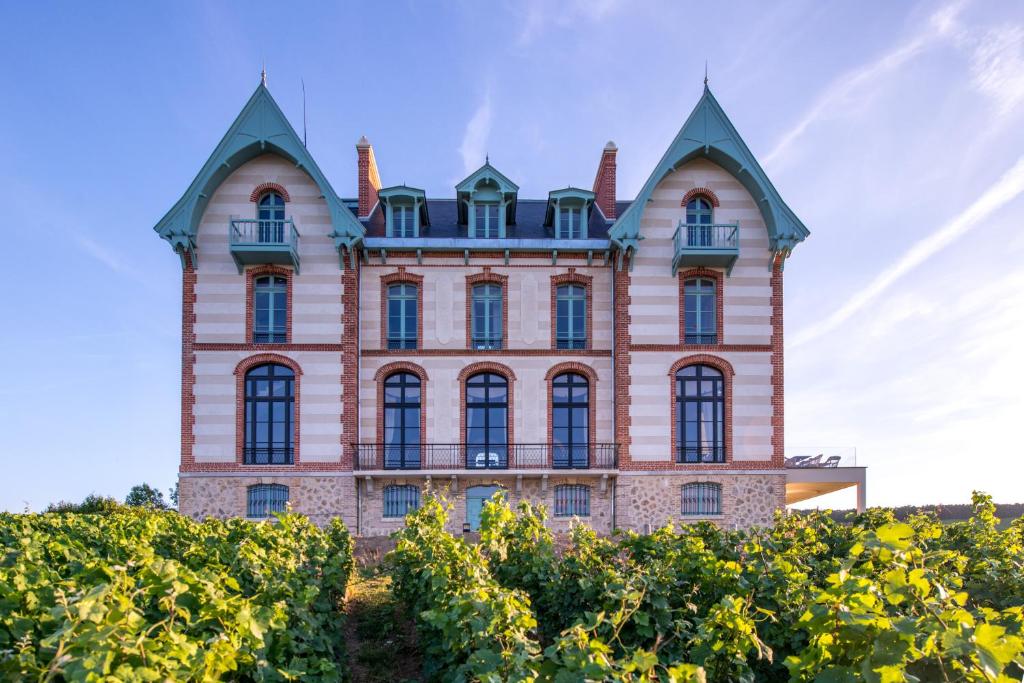 Château de Sacy
For an intimate stay, French Side Travel recommends one of the 12 rooms and suites at the charming Château de Sacy. Rooms are spacious, luxurious, and comfortable, opening onto the vineyards on all sides. Guests enjoy a combination of elegance and modernity in an atmosphere that is conducive to relaxation.

Whether it is for its unobstructed view of the vineyards of the Montagne de Reims or its decoration, each room and suite is unique. Guests can return and experience something new, or stick with a favorite room. Each room offers you an ideal place to relax. There is also a restaurant and spa on-site. The close proximity to Reims makes it an ideal base to tour from.
Explore Historic Reims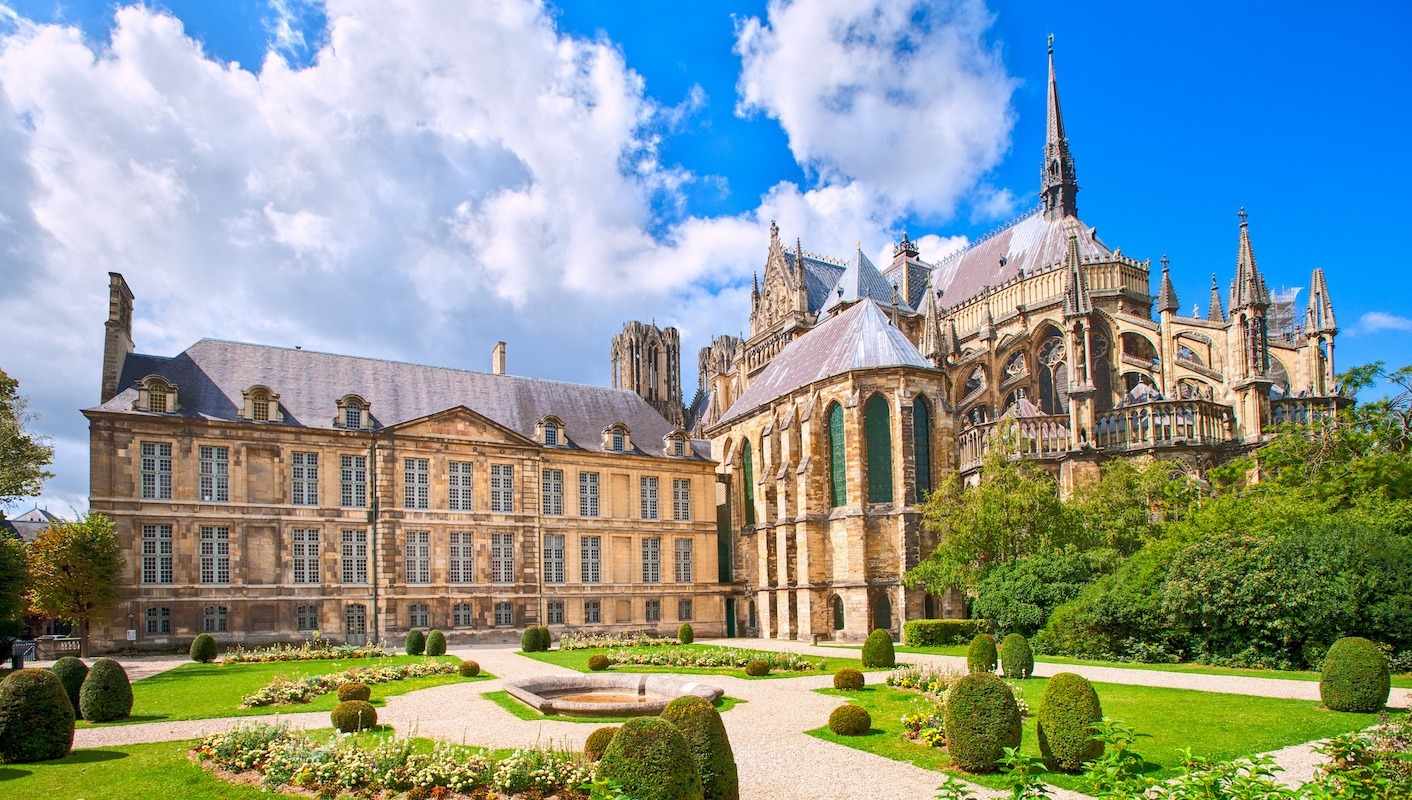 Capital of the Champagne region, Reims is renowned for both art and history. It offers the culture of a big city with the charm of a smaller town. Stroll along its handsome boulevards lined with striking Art Déco facades and prepare to be dazzled by its architectural features. There are nine champagne houses to visit in Reims (some of whose cellars have Gallo-Roman origins) plus five Michelin-starred restaurants, perfect for a gourmet escape.
See the monumental Notre Dame cathedral, recognized internationally as a model of Gothic architecture. It played a central role in France's history for 800 years as the venue for the coronations of 25 sovereigns. This masterpiece of the 13th century is unique with its stylistic unity, stained glass windows, and statues, including the emblematic Smiling Angel.
Take in the Vineyards from the Water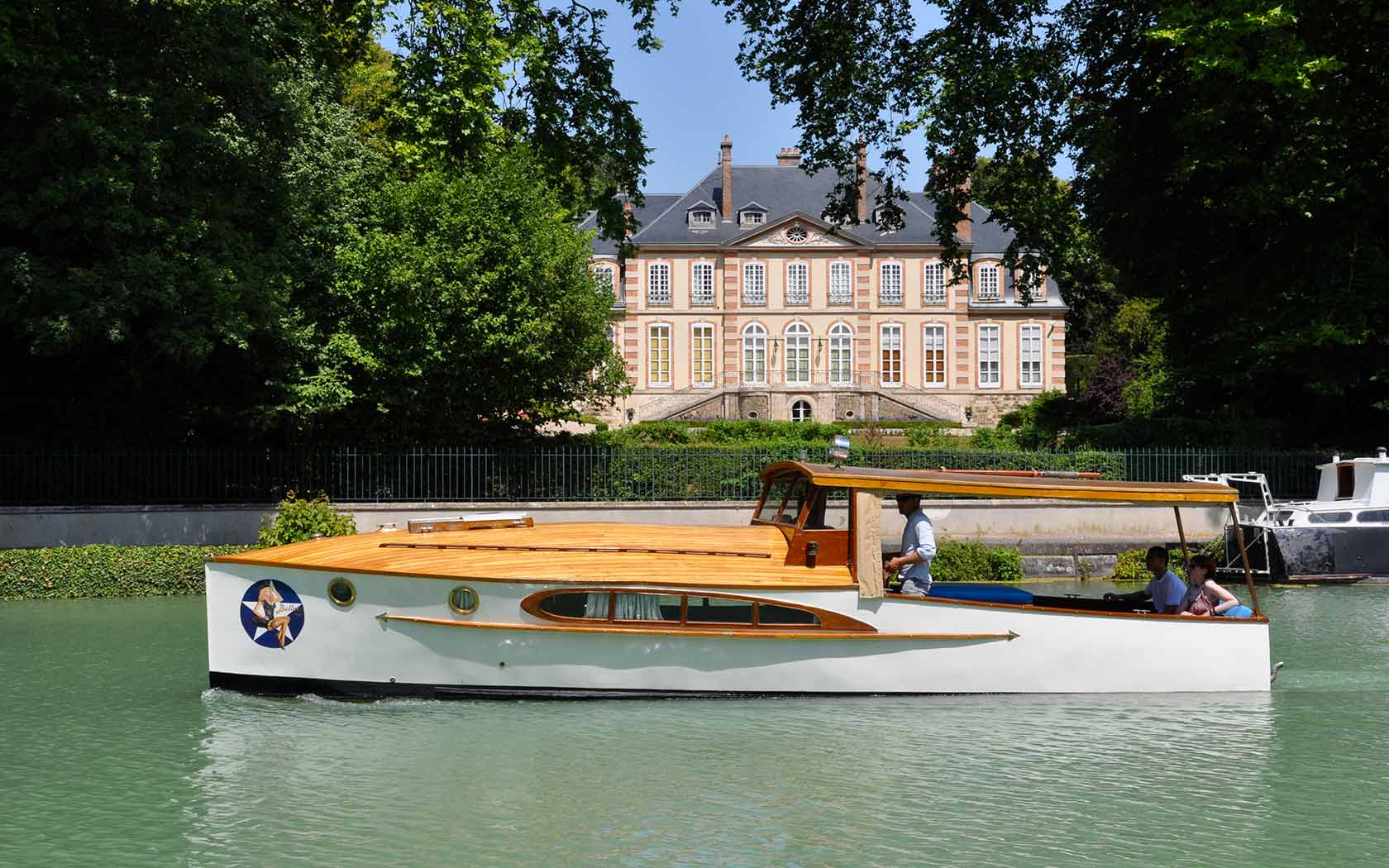 Cruises are a wonderful way to have a unique perspective on some of French Side Travel's favorite places in France from Paris and Bordeaux to the Loire Valley and the Côte d'Azur. The Champagne region is no different, which is why on our list of what to do in Champagne in 2022 we've included a river cruise. But this isn't just any river cruise: you'll be sipping champagne and cruising in a lovely wooden boat from the 1920s. This vintage vessel is agile, comfortable, and fast, with a raised front deck is raised to accommodate a small living room, a kitchen and a restroom.
Your local, knowledgeable skipper will take you where one of the great French rivers meets France's most celebrated wine. Travel from one village to another as you discover the UNESCO World Heritage listed vineyards from a different vantage point. While cruising, you will be offered a bottle of champagne from a small local winemaker. Depending on your preferences, you can also stop and visit a cellar or end with a picnic to try some regional specialty foods.
Visit a Family-Run Champagne House with a Storied History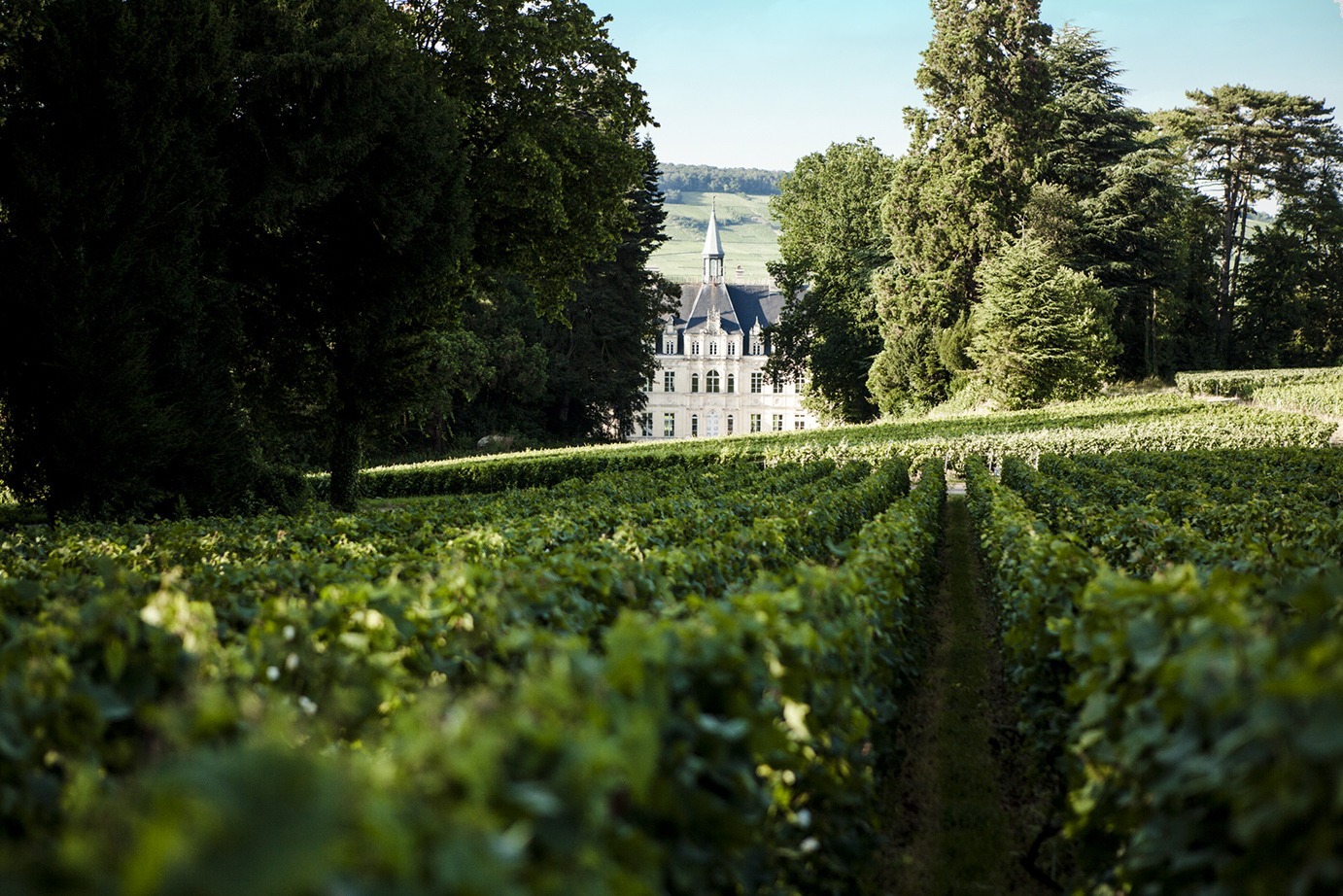 In 1843, Madame (Veuve) Clicquot built a magnificent Neo-Renaissance style château just west of Épernay. The mansion quickly became one of the most popular places in the region. Here, Champagne flowed lavishly among the members of local high society during the frequent memorable dinners held by the "Queen of Reims."
The Clicquot family sold the mansion many years ago to the current owner's ancestors. Today there is still an exclusive familial clos with a press, cellars, and winery overlooking the Marne Valley. Having everything together in the clos guarantees superior freshness when it comes to pressing and transforming the grapes.
Discover the Champagne production process from the vine to the flute during this tour. You'll visit the modern press, the vat room and the aging cellars underneath the family manor. Stroll in the heart of the vineyards and learn more about traditional growing, harvesting and winemaking methods. Finish your visit by tasting three Champagnes on the terrace, with a panoramic view of the Marne Valley château.
Where to Stay in Champagne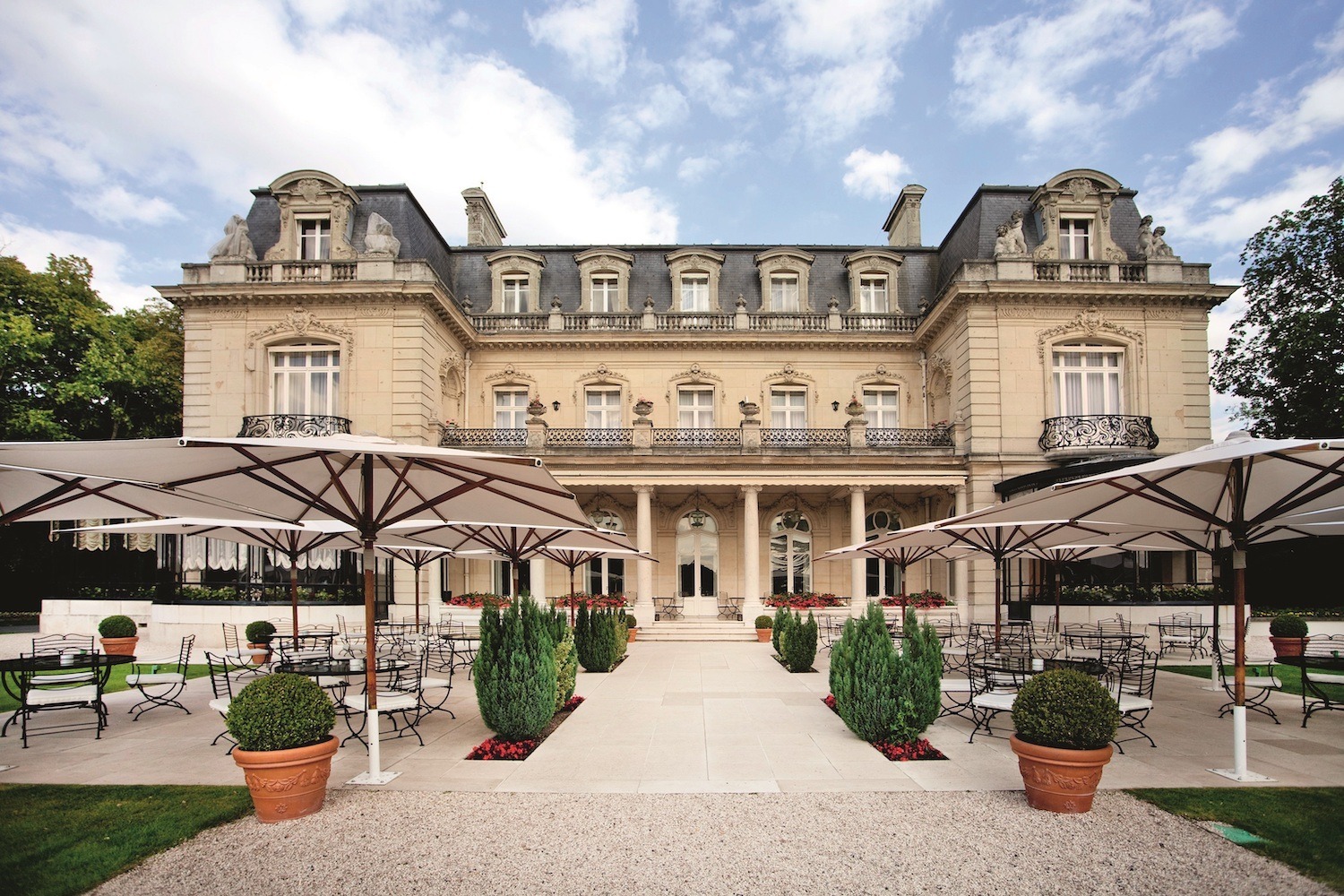 Domaine les Crayères

This five-star château-hotel is a mythical property in the heart of Reims, nestled discreetly in a seven-hectare park full of majestic vegetation. Previously the house of an aristocratic family, the building recreates the elegant and sophisticated atmosphere you would expect from a traditional château. It is the perfect base from which to discover all the treasures of the Champagne region.

Genuine, classical French style radiates through every detail in each of the 20 rooms and suites in the château and cottage. All the rooms are generous in size. Luxury, elegance and intimacy: the hotel offers guests the quintessential French "Art de Vivre" in a lush garden setting.

Discover the warm welcome and the impeccable service of the gourmet restaurant. It offers a wine list of more than 600 Champagne labels. The view from the window overlooking the park is an exquisite spectacle. There is also a more casual brasserie and a charming bar.
Take a Hot Air Balloon Ride Over Champagne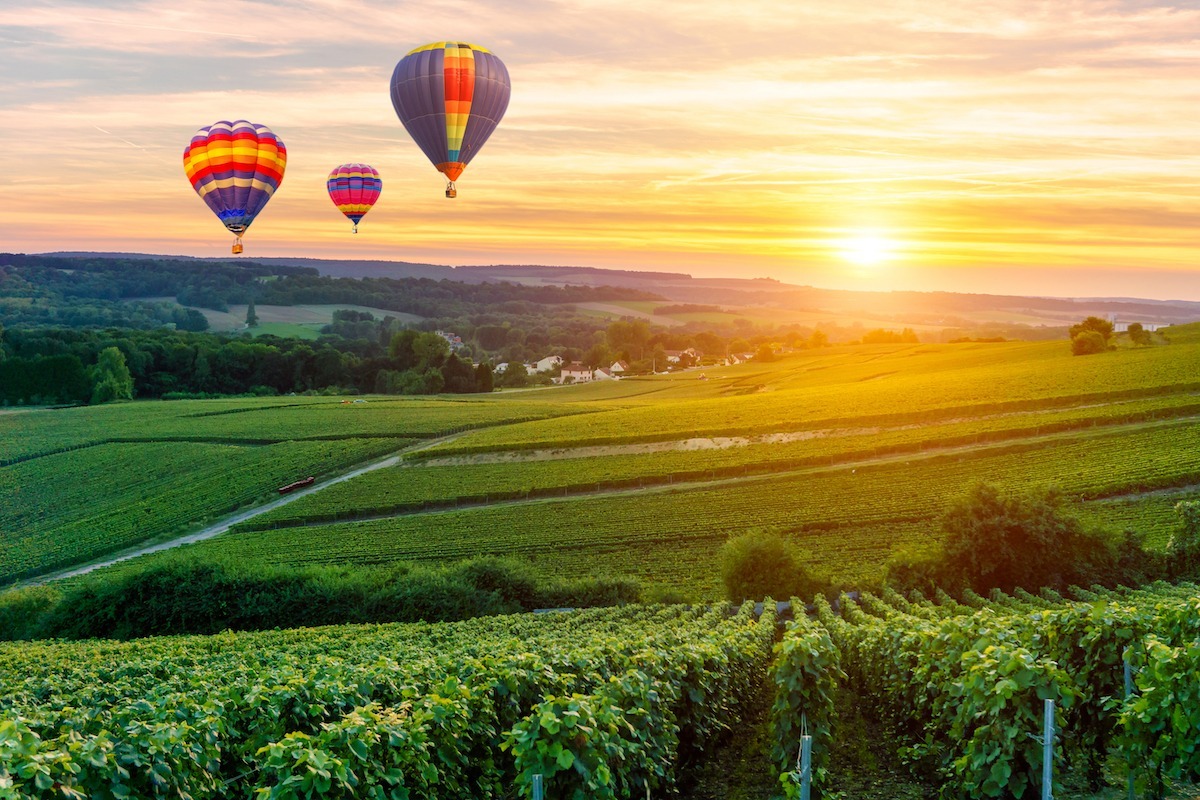 A unique experience on our list of what to do in Champagne in 2022 is to see the rolling hills of vineyards from above on a hot air balloon ride. You'll watch the sky come to life in an explosion of colors as you drift lazily in the ethereal light of dawn. Experience an elusive moment of stillness as you hang silently in the air, with the open skies and panoramic views stretching out for miles ahead of you.
For those curious about the mechanisms behind hot air balloons, there is an opportunity to help prepare the canvas and basket, or fire up the balloon while you are airborne.
And, bien sûr, enjoy a glass of Champagne during your flight or once you've landed. After the experience, the pilot will provide you with a personalized flight certificate.
---
We hope this list of what to do in Champagne in 2022 will help inspire future travel to this wonderful region. We would love to help you plan a dream trip to France in the coming year with a custom itinerary. Some of our favorite destinations in France include Bordeaux, the South of France, Normandy, and Paris. Get in touch with a travel designer today to start the planning process!